The most sensational places to stay in the French capital, from romantic boltholes to stylish converted townhouses, all tried and tested by the editors of Condé Nast Traveller:
1. Le Pigalle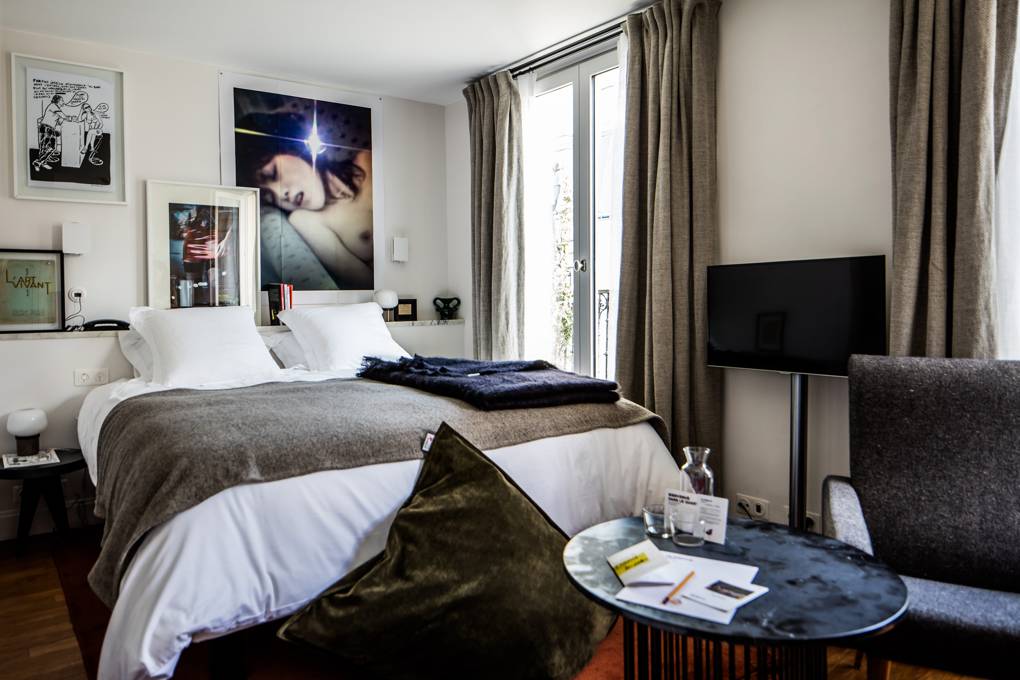 This little Parisienne in the heart of once-sketchy, now super-cool Pigalle is well thought through. It's from the group behind Instagram-famous Les Roches Rouges on the Côte d'Azur , so we knew it would be. The rooms, which are small, are kitted out with Art Deco furniture and shelves stacked with well-curated photographs. There are turntables and a selection of vinyl as well as pre-mixed Negronis and Manhattans in bottles in the mini bar. There's no denying the neighbourhood is lively at night – the hotel is on a strip just south of the Metro that's full of strip clubs and sex shops, but also fun bars such as Dirty Dick and Lipstick. Downstairs in the lobby, as well as a marble-topped co-working space, there's a red velvet curtain which pulls back to reveal a velvet banquet, neon sign and pole. Find young couples recovering from hangovers over a breakfast of avocado toast with cream cheese and croissants that's served until 4pm. For those seeking a cool sleepover within walking distance of a fun night out, this is the place to stay if you're partying in Paris.
2. Grand Powers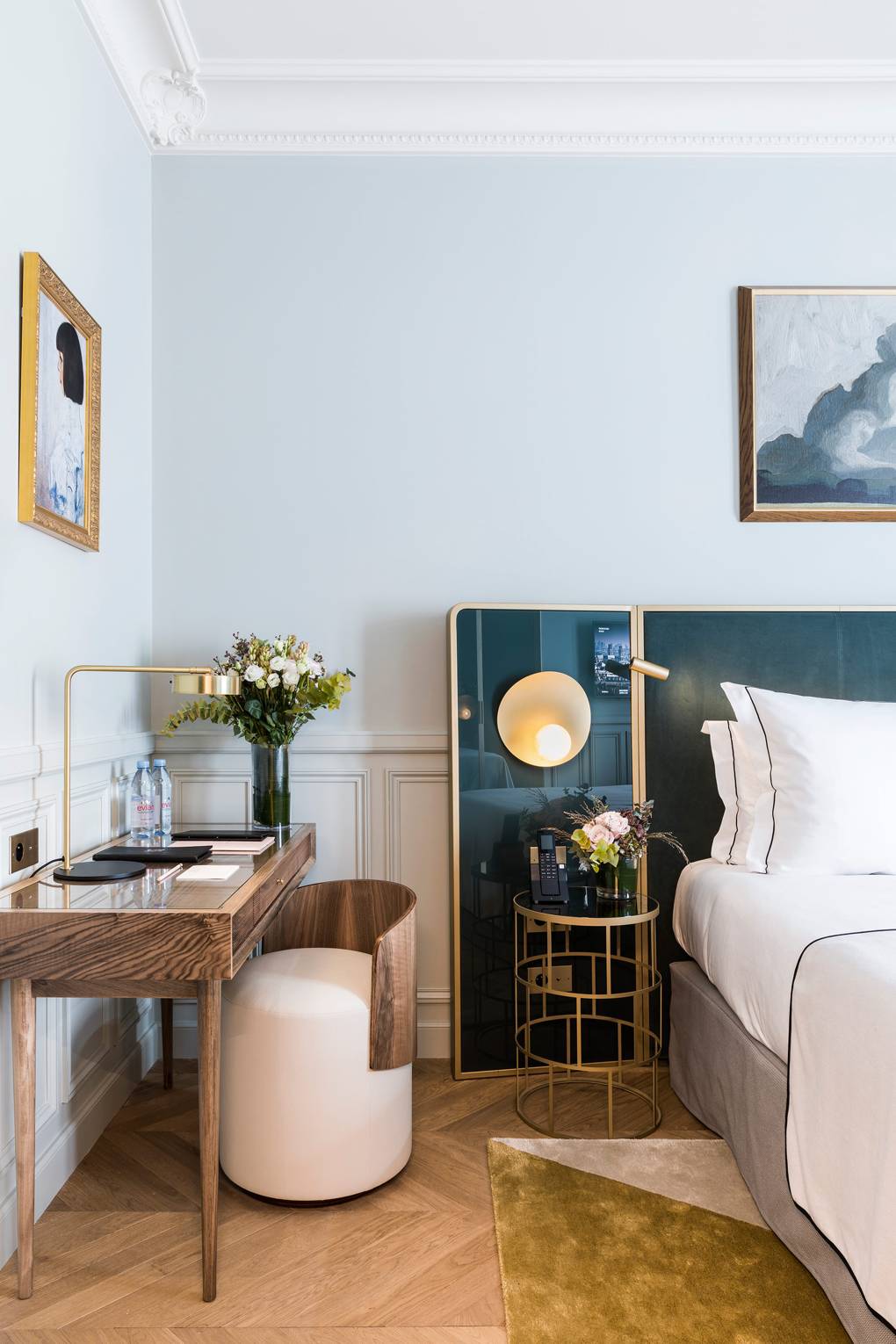 The Grand Powers, in the 1st arrondissement behind the Champs-Élysées, does have a certain grandeur – it's been a hotel since 1920 and is a stalwart of the city's scene. Thanks to the building's corner spot, there are views of the Eiffel Tower just poking above the romantic rooftops from almost half of the rooms.. And there are balconies too, meaning that the bedrooms are lighter, as well as much bigger, than the majority of boutique hotel rooms in the city. Deep red clashes with pale pink; dark teal with spearmint cream; and gilded mirrors complement plush velvets and scrawling florals. A member of the Small Luxury Hotels of the World group, the Grand Powers feels cosy, and the staff are exceptionally helpful and delightfully jolly, while not being too much. At breakfast there are just-baked madeleines as well as eggs made to order – the boiled ones come shell-less in silver egg cups with Jenga-style soldiers. But there are also detox juices with beetroot and ginger and sushi-grade salmon in thick slices. This hotel provides quiet respite from the busy shopping district – so much so, you wouldn't know the Arc de Triomphe was just a 10 minute stroll away.
3. Hôtel des Grands Boulevards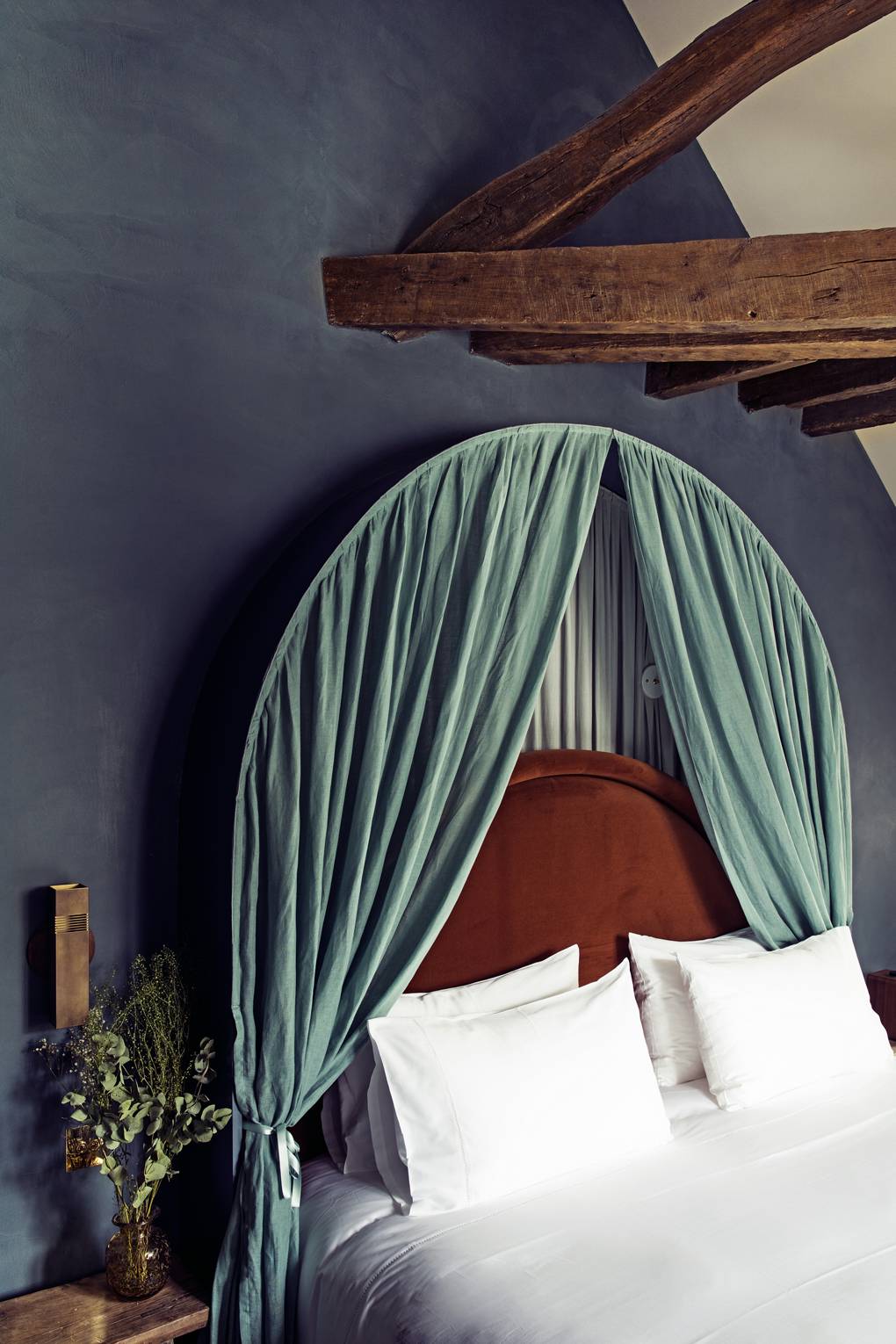 Ten years ago the Experimental Group – actually three perfectly respectable former school chums – transformed the Paris bar scene with their sweetly raffish Experimental Cocktail Club. More recently they went into hotels, first with the charming Grand Pigalle, then with the equally perky Henrietta in London. And now there's Hôtel des Grands Boulevards, which may be the most irresistible of all.
Grands Boulevards is at once a historical term, referring to Baron Haussmann's transformative thoroughfares; a Métro station; and, for many Parisians, words likely to conjure up a rather unkind image of wide-eyed yokels from beyond the périphérique pouring into and out of the theatres in the area. You really ought to join them. This is one of the most diverse and dynamic parts of the city, from those much-loved theatres to the glorious covered arcades and teeming textile workshops.
The would-be flâneur couldn't choose a more convenient or prepossessing base than Hôtel des Grands Boulevards, an 18th-century townhouse converted into 50 rooms, a restaurant and three bars. Interior designer Dorothée Meilichzon riffs with textures, shapes and colours in her distinctive, delightful way.
None of the rooms are vast but there isn't a dud among them: with their luscious greens, blues and pinks, they're at once simple and sensuous. And the group continues to deliver on its experimental promise: whatever you order to drink, expect to be pleasantly surprised. If in doubt, start with the Experience 1: vodka, elderflower syrup, lemon juice, lemongrass and basil.
4. Hotel Bienvenue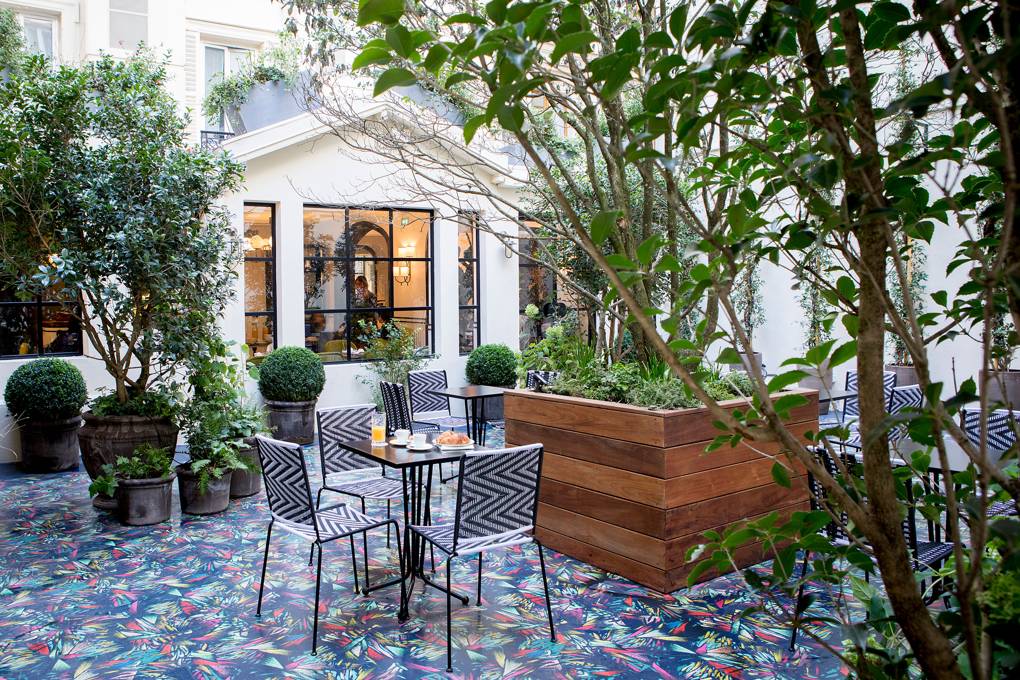 Just 10 minutes' walk from the Gare du Nord, this is a very affordable Art Deco-style option in South Pigalle. The latest opening in the portfolio of Adrien Gloaguen (the independent hotelier behind nearby Hotel Panache (see below) and Hotel Paradis) sits on the grounds of the old Hotel Fenelon. But it's no surprise that as the area has raised its game – it's a current favourite among the hipster set – so has this hotel. Chloé Nègre is behind the smart interiors, and her carefully manicured touches (candy pink and white stripes and floral armchairs, a plant-filled courtyard with a patterned floor) have been popping up all over social media. The bedrooms, in pastel shades with huge matching velvet headboards and geometric-patterned carpets, are pretty mini, but nonetheless make for a great Parisian pied-à-terre, as the hotel is walking distance from the Tuileries Garden and the Marais.
5. La Réserve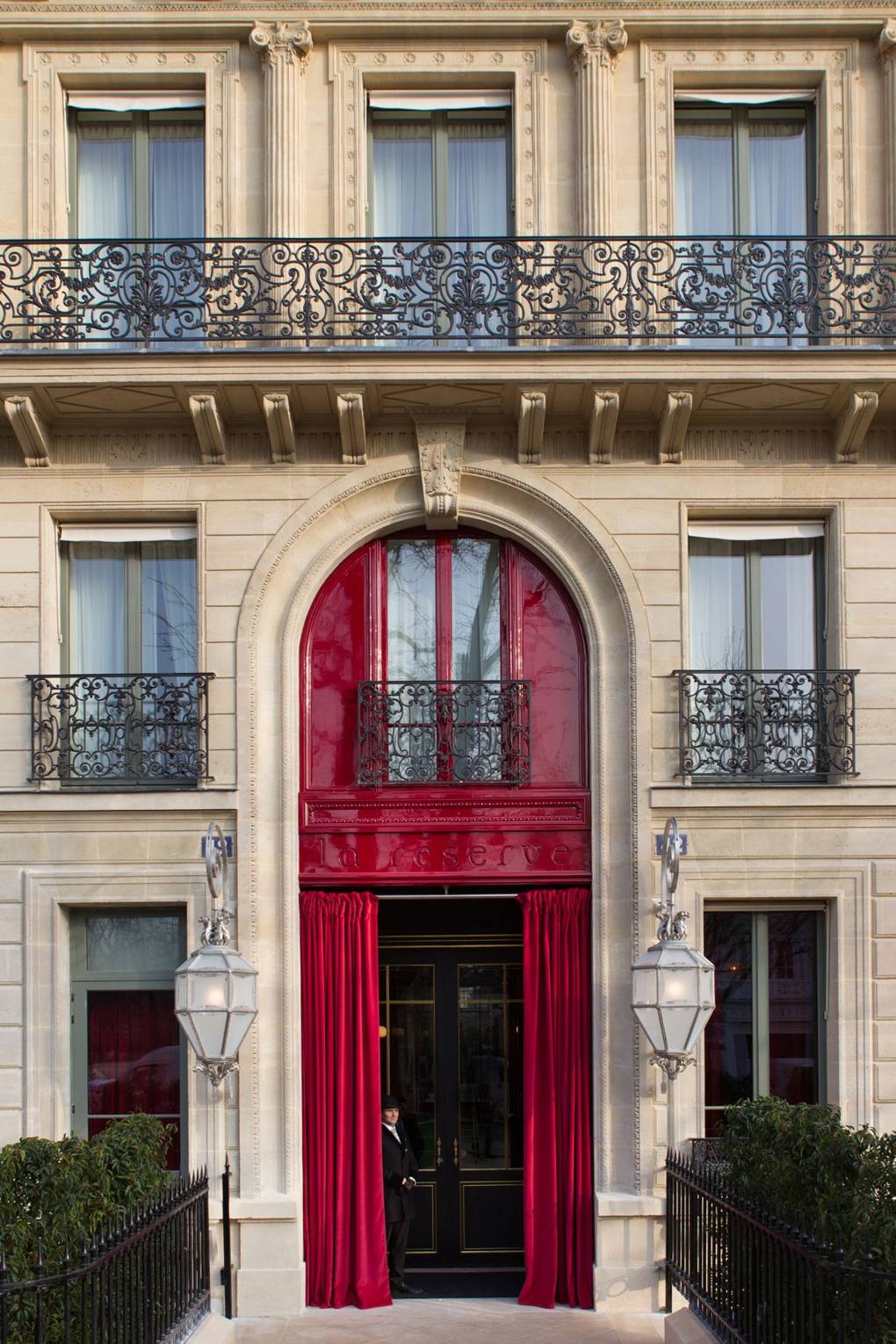 Designed by Jaques Garcia, the palette at La Réserve is largely limited to black, red and green, blue-grey, Champagne and chocolate, with here and there some vivid flashes of gold and pools of burgundy so deep you could drown in them. Facing the Grand Palais and, at a slightly greater distance, the Eiffel Tower, overlooking the Champs-Elysées, a few doors down from the presidential palace – the location couldn't be much better.
6. Hotel Plaza Athénée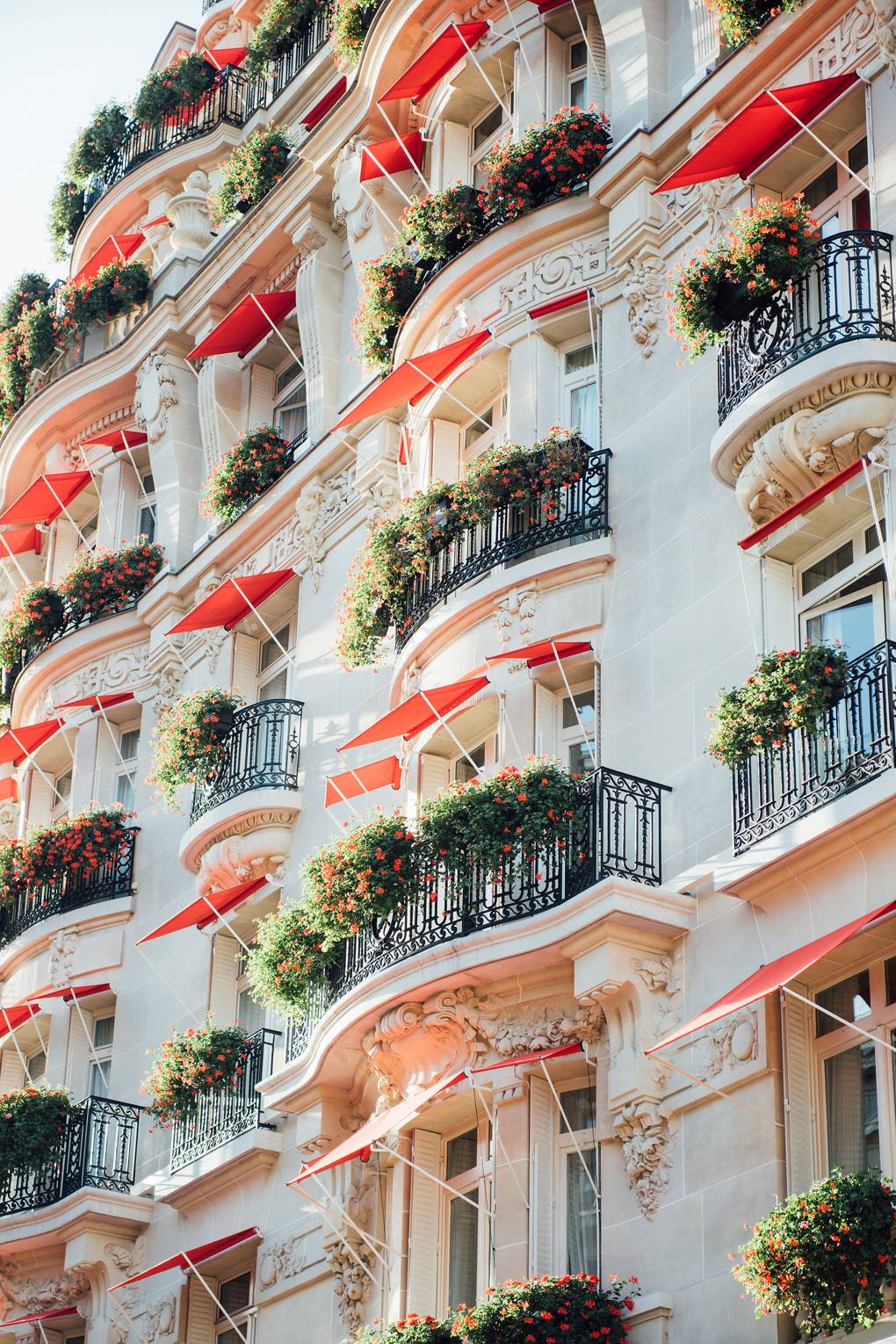 Sheer luxury hits you in its grandest form at the Plaza Athénée. Immortalised as the glamorous backdrop in the season finale of Sex and The City, the hotel has 145 spacious rooms and 43 suites, all impeccably furnished – some in Louis XVI and Regency style (six floors) and others in Art Deco style (two floors). Some rooms overlook avenue Montaigne, others face on to a peaceful internal courtyard, where an ice-skating rink is erected in winter. Rooms are beautifully decorated, with elegant furnishings, marble bathrooms and every comfort imaginable: from plasma screen TVs and high-speed Internet access, to a pillow menu, hypo-allergenic linens, and the Berluti Service, bespoke grooming for the well-being of your shoes. The hotel's celebrated restaurant, Alain Ducasse au Plaza Athénée, has three Michelin stars. The sleek bar serves some of the best cocktails in Paris, all perused on mini hand-held digital screens by an improbably glamorous clientele.
7. Four Seasons Hotel George V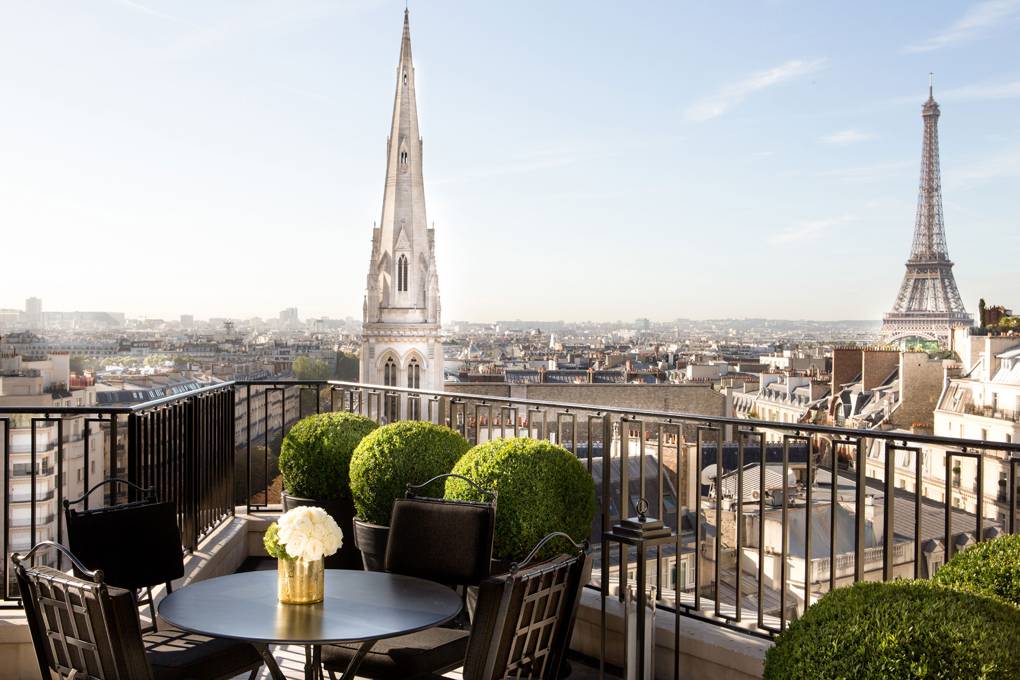 Situated off the Champs Elysées, the landmark George V hotel was lovingly refurbished several years ago. It houses 245 guest rooms including 61 suites, 30 of which have private terraces or balconies overlooking the city's rooftops.
8. Adèle and Jules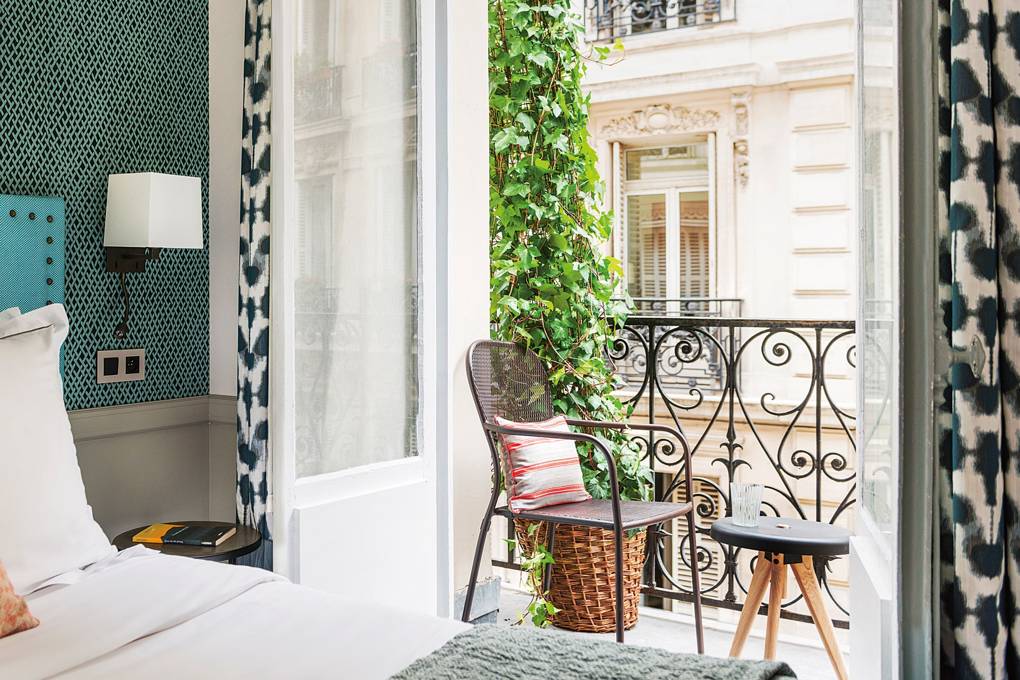 Adèle and Jules are two halves of a single charming hotel or, technically, two hotels in one block. Reserved romantics will appreciate its low-hype offering – 30 varied bedrooms in each of the buildings, a Taittinger-led honesty bar in Adèle and a superb welcome with a proper concierge service. This is combined with a tucked-away location in a newly but not aggressively trendified slice of the 9th, close to rue des Martyrs (food shopping), Grands Boulevards (nightlife) and the Gare du Nord. Designer Stéphane Poux's style is a deliberate mishmash of urbanity and generous homeliness, his eye travelling around ikat prints, Indian cotton quilts and witty, intriguing artworks. Club rooms have balconies big enough for prolonged nightcaps, a bathtub and twin basins. If you get a view – say of the landmark BNP Paribas building or Grand Rex cinema – the smaller deluxe rooms are charming too. Breakfast features eggs, sausages and mini viennoiseries, and between 4pm and 6pm there's a pick-me-up of Dammann Frères tea, cakes, pastries and fruit.
This takes place in a cosy living/breakfast room lined with decent reading material: not just the usual glossies, but also shelves of Folio paperbacks. The no-restaurant issue is very much a non-issue, with local options including Abri, Vivant, Richer and Saturne. A sibling to long-time fashion-pack bolthole Hôtel Thérèse in the 1st and Hôtel Recamier in Saint-Germain, this civilised, chic four-star deserves to become a cult hero/heroine as well.
9. Hotel Panache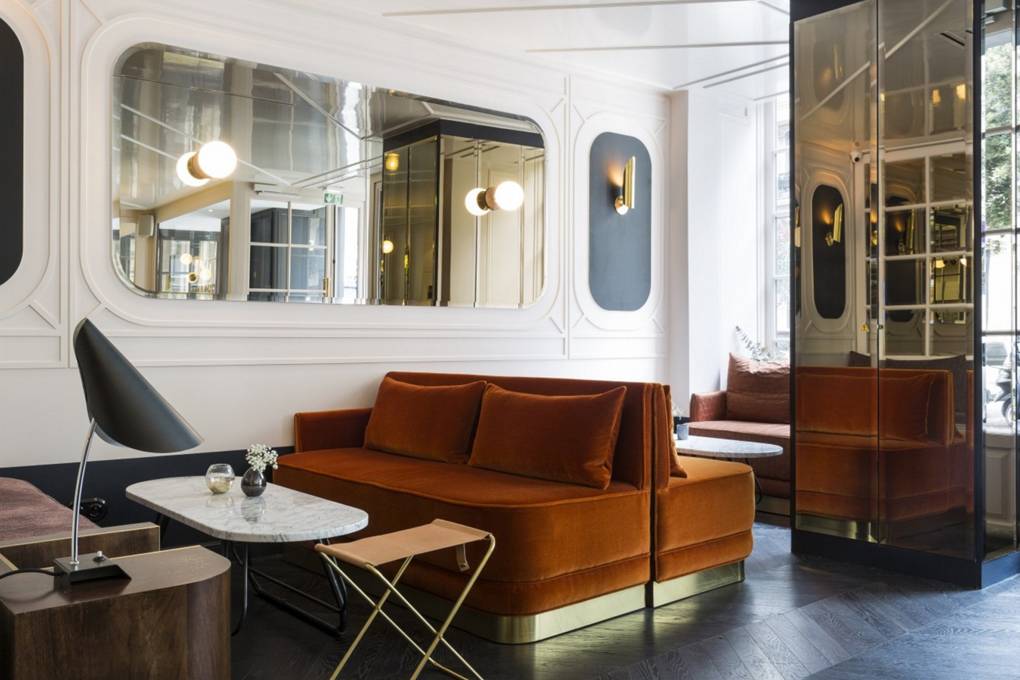 Surely a stay in Paris should mean an inexpensive hostelry, with quirky stairs and a receptionist who points you in the direction of the best tagine or moules, located next to a thrift shop piled with back editions of Tintin et les Egoutiers. And so it is here, in the spirited 9th arrondissement, created by Dorothée Meilichzon, who started off designing toys. The unusual flat-iron shape of Panache's 19th-century building means that each of its 40 bedrooms has a slightly odd configuration, with everything a little askew, prettily Deco-tiled, dove-grey bathrooms and bevel-edged mirrors positioned to coax a sense of symmetry. All is perfectly quiet until (and this is a moment to cherish) you fling open the windows of your room in the early evening and people-watch from a little balcony overhanging the sweet clamour of the streets radiating from the corner below: locals walking their Jack Russells, antiquarian booksellers hurrying back from the nearby Passage Verdeau, all the café conversations of the Grands Boulevards district.
Panache also has a mosaic-decorated restaurant serving Middle Eastern-inspired small plates, with a female sommelier who modishly recommends delicious natural or raw wines supplied by dedicated French growers whose hard-working, summer-dusty hands are sometimes photographed for the bottle labels. Then a stagger up those lopsidedly long-winding stairs to bed. There is little here not to love.
10. Hôtel de Jobo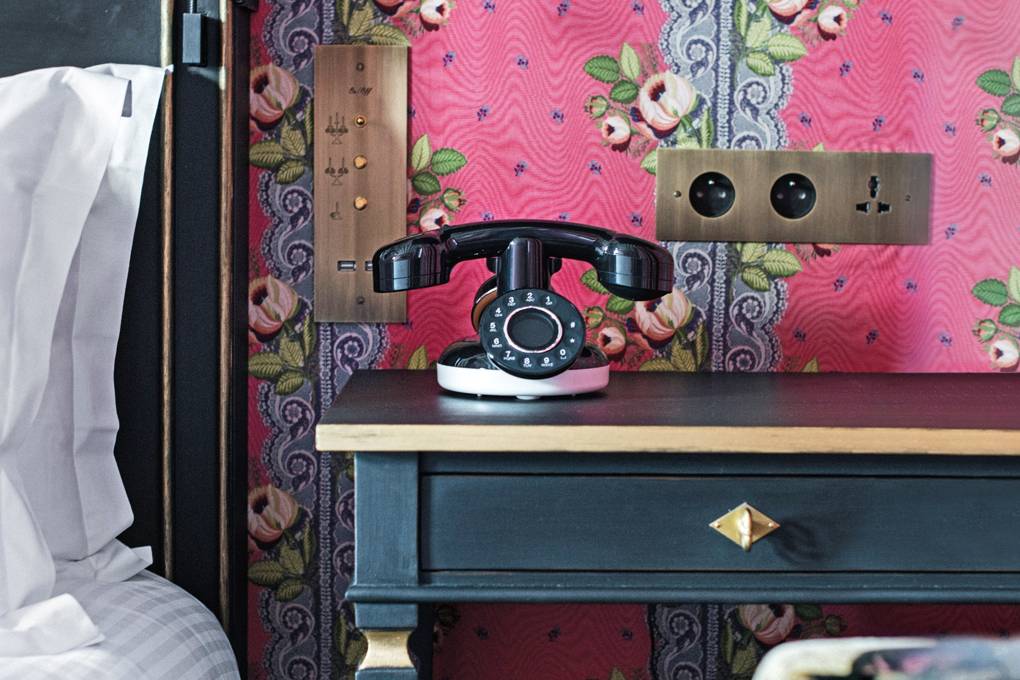 The splendidly named Bambi Sloan, who did the interiors of this ravishing little place in the Marais, isn't quite sure how to describe herself. She says she's part designer, part storyteller. She might consider calling herself a history teacher as well. Among other things, Jobo is an amusing education in certain aspects of French life, art and culture in the post-revolutionary period. The name comes from Josephine Bonaparte, Napoleon's first wife and, briefly, Empress of France. From this position of eminence, she indulged her racy and refined tastes – leading the craze for leopard skin, for example, and for swans, and, more than anything else, for roses. All of which are not merely in evidence at the hotel but effectively define it. The result is intense but delightful – it's too witty, too thoughtfully executed to be oppressive. The decadent toffs with whom Josephine caroused in the years after the revolution called themselves 'Les Incroyables et Les Merveilleuses'.
Hôtel de Jobo is both incredible and marvellous. It's also tiny. The ceilings are low, the corridors narrow and the size of the bedrooms ranges from a mere 15 square metres to a modest 40. But that's more than enough if you're Napoleon and Josephine in the early throes of fascination, with no need for anything more than a comfortable bed surrounded by roses and leopardskin and swans.