Argentina's picturesque capital has played backdrop to many a famous film.
While Buenos Aires is relatively small time on the global map of big spenders, when it comes to visiting like a movie star, you can sip drinks like Will Smith, warble like Madonna, or marry like Michael Bublé did in Argentina's capital. Here's our guide for how to do it.
Visit Evita's balcony
One of Buenos Aires' most iconic movie moments features Madonna as Argentine political heavyweight Eva Perón. The Material Girl sang from the Casa Rosada's famous balcony in Andrew Lloyd Webber's Evita—which celebrates its 20th anniversary in 2017 — putting to music one of Eva's rabble-rousing speeches. While only school groups can visit inside the presidential palace, Don't Cry For Me Argentina can still spring to life, thanks to a great view of the pink balcony from Plaza de Mayo.
Live like Coppola
When Francis Ford Coppola filmed Tetro (2008) around Argentina's capital for two years, he set up shop at his own home. The stunning seven-bedroom colonial-style villa is now a boutique hotel, Jardín Escondido. It houses the director's personal DVD collection, an outdoor swimming pool and, of course, the luscious, tucked-away garden after which it's named. Located in the heart of trendy Palermo Soho, book one suite or the whole space and enjoy rural design in the capital's most cosmopolitan neighborhood.
Hotels for stars
One popular haunt that movie stars, indeed rock legends too, regularly check into is the Four Seasons. The likes of Mickey Rourke, David Bowie, Susan Sarandon, and Madonna have all stayed at the luxurious Presidential Suite, La Mansión, a stunning French belle époque home built as a wedding gift for Elena Peña, blushing bride to Felix Saturnino de Alzaga Unzué, in 1916. Nestled behind the main hotel in Recoleta, La Mansión's splendid original features include frescoes, marble floors, plaster of Paris, and 24-carat gold leaf in each of the seven suites; private access away from the main lobby is par for the course, as is the in-house chef.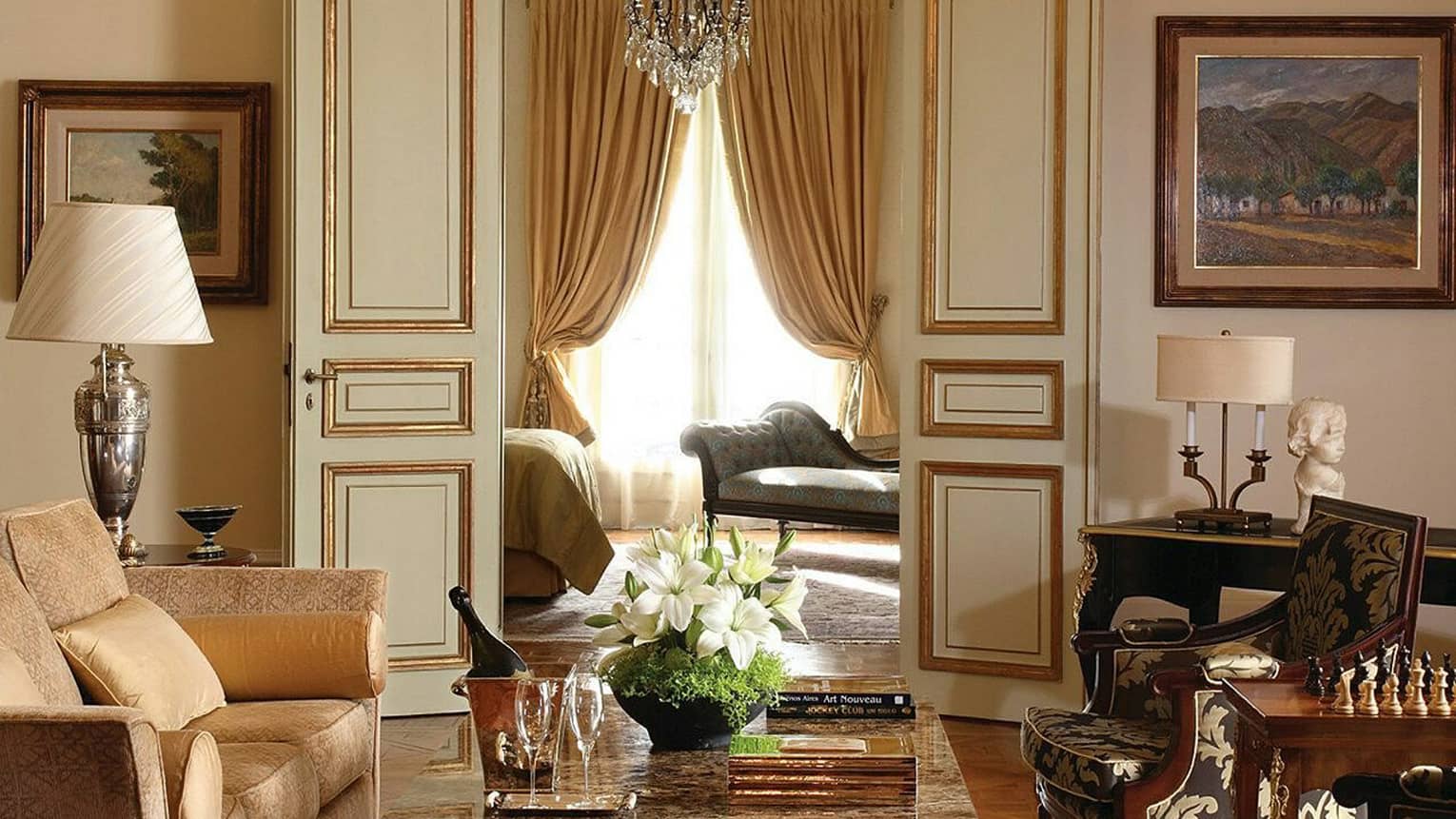 Sip like Will Smith
Porteños (Buenos Aires' residents) went into a frenzy every time they spotted Will Smith filming Focus (2015) at the end of 2013; along with co-star Margot Robbie, they covered plenty of barrios, including Recoleta's Plaza Carlos Pellegrini. In one classic scene, characters Nicky and Jess banter over a bottle of República del Malbec, a limited edition red wine of just 6,000 bottles made by local oenologist Matías Riccitelli, in San Telmo. Smith himself lodged at the Palacio Duhau-Park Hyatt, a palace equally historical and stunning as La Mansión.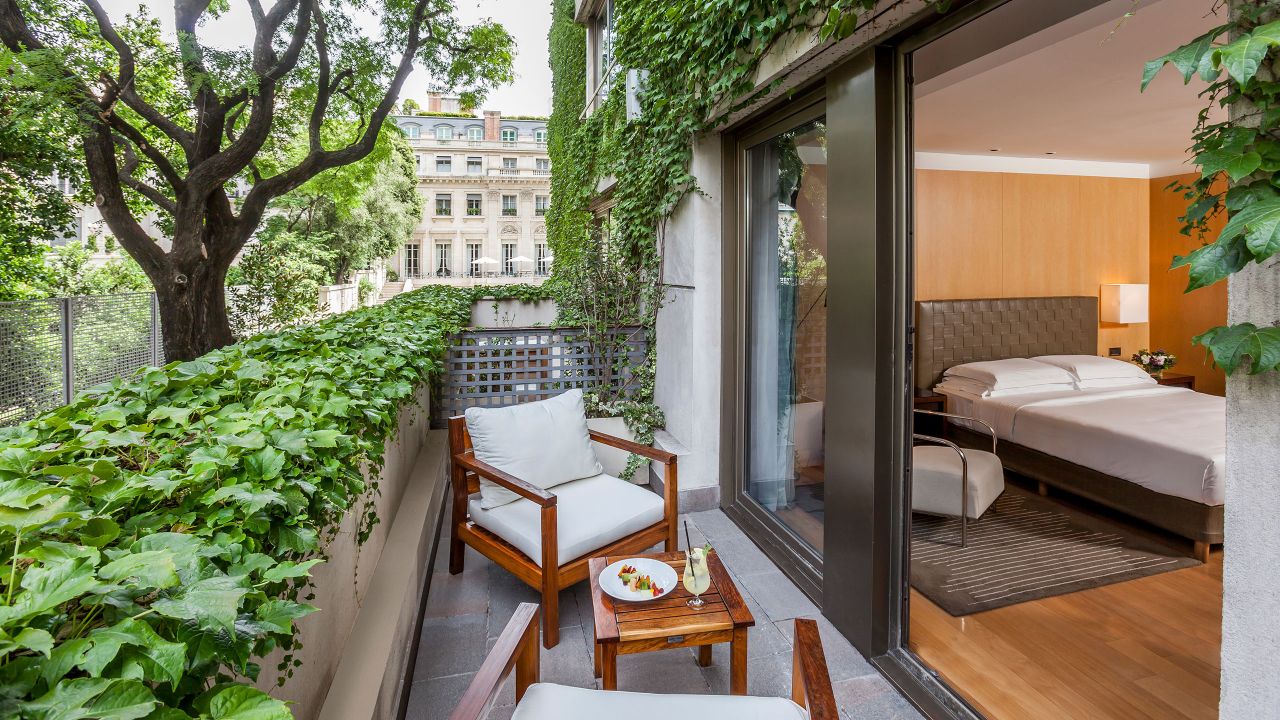 Say 'I do' like Bublé
If saying "I do" is in the cards, why not replicate Michael Bublé's wedding to Argentine model Luisana Lopilato at stunning estate Estancia Villa María? A stone's throw from Buenos Aires in the middle of the countryside, you too can marry in the lap of luxury at this 1917-era mansion. Set among 183 acres of private land, not even the most diligent of paparazzi could penetrate this wedding venue. Eleven suites, some sporting four-poster beds, a fancy restaurant, wine cellar, and cigar room are the norm here.
Local movies
Let's not forget retracing scenes from Argentina's own, much applauded movie scene. Oscar-winning El secreto de sus ojos (The Secret In Their Eyes) (2009) and Oscar-nominated Relatos Salvajes (Wild Tales, 2015) were filmed at under-the-radar spots around Buenos Aires.
Retiro's lofty Mitre line train station—constructed in Liverpool, UK, then reassembled in Buenos Aires in 1909—the Huracán soccer stadium, which offers a fantastic insight into Argentina's fútbol mania, and the Palacio de Tribunales palace of justice are three low-profile landmarks in El secreto. Meanwhile, the wedding scene "Til Death Do Us Part' in Damián Szifrón's black comedy Relatos Salvajes was shot at Hotel Intercontinental Montserrat, downtown Buenos Aires.