Getting around Taiwan has never been easier!
Taiwan is known by all as the land of wacky street food and unknown to some, this sweet-potato shaped island boasts some of the best monuments of nature.
With all metro stations having signages and ticket machines in English along with clear posters of bus transfer routes, getting around Taiwan isn't as daunting as it seems. Introducing the Taiwan High Speed Rail (THSR) which conveniently covers the entire west coast of Taiwan; you'll have a lot to explore on this island!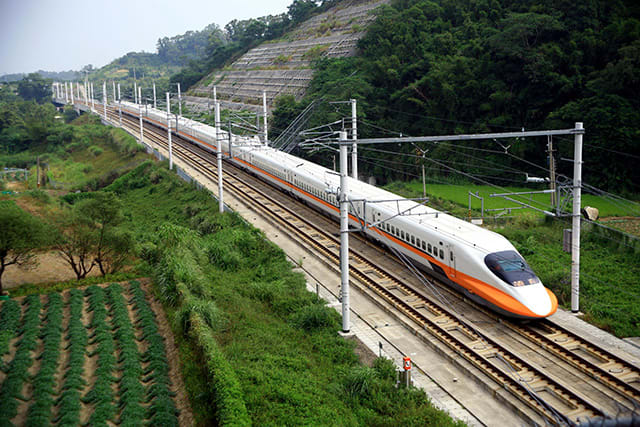 Fun Fact: The THSR, or better known to locals as Gao Tie, opened for service on 5 January 2007 and travels at an average speed of 300km/hour. This means it takes only 90 minutes to bring you from Taipei to Kaohsiung!
Most intermediate stations on the THSR line lie outside the cities served; however, a variety of transfer options, such as free shuttle buses, conventional rail, and metros have been constructed to facilitate transport connections.
Much like the famed Japan Rail Pass (JR Pass), visitors to this island can also save some cash on transport and get themselves the 3 Day THSR Tourist Pass or the 5 Day Joint Train Pass.
What is the 3 Day THSR Tourist Pass?
The 3 Day THSR Tourist Pass offers 3 consecutive days of unlimited travel on the THSR that can only be purchased outside of Taiwan by those with a tourist visa. Do note that upon purchase, you'll be given an Exchange Order that requires ticket redemption at any THSR Ticket window. (Remember to show your passport and to redeem it within 90 days of purchase date).
Tip: Plan ahead and decide when you intend to use the pass. You will be asked to declare the date when redeeming the tickets. Also, check out the timings of the THSR trains to better plan your trip!
If you are staying longer in Taiwan, check out our 5 Day Joint Train Pass Guide.
How do you make the most of your pass?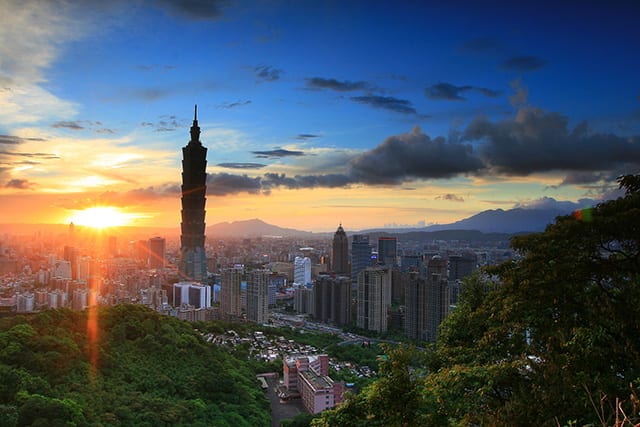 Mention Taiwan to anyone and almost all will respond with a resounding "The food is sooo good!" – we don't deny that (we are in love with their whacky street food markets) but there's so much more to uncover.
Not sure where to start? It doesn't' matter whether you're a Nature Lover, Adrenaline Junkie or Foodie because we've got you covered. Choose from one of our 3 Mini Flexi-itineraries and be ready for the best 72 hours of Taiwan!
IF YOU'RE A NATURE LOVER
1. Yang Ming Shan Park (陽明山)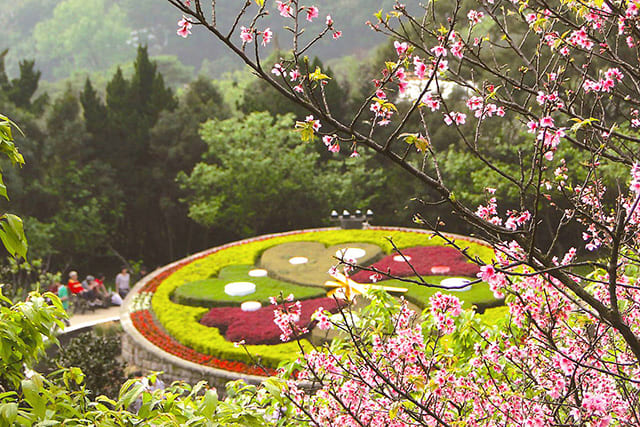 Yang Ming Shan National Park is located in Northern Taipei and home to several parks, hiking trails and hot springs. The area is rich in sulfur and used to operate numerous sulfur mining sites, but all has been decommissioned due to unfavourable environmental effects. However, they remain in-tact for you to check them out! Pay a visit to the Liu Huang Gu Sulfur Valley Geothermal Scenic Area and experience real-life geography lessons.
Each season brings a whole different type of floral beauty to Yang Ming Shan National Park.
| | | | |
| --- | --- | --- | --- |
| Winter | January – March | Prunus campanulata (a type of cherry blossom) & Camellia | Zhuzihu (Bamboo Lake)/Pingdenli/Houshan Park/Chienshan Park |
| Summer | June – August | Monsoon brings a cold drizzle that creates seas of clouds with the possibility of snow on cold days | Yangmingshan Park |
| Spring | March – May | Calla Lily, Yoshino Cherry Blossoms & Peony | Zhuzihu (Bamboo Lake)/Pingdenli/Houshan Park/Peony Park |
| Autumn | September – November | Golden red maple leaves | Yangmingshan Park |
Like they say, nothing comes free! So be prepared for quite a bit of walking while exploring Yang Ming Shan Park but be rewarded with beautiful landscapes and blooming flowers.
Fun Fact: Zhu Zi Hu (Bamboo Lake) did, in fact used to be a lava-dammed lake but with subsequent erosion, the water started to drain away. Presently, the lake has dried up and is used to grow the beautiful Calla Lilies.
Nearest THSR Station: Taipei Main Station
Address: No.1-20, Zhuzihu Rd., Beitou District, Taipei City
Hotels nearby: Beitou District
2. Lion's Head Mountain (獅頭山)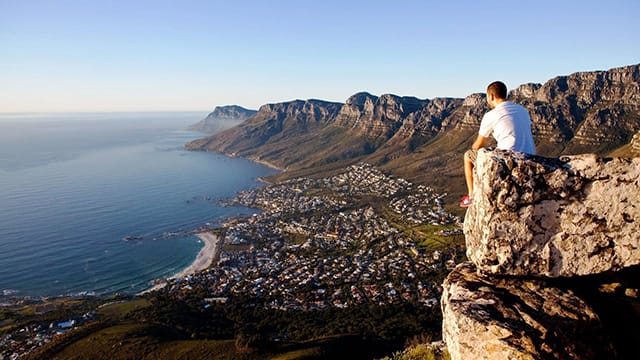 You're right! The mountain resembles the head of a lion, hence the name. Lion's Head Mountain has been a sacred Buddhist area, home to a network of Buddhist and Taoist temples along with the spectacular Shui Lian Cave. Be amazed by the crystal-clear silver water as you hike along the trail of Shui Lian Cave and check out the century-old Shui Lian Bridge built using ancient stone blocks (mixed with glutinous rice, dark brown sugar and lime)!
To truly experience the tranquility and peace of this sacred spot, it's recommended to spend a night there and be up early to enjoy the indescribable sunrise over the pagoda . The spectacular view makes Lion's Head Mountain a perfect weekend getaway from the buzzing city.
Tip: Avoid the weekend crowd and instead, include Lion's Head Mountain in your weekday itinerary.
Nearest THSR Station: Hsin chu THSR Station
Address: No.60-8, Liuliao, Qixing Village, Emei Township, Hsinchu County
Hotels nearby: Hsinchu County
3. Sun Moon Lake (日月潭)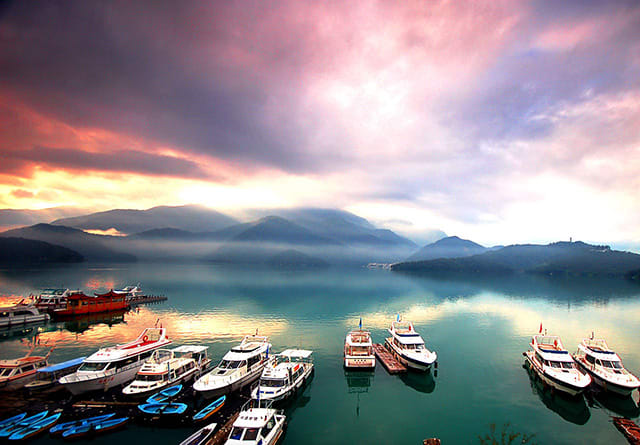 Sun Moon Lake is the largest lake in Taiwan with the east side being round like the sun and the west side shaped like a crescent moon. The grounds around the lake is home to the aboriginal Thao Tribe of Taiwan where several small towns are clustered into 4 zones.
Take a walk round the quaint town of Itashao (meaning "our homeland" in aboriginal Thao language) and though it doesn't offer a spectacular view or experience, it allows one to enjoy peace and sanctuary. Hop on the Sun Moon Lake Ropeway (also known as the cable car) and take in the magnificent aerial view of the lake.
There's more to Sun Moon Lake than the view – have some fun at the Formosan Aboriginal Culture Village, an extraordinary theme park split into 2 sections; a cultural segment showcasing the heritage and aborigines of Sun Moon Lake and an amusement park filled with thrill rides!
We're sure the entire family will enjoy a day at Sun Moon Lake.
Fun Fact: The forests bordering Sun Moon Lake are good places for bird watching with several species (such as the Bamboo Patridge) living on the mid-elevation!
Nearest THSR Station: Tai Chung THSR Station
Address: No.60-8, Liuliao, Qixing Village, Emei Township, Hsinchu County
Hotels nearby: Sun Moon Lake
4. Alishan National Scenic Area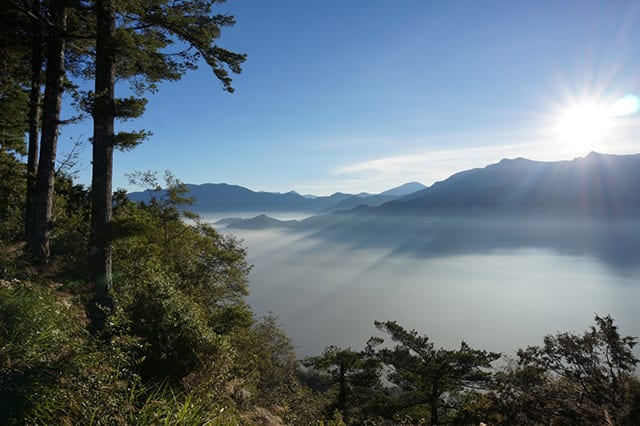 The Alishan area hidden in the mountains of Chiayi is a must-visit when in Taiwan! Boasting a proud 37,000 hectares of dense forests, Alishan promises all a peaceful respite from the buzzing city life with its idyllic landscape.
Many have sworn by the Alishan Forest Railway that departs from Chiayi THSR station every morning because it stops midpoint at Feng Qi Hu where you can gobble down the famous railway lunch box! If you have a penchant love for tea, stay back and visit the Sheng Le Tea Plantation/Farm Cafe and try tea-picking yourself (yes, you get to dress up in a straw hat and don a woven basket)!
It's time to burn those carbs by taking on as many trails to fully explore the lands of Alishan. The different trails are marked clearly by signs remember to be on a lookout for the 3-Generation Tree! Alishan is the busiest during the Cherry Blossom Festival in March and April as well as during Autumn. It is absolutely breathtaking if you're able to catch the blossoms in full bloom!
Tip: It is highly recommended by the locals to try Alishan's speciality – a freshwater trout steamed in black bean sauce and beancurd at the Shan Bin Restaurant, yum!
Nearest THSR Station: Chiayi THSR Station
Address: No.51, Checheng, Chukou Village, Fanlu Township, Chiayi County
Hotels nearby: Chiayi County
IF YOU'RE A FOODIE
1. Rao He Night Market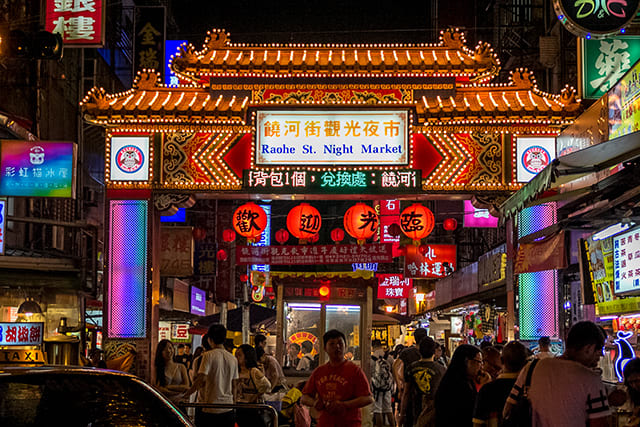 Rao He Night Market is one of the oldest in Taipei, and therefore, a must-visit! The 600 metre path long street market is packed with the whackiest street food, snacks and carnival games!
Vendors begin preparing at 5pm so dropping by at around 7pm is the golden time. We have come up with what we think are the Top 5 Must Eats at this street market!
Black Pepper Bun
Giant Fried Chicken Cutlet
Giant Grilled Squid
Beef Cubes
Taiwanese Sausage
Besides basking in the glory of food, Raohe Night Market's entertainment does not disappoint. Shop till you drop or try your game at the Retro Pinballs (operated by marbles and steel pins) – nostalgic!
Tip: Tour groups tend to concentrate around the eastern edge of the market. We recommend you to walk directly past these groups for a cooler experience.
Nearest THSR Station: Taipei Main Station
Address: Raohe Street, Songshan District, Taipei City, Taiwan 105
Hotels nearby: Songshan District
2. Feng Chia Night Market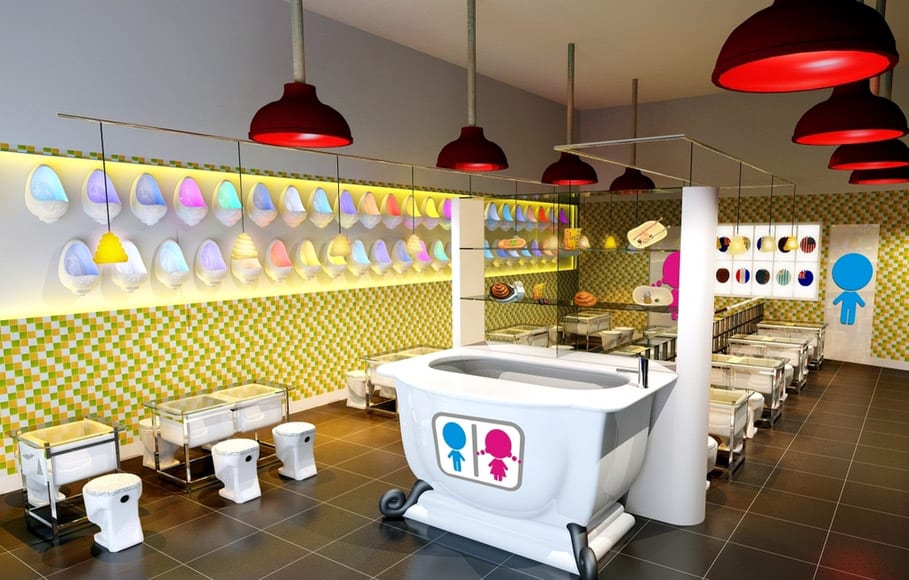 Boasting a space of 1 kilometre, Feng Chia Night Market is the mother of all night markets! Located along Feng Chia Road, visitors to the night market are encouraged to rent a bike from the iBike Station (outside the main intersection) to travel green. Wouldn't hurt to burn some carbs to make space for more street food don't you agree?
Here is our take on the top 5 Must-Eats at this street market
Octopus Takoyaki
Taiwanese Sausage & Sticky Rice Rolls
Oyster Omelet
Taro Ball Soup
Nodding Milk Tea from Just Tea Shop
Just like Rao He, you can enjoy arcade games and mini shopping malls after gobbling down a week's worth of sweet food that'll bound to keep you satisfied before your next trip back!
Fun Fact: During the weekend, as many as 30,000 people can pass through the market, wow!
Nearest THSR Station: Tai Chung Main Station
Address: Wenhua Road, Xitun District, Taichung City, Taiwan 407
Hotels nearby: Xitun District
3. Da Dong Night Market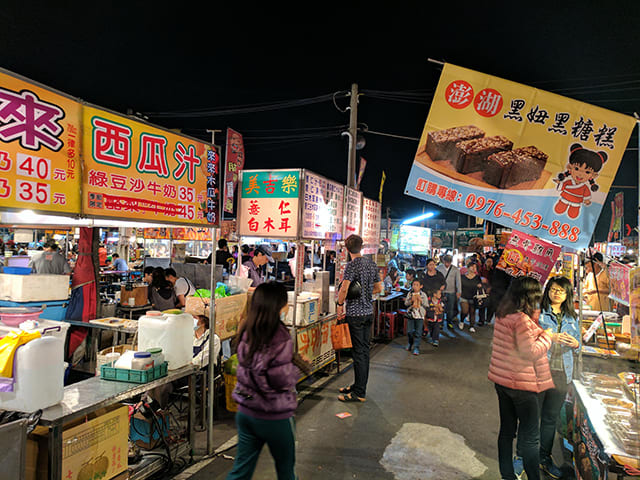 The special one, Da Dong Night Market opens only on Monday, Tuesday and Friday each week. Watch as a myriad of stores come together displaying different tastes and aromas of the ever popular Taiwanese street foods.
Just like Rao He and Feng Chia, we've collated our top 5 Must-Eats at Da Dong!
Stinky Tofu
Oyster Mee Sua
Taiwanese Grilled Spring Rolls
Giant Fried Cuttlefish
Papaya Milk
There is also an outdoor auction hosted by a pair of brothers (or so, we heard!) and lots of visitors stand around, amazed at the interesting ways the duo present their products.
Fun Fact: It is the second largest night market in Tainan and is often frequented by NKCU students. Also, Friday nights are usually pretty crowded.
Nearest THSR Station: Tai Nan THSR Station
Address: No. 276, Section 1, Linsen Road, East District, Tainan City, Taiwan 701
Hotels nearby: Tainan City
4. Rui Feng Night Market
Rui Feng Night Market is one of the biggest night markets in the whole of Taiwan and can easily offer the most authentic Taiwanese experience! We recommend that you grab a drink and sip as you wander through through the night – it's going to be long! Perhaps you could try Dian Xiao Er's Fresh Milk Tea made with milk produced in Kaohsiung, yum!
As the night market unfolds with every step you take, be sure to look out for the top 5 Must-Eats at Rui Feng Night Market.
Stone Roasted Chicken
Sweet Potato Balls
Fresh Handmade Mochi
Fresh Taro Milk
Bubble Tea Toast (this is really interesting!)
As Rui Feng is tucked away from direct access by cars and scooters, safety is less of an issue but nonetheless, ensure all valuables are kept safe and sound at all times.
Fun Fact: Several stalls at Rui Feng Night Market have more than 2 decades of history!
Nearest THSR Station: Zuo Ying THSR Station
Address: No. 1156, Yucheng Road, Gushan District, Kaohsiung City, Taiwan 804
Hotels nearby: Gushan District
Taiwan is a beautiful country with countless gems waiting to be explored by you. Remember to grab the essential 4G Wifi Device to stay connected on the go. If you want to explore beyond the beaten path, Car Rentals and charters are also available.
Here's a pro-tip for making the most of your time from Taipei to Kaohsiung: fly into one city and fly out of the other!
Taiwan HSR Normal Fares / Rates
Taiwan HSR Schedule from Taipei