Explore Kyushu with ultimate convenience
Known as the "Land of Fires", Kyushu is a mountainous island in the South of Japan famous for its active volcanoes and natural hot springs; all which surround the region's rich culture. One of the best ways to explore the wonders of Kyushu is via the Japan Rail (JR) Kyushu Rail Pass.
Below are the 5 different JR Kyushu rail passes:

With these passes, you'll get unlimited access to all the JR trains in Northern Kyushu, Southern Kyushu, or all of Kyushu depending on the rail pass you select. The trains not included in the JR Kyushu rail passes are the Sanyo Shinkansen that runs between Hakata and Kokura.
What are the trains covered under the JR Kyushu Rail Pass?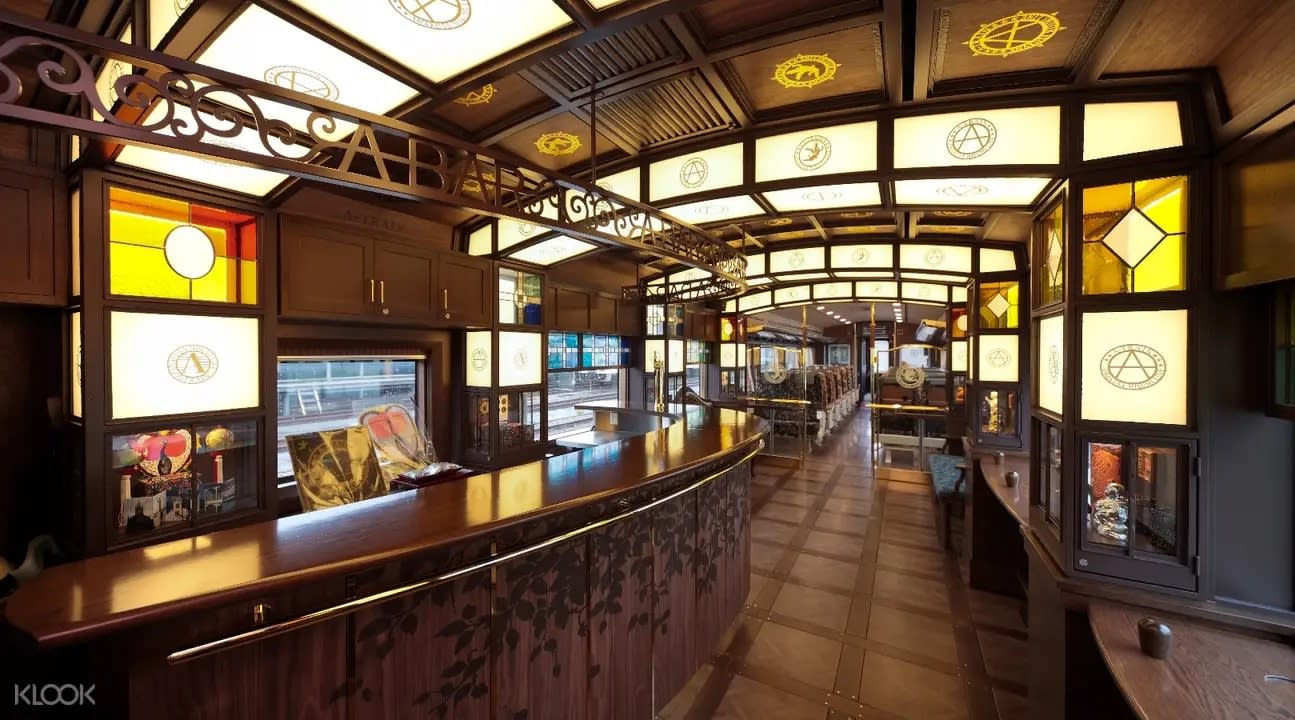 Each JR Pass caters specifically to different regions in Japan and comes with varying entitlements. Which JR Kyushu rail pass you purchase will highly determine your itinerary and the places you visit.
With the JR Kyushu Rail Pass, the trains covered include:
Reserved and non-reserved seats for all Shinkansen (Mizuho, Sakura and Tsubame) within the designated covered area.
Reserved and non-reserved seats for all limited express trains within the designated covered area.
Local trains within the designated covered area.
For the list of all the trains covered with the pass, refer to the JR Kyushu website.
However, do note that the JR Kyushu rail passes do not include the following:
Use of Green Car (requires additional cost)
Shinkansen between Hakata and Kokura
JR Kyushu buses and B&S Miyazaki buses
Rides on any station other than the designated areas of your rail pass
Which JR Kyushu Rail Pass should I get?
To help you determine the right rail pass for you, we have created a table with all of the consolidated information so you can make an informed decision for yourself.
JR Kyushu Pass
JR North-Kyushu Pass
JR South-Kyushu Pass
Validity

3-Day

5-Day

3-Day

5-Day

3-Day

Price

JPY 15,000 (3-Day)

JPY 18,000 (5-Day)

JPY 8,500 (3-Day)

JPY 10,000 (5-Day)

JPY 7,000

Seat
reservation
limit

10 times (3-Day)

16 times (5-Day)

10 times (3-Day)

16 times (5-Day)

10 times

Shinkansen
coverage
Shinkansen rides
between Hakata
and Kagoshima-chu
Shinkansen rides
between Hakata
and Kagoshima-chu
Shinkansen rides
between Hakata
and Kagoshima-chu
Designated
areas
Northern Kyushu areas,
Southern Kyushu areas,
Misumi, Hitoyoshi,
Yoshimatsu,
Kagoshima-Chuo,
Kirishima, Ibusuki,
Miyazaki and
Miyazaki Airport
Shimonoseki, Mojikō,
Kokura, Hakata,
Yufuin, Beppu,
Oita, Kumamoto,
Aso, Saga, Nagasaki,
Huis Ten Bosch
and Sasebo
Southern Kyushu areas,
Kumamoto, Misumi,
Hitoyoshi, Kirishima-onsen,
Kirishima-jingū, Kagoshima,
Ibusuki, Nishi-Ōyama,
Miyazaki, Obi, Nangō,
Nobeoka
Popular
destinations
covered
Hakata (Fukuoka), Oita,
Nagasaki, Kumamoto,
Miyazaki
Hakata (Fukuoka), Oita,
Nagasaki, Kumamoto

Miyazaki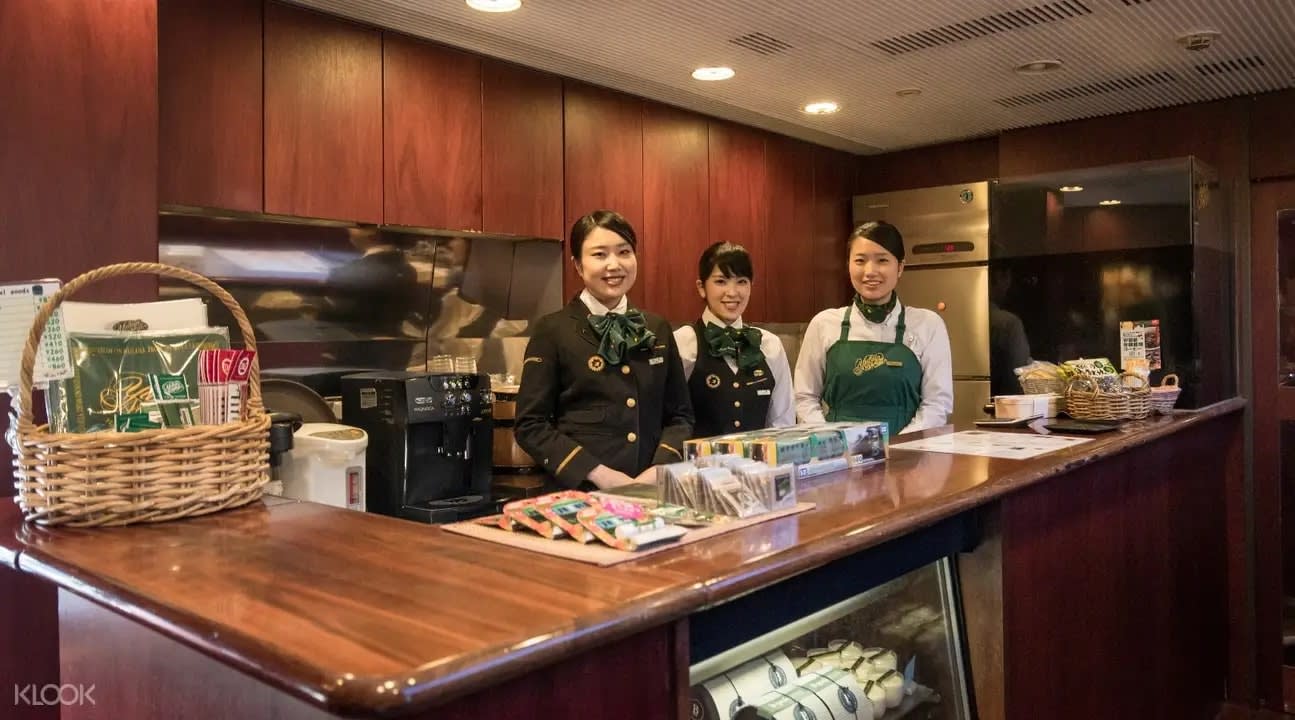 If you're still unsure, perhaps these commons FAQs below can help to offer more clarification.
Scenario 1: If I am only in Kyushu for a short trip and want to see only the main attractions, which pass should I get?
The more popular spots are mainly in Northern Kyushu. Consider getting the 3/5 Day Northern Kyushu Area Rail Pass to access the top must-visit spots on the island.
Scenario 2: Under what circumstances should I opt for the All Kyushu Area Rail Pass?
This pass is for those who want, and have the time, to explore the whole of Kyushu. The All Kyushu pass will get you unlimited access to areas beyond the well-explored North, to the Southern edges of the island.
Scenario 3: I am exploring the whole of Japan and plan to pop by Kyushu for a couple of days.
Since you are travelling around Japan, you will likely be using a lot of JR trains way beyond just Kyushu. It will probably be best if you get the 7 Day, 14 Day or 21 Day Whole Japan Rail Pass. This will get you access to JR trains around Kyushu and the rest of Japan and you can get from prefecture to prefecture hassle-free.
What is the difference between reserved and non-reserved seats?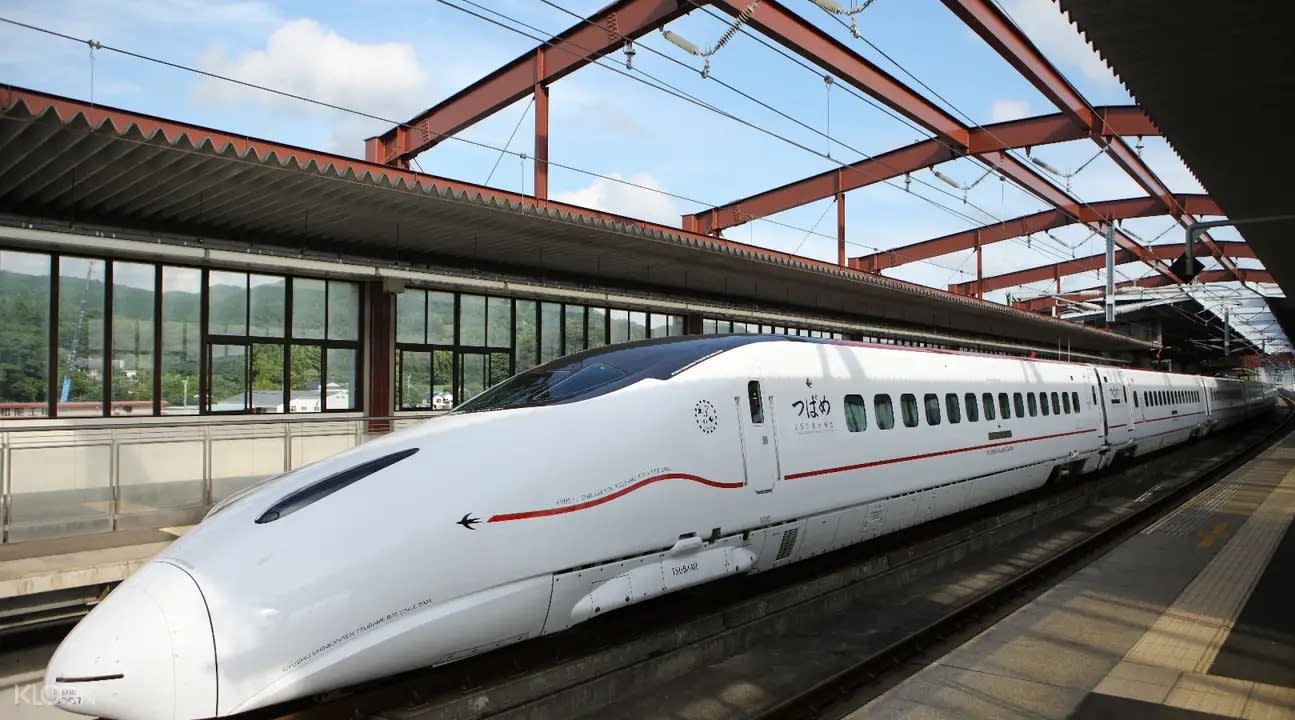 You can ensure that you get a seat on the JR trains by reserving seats for your journey. Some trains offer reserved seating, although you might have to purchase a separate express ticket to reserve the seats. For trains that don't require an express ticket, you can reserve your seats upon collecting your JR Pass.
For both North-Kyushu and All Kyushu Railway Passes, you can reserve seats in standard cars up to 10 times for 3-day passes, and 16 for 5-day passes, whereas up to 10 times for the South-Kyushu 3-day pass. If you want to book more seats, you can do so at an extra fee. Green Car seat reservations also require an additional charge.
How to reserve seats with my JR Kyushu Rail Pass?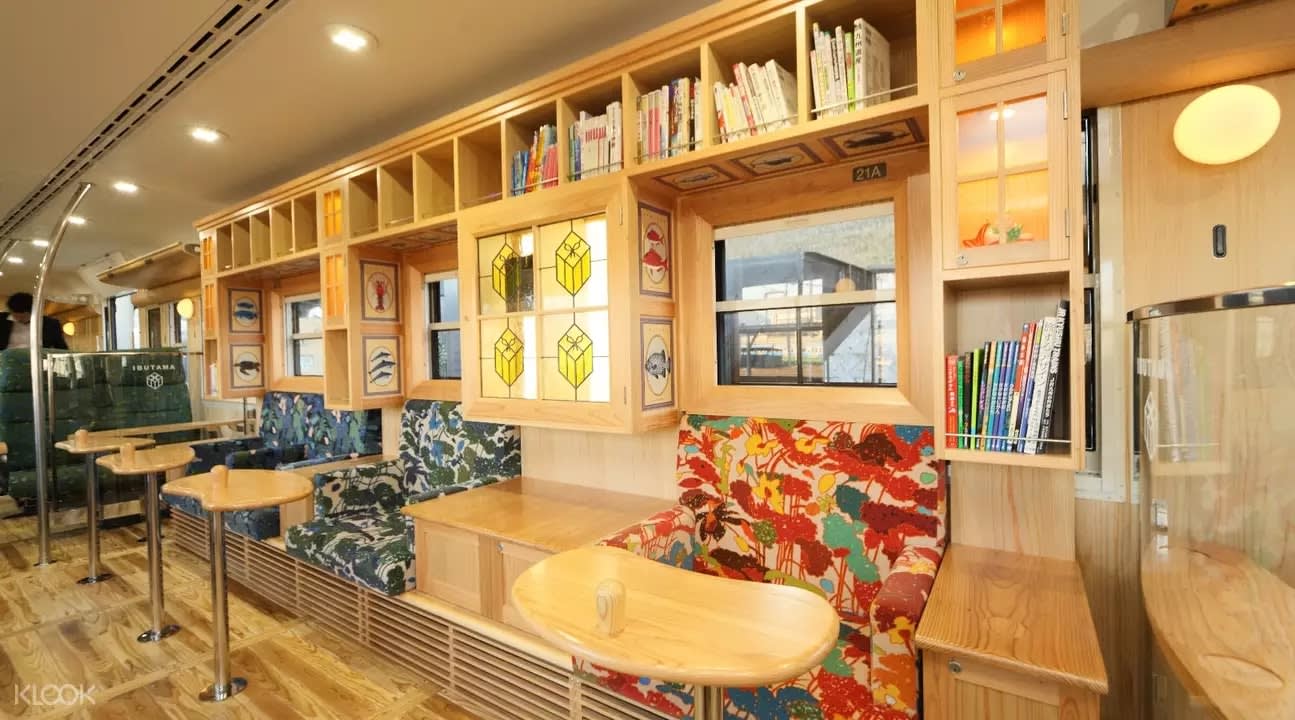 The seat bookings can be done in Japan and you can make your reservations at any JR station or travel centres in Kyushu. Besides that, you can reserve online after purchasing your tickets from Klook by following this guide on how to make a seat reservation. A service fee for online reservation is applicable at JPY 1,000 for adult and JPY 500 for child.
Where do I redeem my physical JR Kyushu Rail Pass?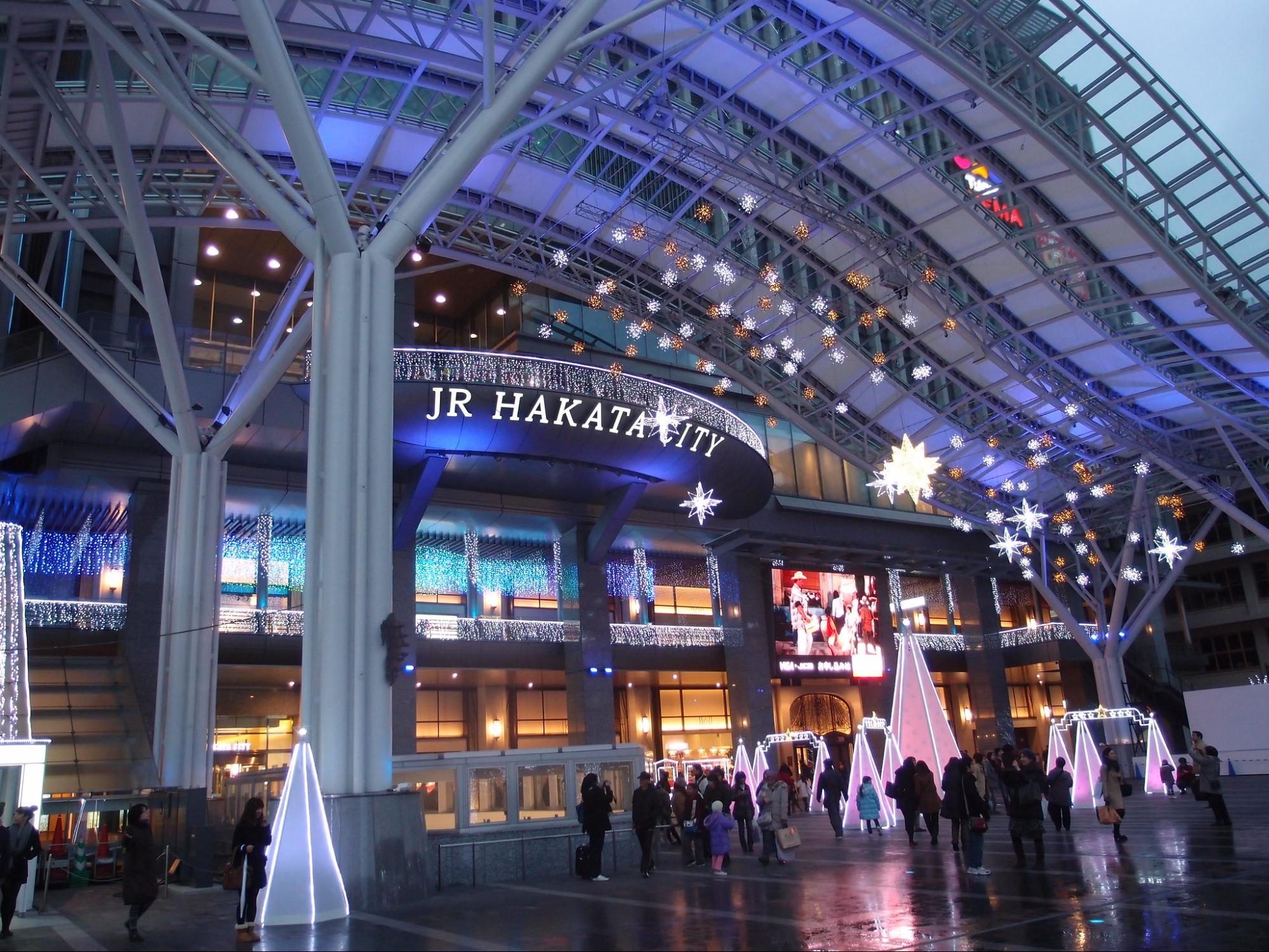 Photo Credit: andie712b for Flickr
When you purchase your tickets on Klook, you will receive an online voucher. Present that voucher in Japan at the JR counters together with your passport to redeem your rail pass. Here's the full list of JR counter redemption locations in Kyushu.
Since the JR Kyushu Rail Pass is only eligible to visitors with a temporary visit status, you're required to present your passport before you can collect your rail pass.
IMPORTANT: When you enter Japan, if you use an automated gate, no stamp will be applied to your passport. Either use a manned automated gate or ask a clerk to apply the stamp to your passport.
Kyushu region highlights
Kyushu is the third largest main island in Japan and is filled with natural attractions such as volcanoes and hot springs because of its geographic location. Here are some of the popular spots in Kyushu to check out with your unlimited JR rides.
North Kyushu
Oita
1. Hells of Beppu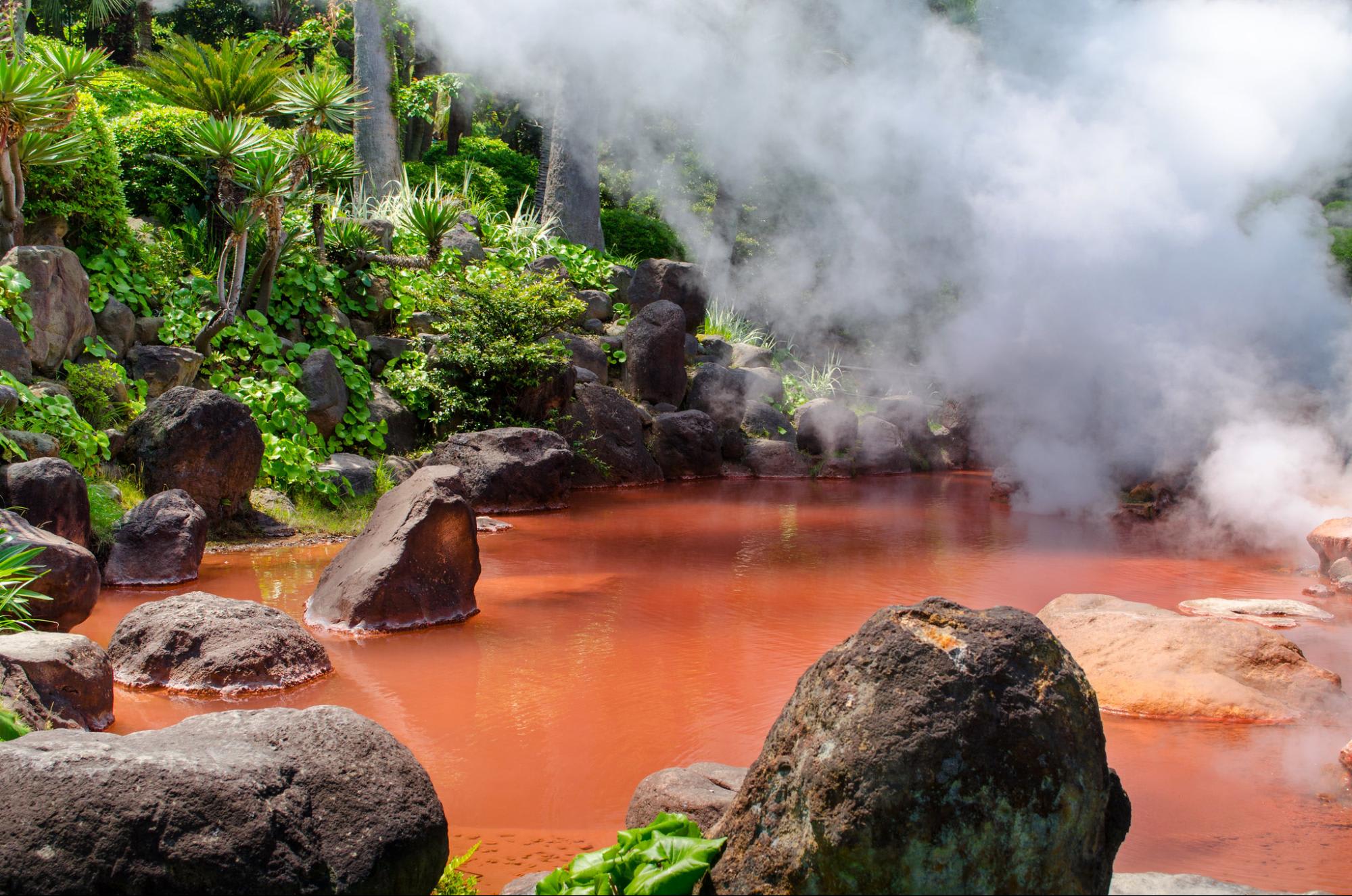 Photo Credit: Einheit 00 for Flickr
Beppu is possibly Japan's most famous spa city. Other than its great onsens, it is also home to the "Hells of Beppu"; eight hot spring sites that are for viewing rather than soaking in for the very reason that the boiling water can cook you!
The "hells" are dotted around Beppu, with each unique and striking in its own way. In Chinoike Jigoku (Bloody Hell Pond), the steam from the hot spring sometimes appears red like the waters it emerges from. There is also Umi Jigoku (Sea Hell), often regarded as the most beautiful of the eight because of its brilliant blue boiling waters.
Location: 559-1 Kannawa, Beppu 874-0045, Oita Prefecture
Opening Hours: Daily, 8am to 5pm
Nearest JR Station: Beppu Station
Where to stay:
2. Takasakiyama Nature Zoo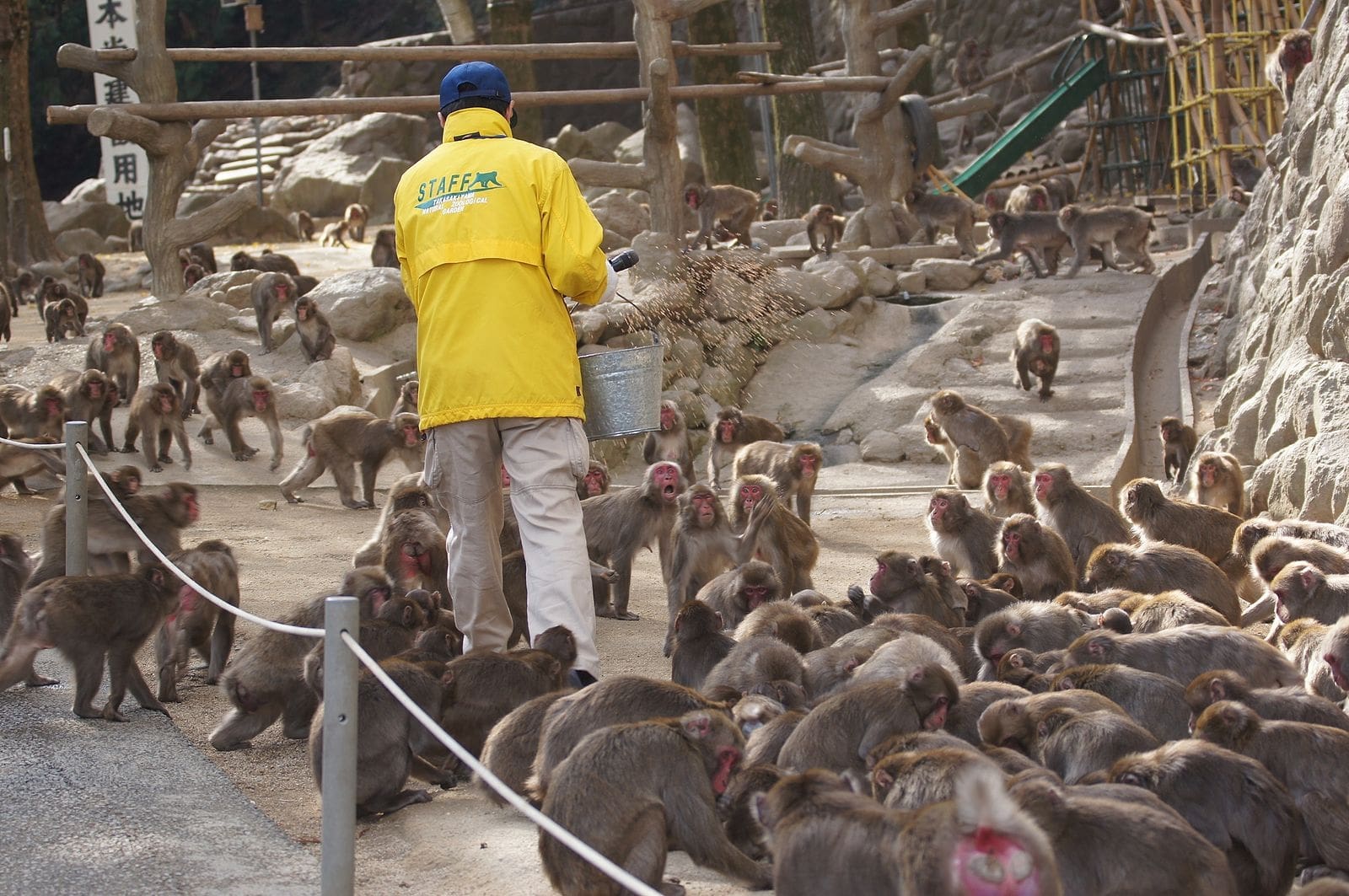 Photo Credit: Wikimedia Commons
This zoo lies at the base of Mount Tanasakiyama, where more than a thousand wild Japanese macaques wander around freely- just like the deer do in Nara Park.
The monkeys here are not afraid of humans so the troops of furry primates might just end up scurrying around your feet. But don't touch, feed or make eye contact with them. Seriously, don't or you might find yourself being chased by one!
Location: 3098-1 Tanoura, Oita 870-0802, Oita Prefecture
Opening Hours: Daily, 8:30am to 5pm
Nearest JR Station: Beppu Station
Kumamoto
3. Mount Aso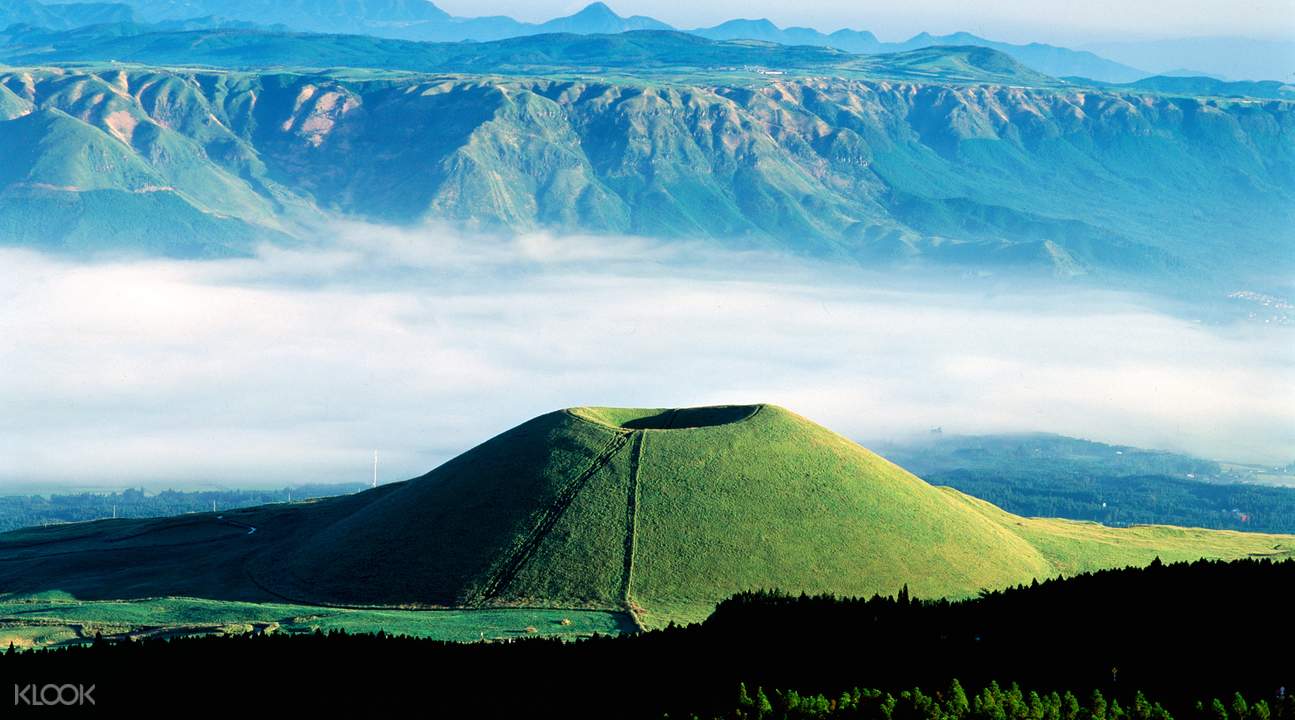 The largest active volcano in Japan, Mount Aso, is a rocky giant that sits in the centre of Kyushu. It has 5 main peaks, with the highest, Mt Tako peeking out at 1,592 metres above sea level.
The volcano is now at an active phrase so visitors are not able to take the ropeway to the crater mouth, but all is not lost as you will be able to get as close as a few hundred meters away from the steaming crater. There are also multiple things to do at the foot of the mountain; including horse riding from March to December and camping.
You can also join a day tour around the Aso region where you'll be taken to all the best scenic spots with the help an informative and helpful guide. Simply meet up at Higo Ozu station and delve into the history and unique sceneries of Aso.
Location: Kumamoto Prefecture
Opening Hours: Daily, 9am to 5pm
Nearest JR Station: Aso Station /Higo Ozu (for day tour meet up)
Where to stay:
4. Kurokawa Onsen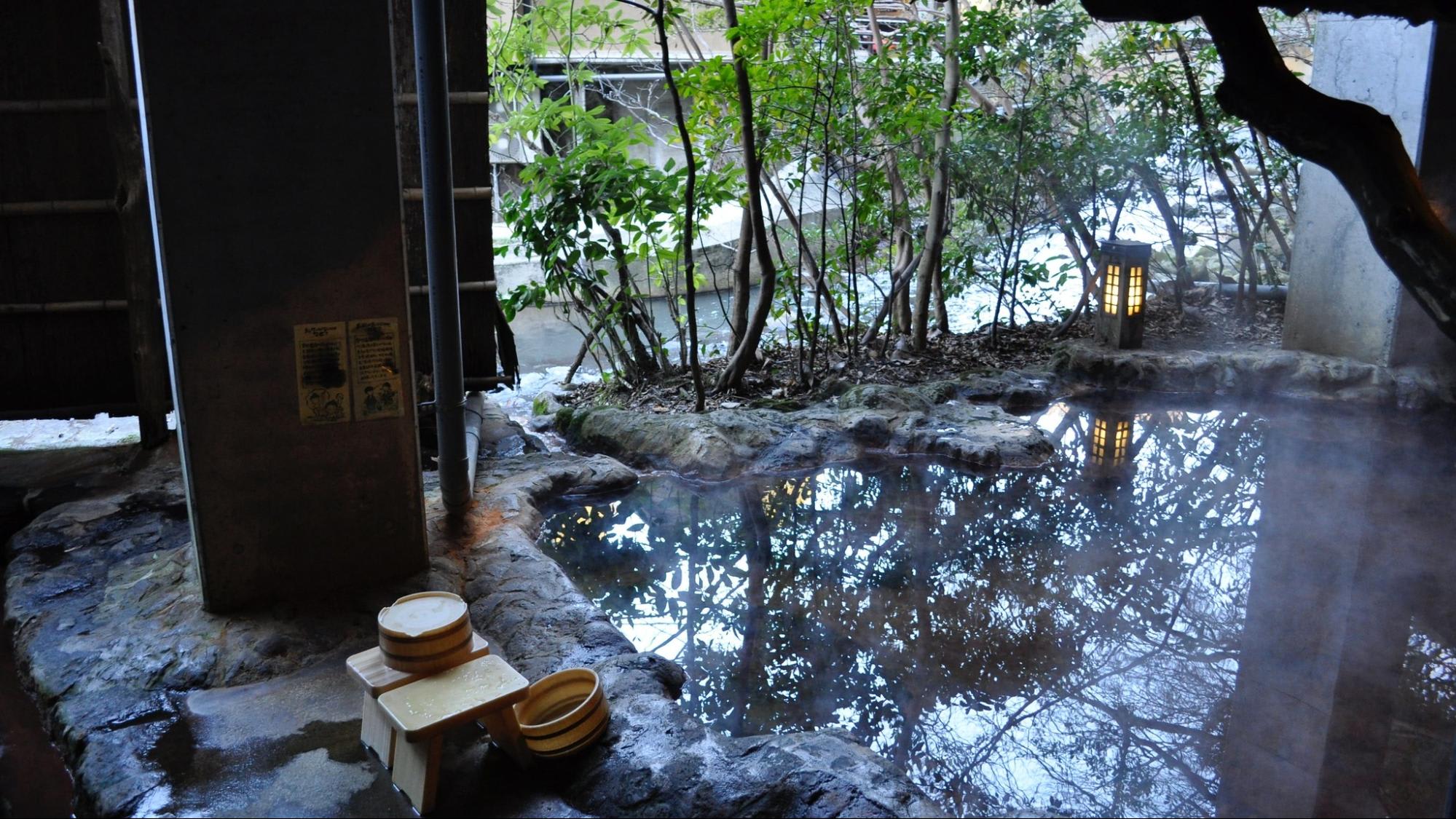 Photo Credit: David McKelvey for Flickr
Take a breather at Kurokawa, a quaint onsen town near Mount Aso, where the traditional Japanese buildings are preserved- resulting in the preservation of the small town's peaceful and earthy vibe.
It is regarded as one of Japans best hot spring towns because of its quality hot spring baths which are intricately intertwined with nature. Certainly a zen paradise for all the city dwellers out there!
Location: Kumamoto Prefecture
Nearest JR Station: Hita Station
Nagasaki
5. Nagasaki Atomic Bomb Museum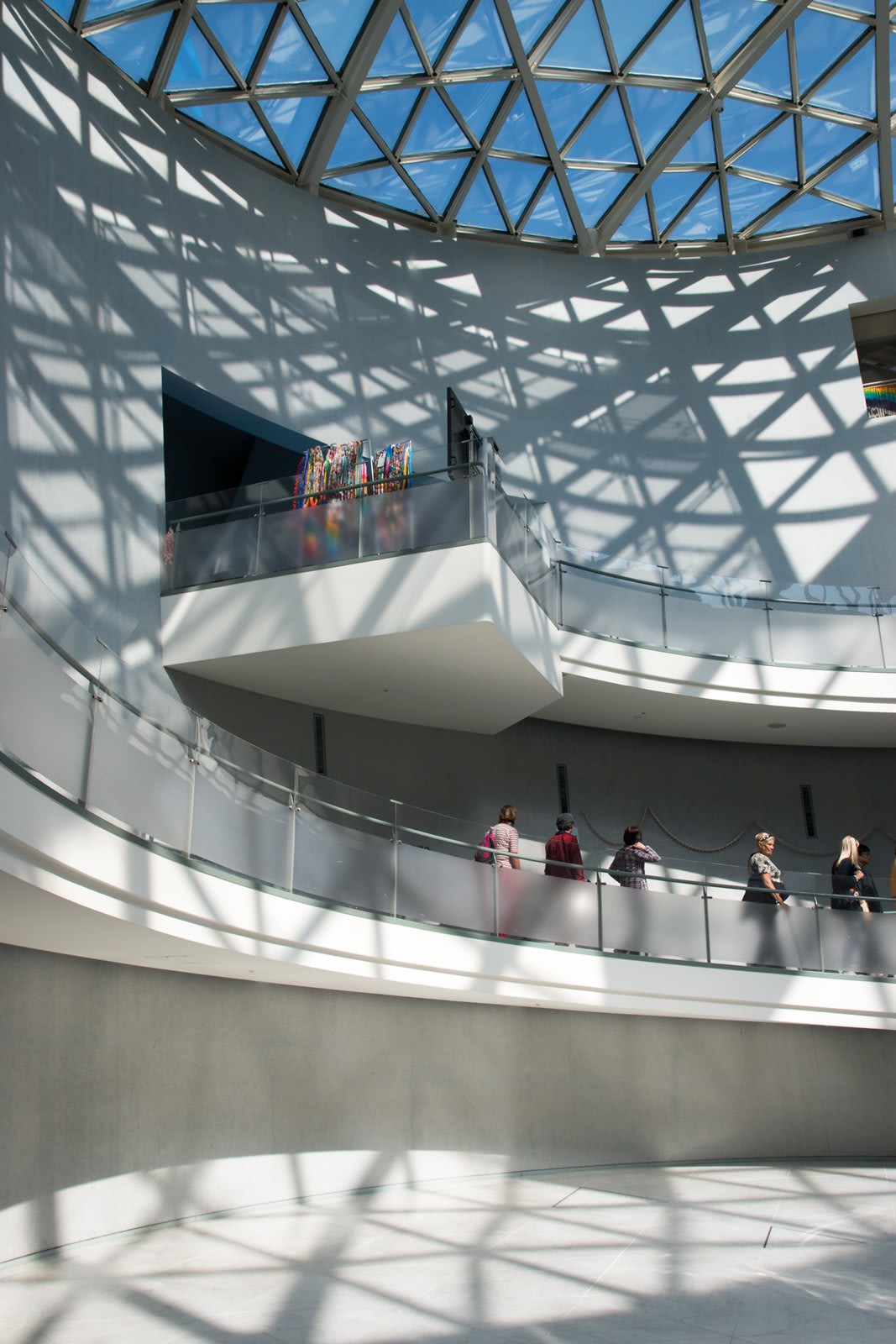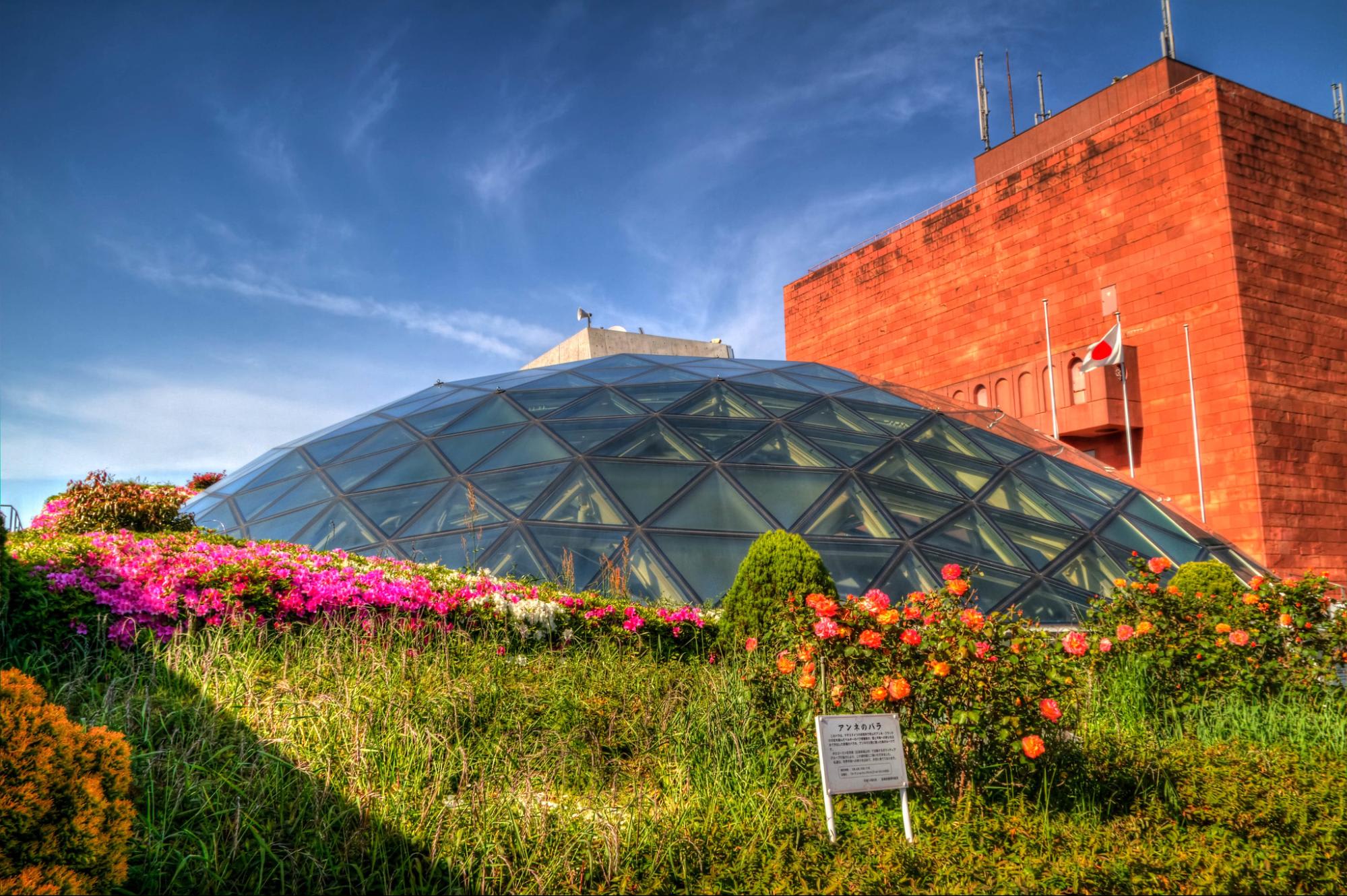 Photo Credit: Gary Bembridge for Flickr | Ronald Woan for Flickr
Take a trip back to the 1940s here to find out more about World War II and the bomb that took the lives and injured more than 140,000 with its fiery blast.
The Nagasaki Atomic Bomb Museum was erected to remind future generations of the horrors of war. Follow the emotional and inspiring stories left behind by survivors at what is described as a "must-visit" if you are in Kyushu.
Location: 7-8 Hirano-machi, Nagasaki-shi, Nagasaki
Opening Hours: Daily, 8:30am to 5:30pm
Nearest JR Station: Nagasaki Station
Where to stay:
Fukuoka
6. Canal City Hakata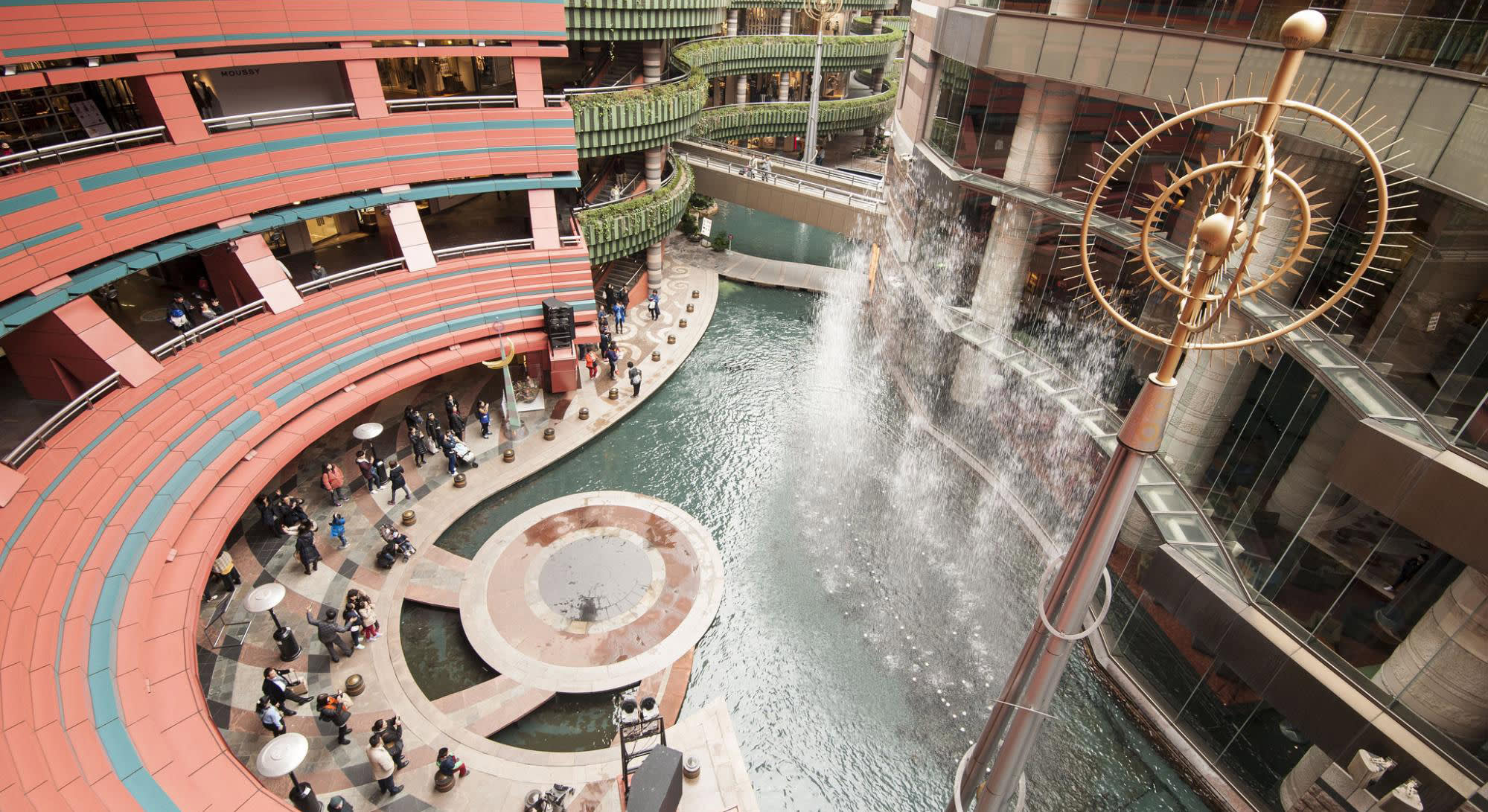 Think of a contemporary, high-tech Venice drizzled with Las Vegas glamour and you get Canal City Hakata, a "city within the city" of Fukuoka.
This 2.5 million square foot mega mall consists of your typical shops, eateries and cinemas, along with a theatre, two hotels and a canal that flows through the futuristic structure. It is also conveniently located at a walking distance from Hakata and Tenjin Station.
Location: 1-2 Sumiyoshi, Hakata-ku, Fukuoka 812-0018, Fukuoka Prefecture
Opening Hours: Daily, 10am to 9pm (shops) and 11am to 11pm (restaurants)
Nearest JR Station: Hakata Station
For more travel tips and insights on Fukuoka, make sure to check out the Klook first timer's guide to Fukuoka!
Where to stay:
South Kyushu
Miyazaki
7. Takachiho Gorge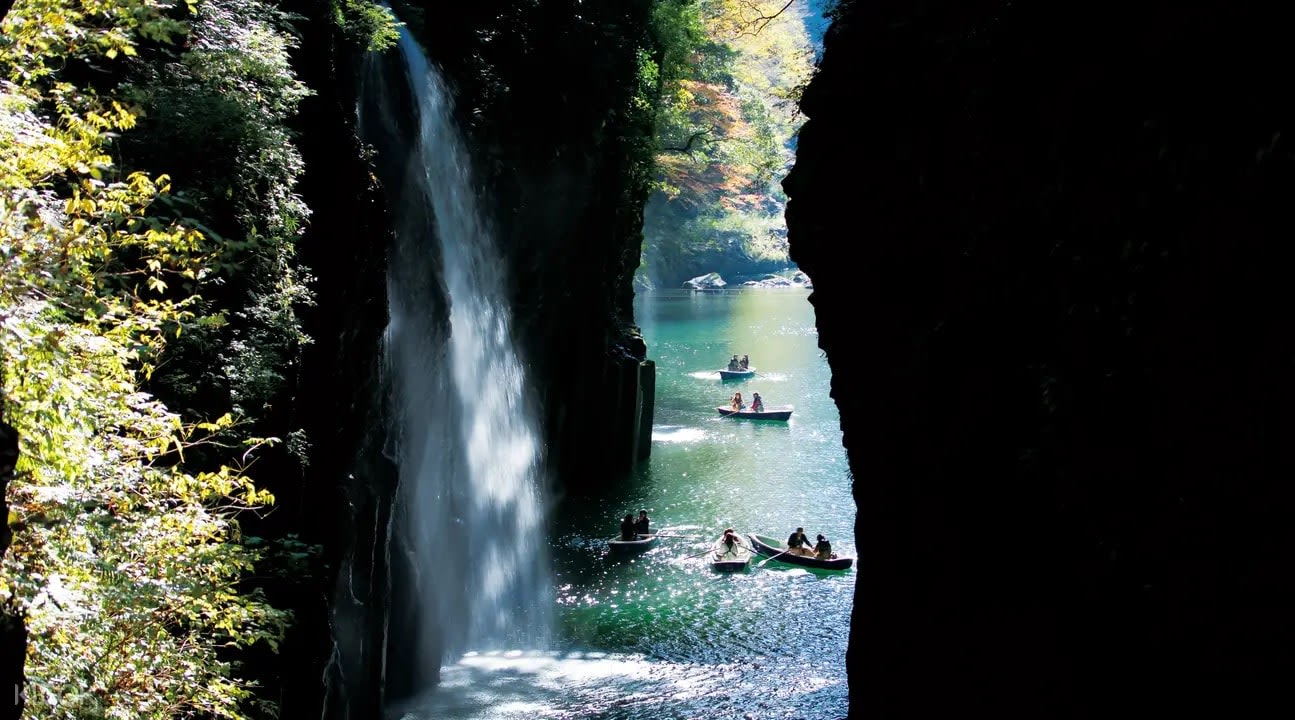 Takachiho Gorge is a narrow canyon carved out by the Gokase-gawa River. Both sides of the water are walled with steep, 100 meter-high cliffs made of lava spewed from Mount Aso. To explore the gorge, either head to the walking trail or rent a canoe to paddle down the river for a bottom-up view of the gorge and close up encounters with the cascading 17-meter Manai Falls.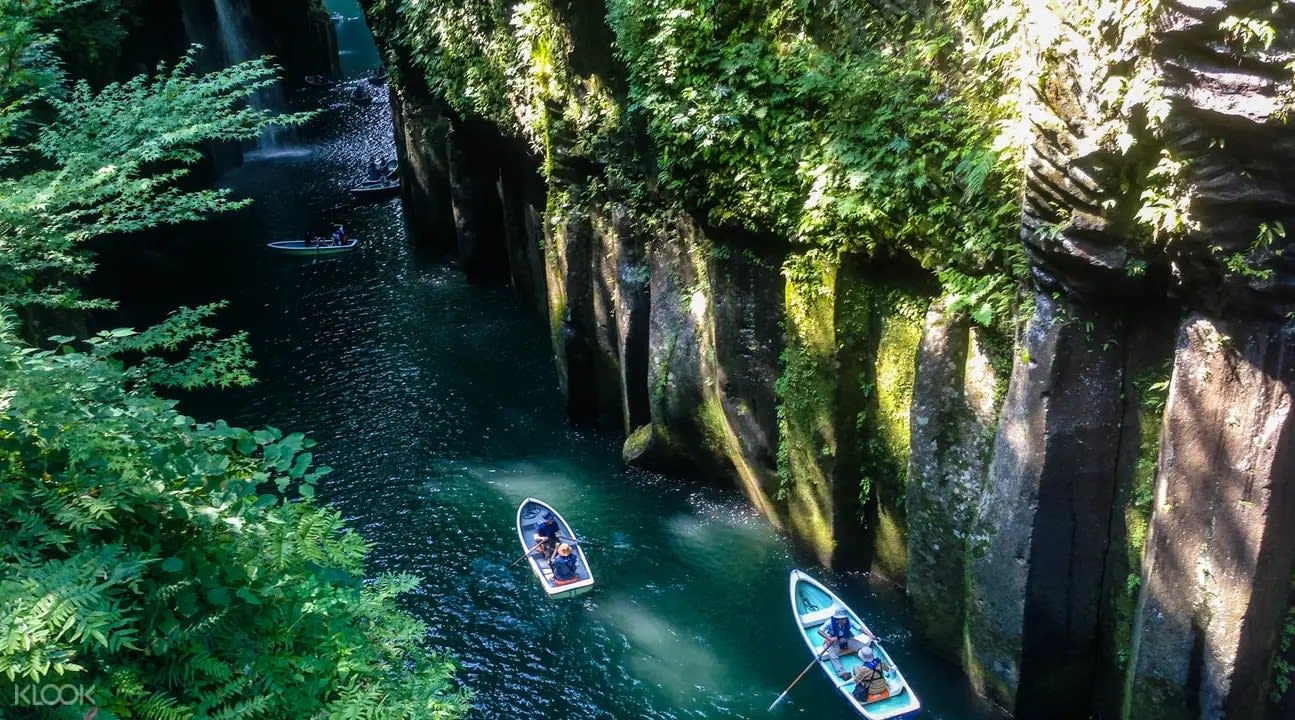 Visit Takachiho in the summer for lush greenery or in the autumn for a landscape covered in a rich, orange hue. Located deep in the wilderness, it's not the most straightforward to get to. To save yourself the trouble, join a Takachiho Gorge day tour with a convenient meet-up location at Higo Ozu station!
Location: Mitai, Nishiusuki-gun, Takachiho-cho 882-1101, Miyazaki Prefecture
Opening Hours: 8:30am to 5:00pm (boat ride)
Nearest JR Station: Nobeoka Station (1.5 hours bus ride in from station) / Higo Ozu Station (for tour meet up)
Where to stay:
To Kyushu, we go!
After planning your itinerary and picking out the best-suited JR Kyushu Pass for your trip, you're on your way to enjoying the best sights of Kyushu, without worrying about transportation. To fully optimize your trip, we suggest booking a 4G WiFi device so you can share all your holiday memories with your loved ones!