Don't feel like queuing to view the Mona Lisa? Here are eight equally stunning masterpieces worth travelling for.
1. INFINITY MIRRORED ROOM – BRILLIANCE OF THE SOULS BY YAYOI KUSAMA
Venue: MUSEUM MACAN, JAKARTA, INDONESIA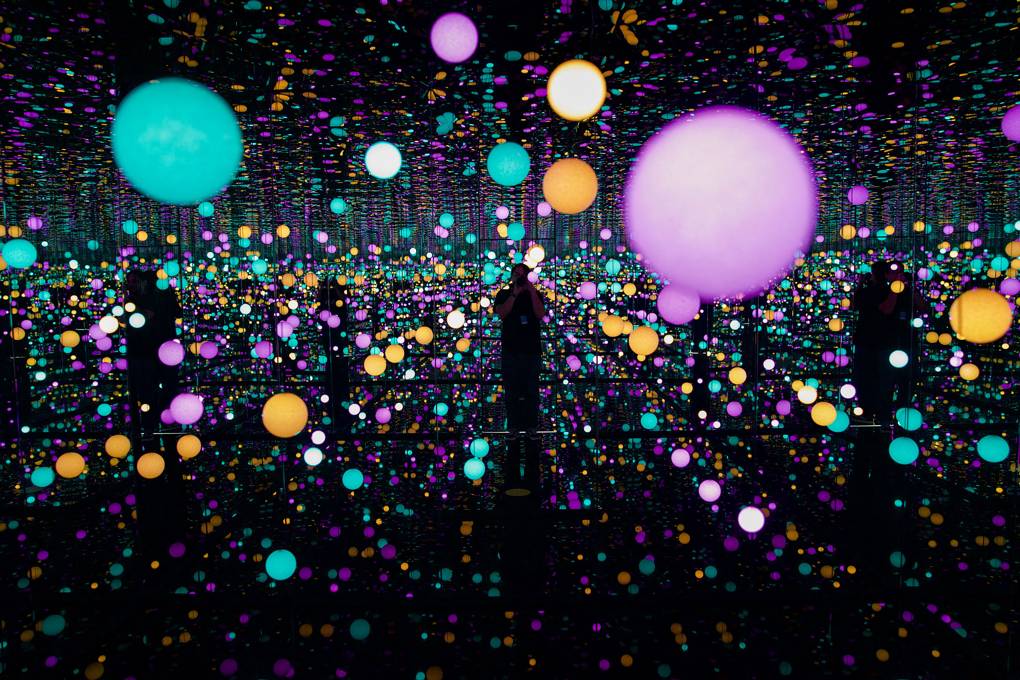 Jakarta's Museum MACAN covers 43,000 square feet, and it's jam-packed with art, including pieces by Andy Warhol and Ai Weiwei. But our favourite work is Yayoi Kusama's Infinity Mirrored Room, originally installed as a temporary exhibit but given a permanent home in the gallery in early 2019. Visitors to this 27,000-square-foot explosion of mirrors and polka dots are strictly controlled, allowing plenty of time to appreciate one of Kusama's most recognisable pieces.
Where to stay:
2. LIZ BY ANDY WARHOL
Venue: ART INSTITUTE CHICAGO, US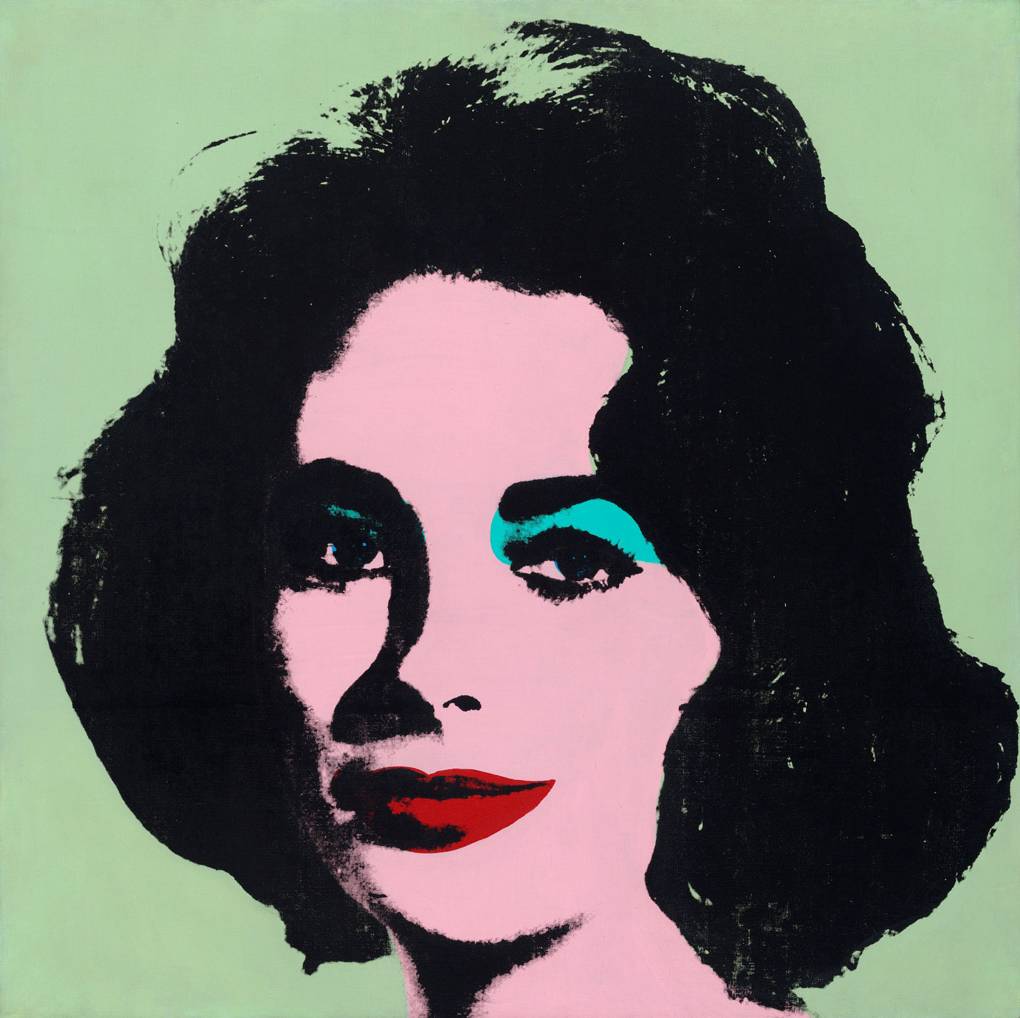 Andy Warhol's depictions of Mao are among his most well-known portraits – he began painting them in 1972, when President Nixon made his first visit to China. Although Liz, one of many portraits of actress Elizabeth Taylor, is a lesser-known piece, the bold, flat colours represent the breakthrough moment which turned him into a superstar – his decision to take the commercial printing process of photo-emulsion silkscreen and apply it to canvas. Warhol first painted Taylor in 1963, when she was at the height of her career, and he made his final portrait of the actress in 1965, the year he announced his retirement.
Where to stay:
3. ZODIAC BY DAMIEN HIRST
Venue: THE ROSEWOOD HOTEL, HONG KONG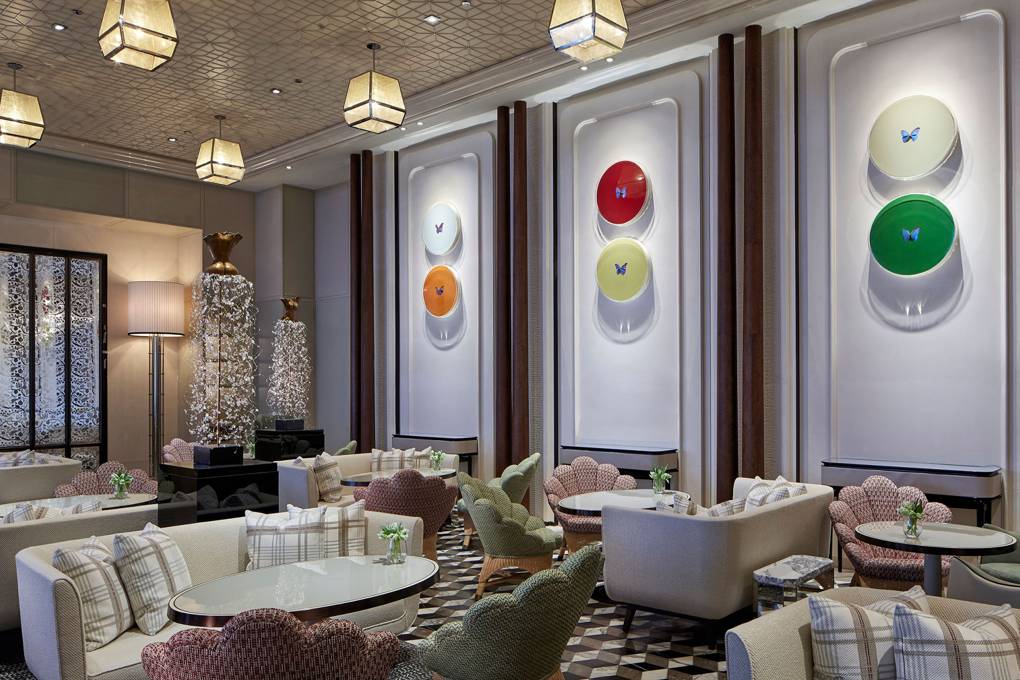 As much as we love a good art gallery, there are advantages to hotel-based art: no admission fees and fewer selfie sticks to start with. Various pieces by Damien Hirst have been displayed at Hong Kong galleries over the years, but fans keen to avoid the crowds should stop by Hong Kong's Rosewood Hotel, where the English artist's Zodiac masterpiece is on display in the Butterfly Room café. Other artworks in Hong Kong hotels include Salvador Dalí's sculpture Woman Aflame in the atrium of the Landmark and Fernando Botero's world-renowned Leda and the Swan sculpture outside the Peninsula hotel.
Where to stay:
4. DRIFT BY ANTONY GORMLEY
Venue: MARINA BAY SANDS HOTEL, SINGAPORE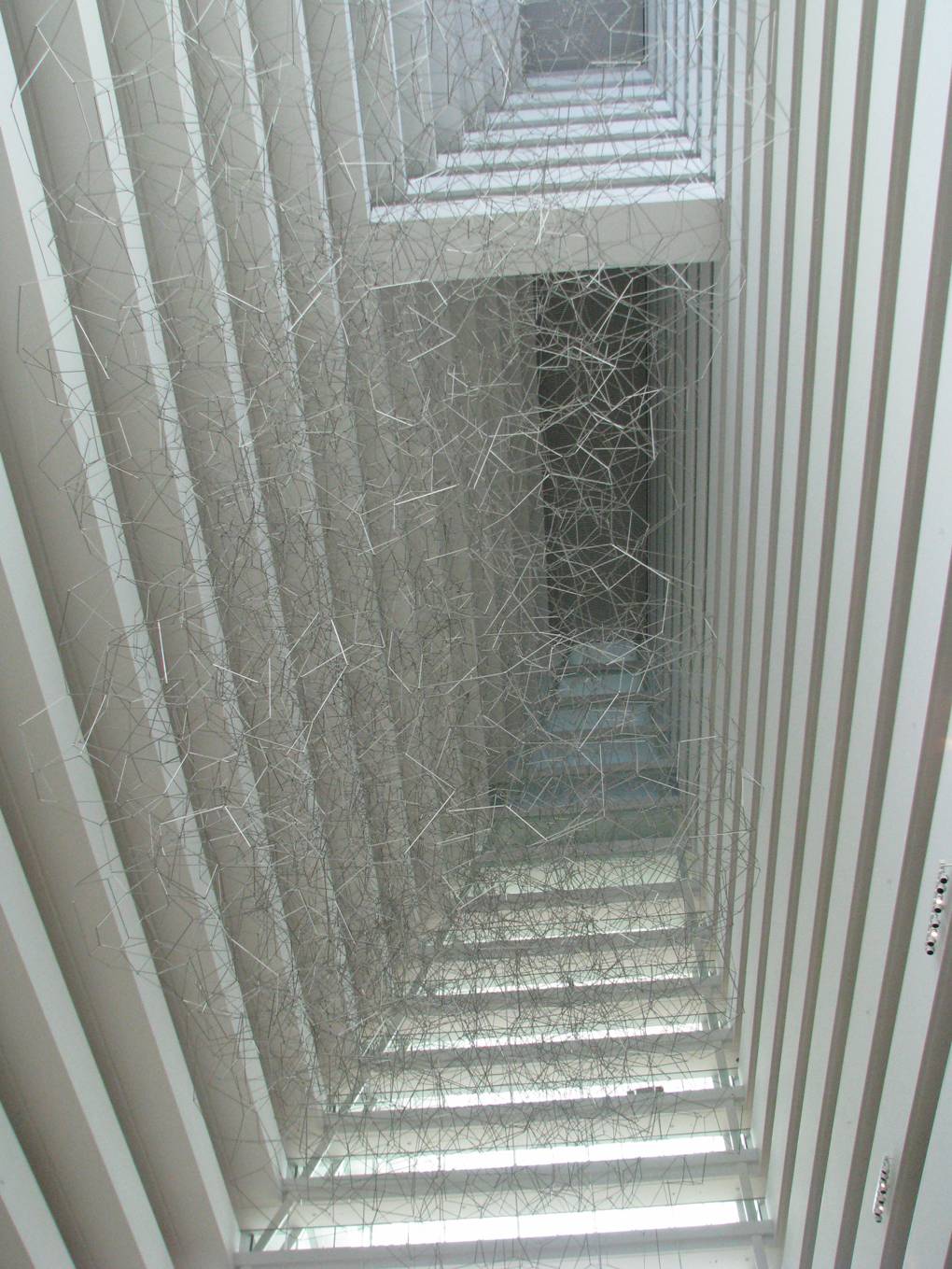 True, you can see Antony Gormley's Angel of the North towering over England's A1 motorway, or his semi-submerged Another Place sculpture on Merseyside's Crosby Beach, but the chance to take in one of his lesser-known works is a great excuse to visit Singapore, which is commemorating the Bicentennial this year. A cloud-like tangle of stainless steel in the atrium of the Marina Bay Sands hotel (which also has pieces by Anish Kapoor and award-winning sculptor Ned Kahn), Drift was no mean feat to assemble; prior to its installation it was broken down into eight sections before careful reassembly by 60 engineers and welders.
Where to stay:
5. PAINTING WITH WHITE BORDER BY WASSILY KANDINSKY
Venue: THE SOLOMON R GUGGENHEIM MUSEUM, NEW YORK, USA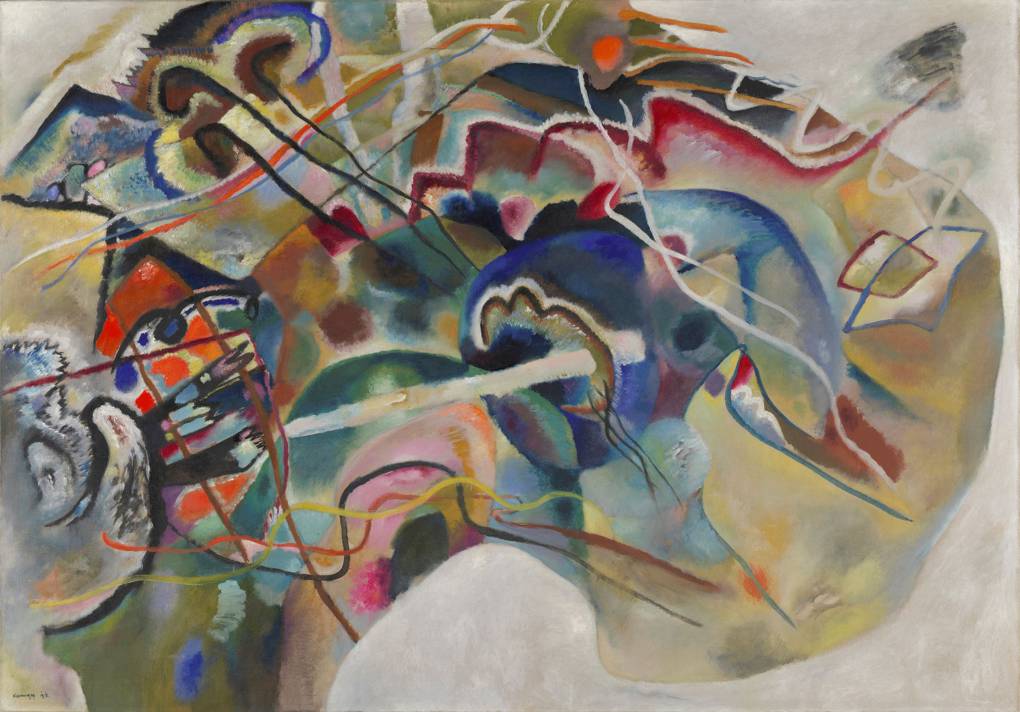 Kandinsky is regarded as the father of surrealism, and his Composition 8 painting was recently revealed to be the piece people are most likely to search for when admiring the Guggenheim's art collection online. The Russian artist revealed that his Painting with White Border was a response to the 'powerful impressions I had experienced in Moscow – or more correctly, of Moscow itself'. It's believed the swirling colours and lines are a representation of a lance-bearing St George on horseback, a nod to Moscow's tsarist traditions. Another interesting fact: one of Kandinsky's paintings, Sketch, had a starring role in Tommy Lee Jones' film Double Jeopardy (spoiler alert: protagonist Ashley Judd uses the painting to track down her husband).
Where to stay:
6. THE KISS BY GUSTAV KLIMT
Venue: BELVEDERE MUSEUM, VIENNA, AUSTRIA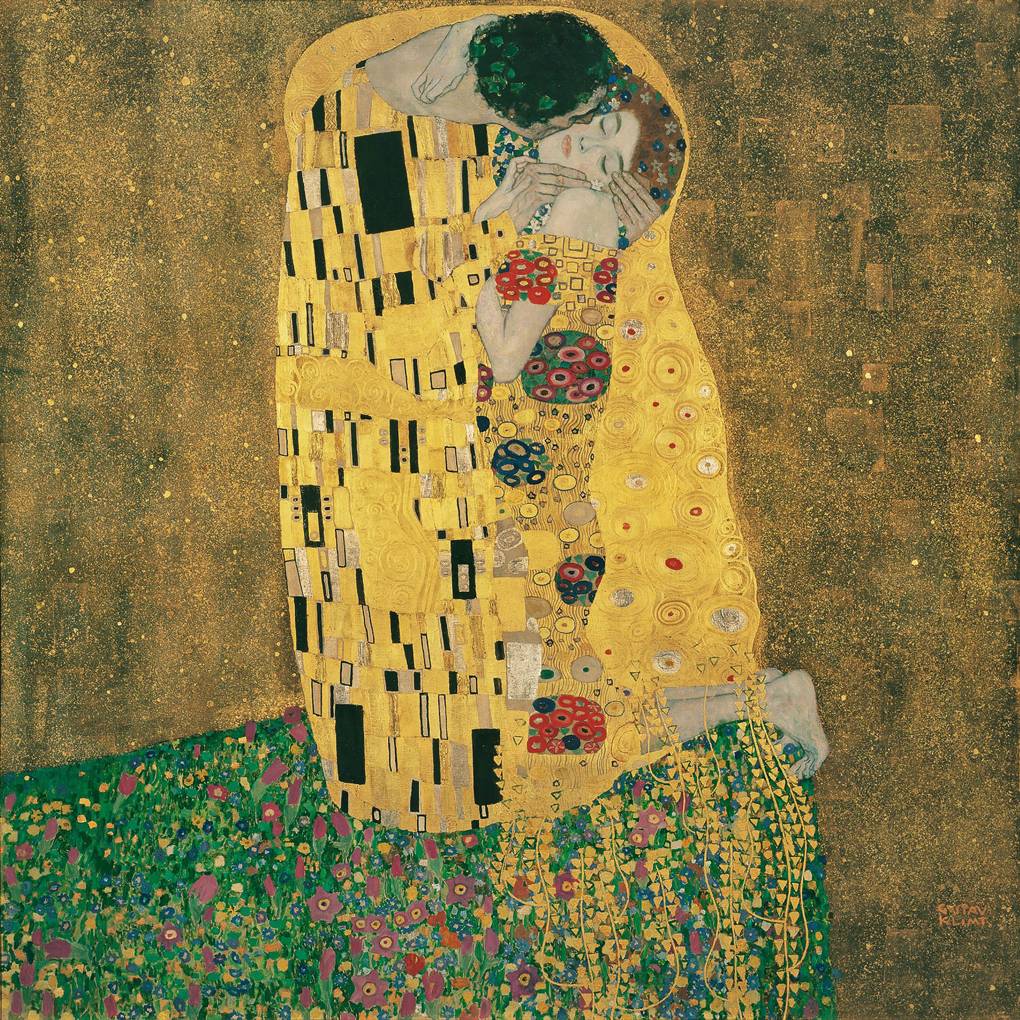 Last year marked the 100th anniversary of Klimt's death, but the masterpieces by Austria's most notable symbolist painter are far from forgotten. Today his most famous artwork, The Kiss, resides at the Belvedere Museum, which paid 25,000 crowns for the piece in 1908 (£240,000 in today's money) – even more astounding when you consider that prior to the sale 500 crowns was the highest price paid for a painting in Austria. Today, it's one of the world's most expensive paintings. Although curators refuse to state its exact value, they point to the fact that in 2006, Klimt's painting Adele Bloch-Bauer I sold for about £110m (the highest sum paid for a painting at that time) and simply state that if The Kiss were ever sold, the asking price would be hundreds of millions of pounds.
Where to stay:
7. COMPOSITION WITH BLUE, RED, YELLOW AND BLACK BY PIET MONDRIAN
Venue: THE LOUVRE ABU DHABI, UNITED ARAB EMIRATES


Keen to avoid the crowds at the Paris Louvre? Head to the one in Abu Dhabi instead. The largest art gallery on the Arabian Peninsula has been designed to feel wonderfully airy, with an open-plan layout incorporating vast expanses of water (you can even sign up for kayak tours). The first piece of art acquired by the gallery was Piet Mondrian's Composition with Blue, Red, Yellow and Black, painted in 1922, and the masterpiece was also part of the museum's Highway Gallery project, which saw its most famous works reproduced on billboards and displayed above Abu Dhabi's Sheikh Zayed Road.
Where to stay:
8. WALKING MAN BY ALBERTO GIACOMETTI
Venue: LOUISIANA MUSEUM OF MODERN ART, HUMLEBÆK, DENMARK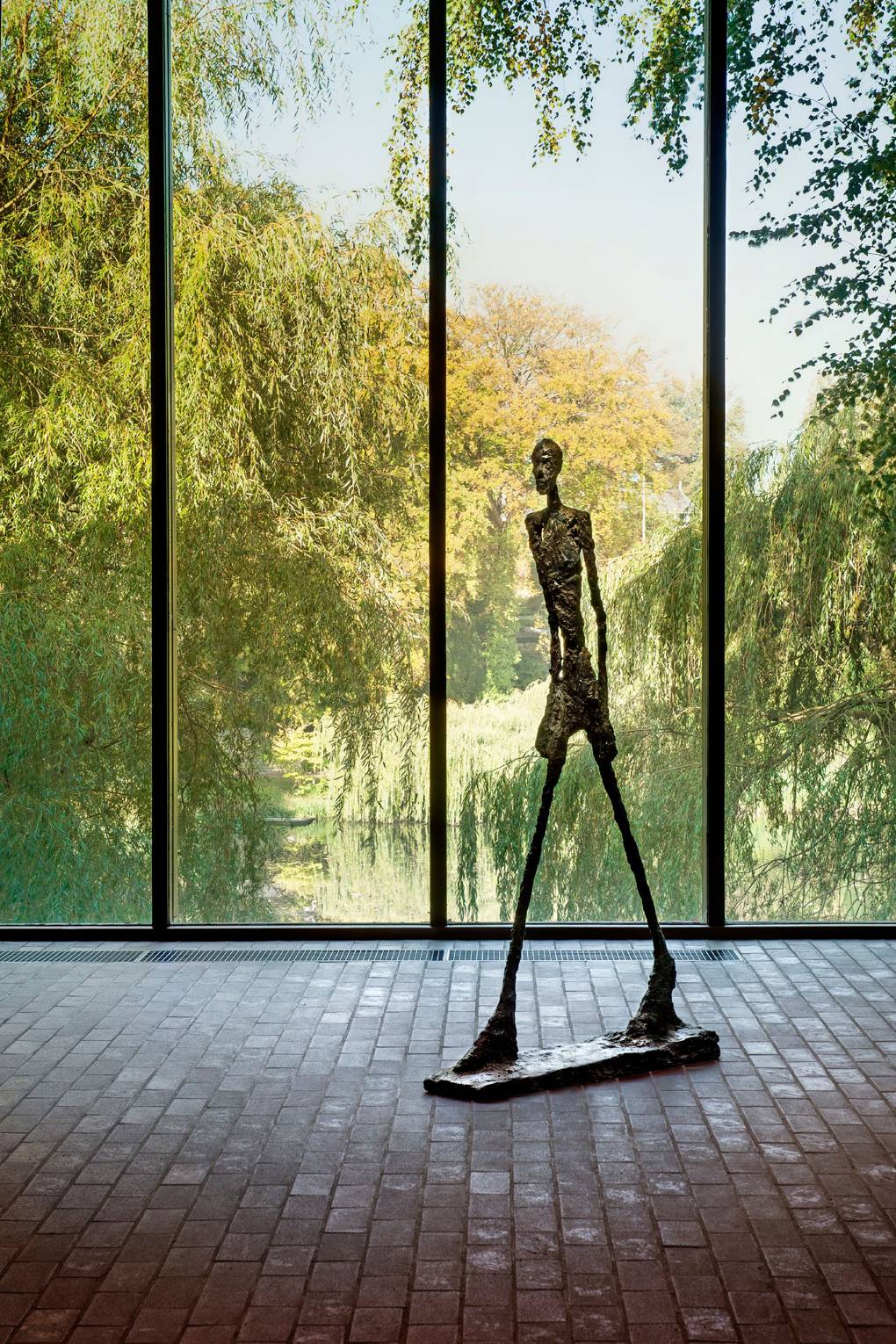 Most of us will recognise this Swiss sculptor's trademark pieces – skinny-limbed figures cast from bronze. His work is on display around the world (the Tate Modern gallery launched a retrospective of his work in 2017) and has appeared in various unexpected places. After visiting Henri Matisse on his deathbed, Giacometti (who once adorned the 100 Swiss Franc note) drew a portrait of the artist which appeared on a medal commissioned by the French Mint. The Danish Louisiana Museum near Copenhagen has an enormous collection of Giacometti's work, although it's his Walking Man, framed against the gallery's rainforest-like garden, that most reflects his style.
Where to stay: