Hello, history! Sometimes we are more than happy to repeat it. Just a short hop from downtown Singapore, you'll find the newest luxury stay, a boutique hotel in a beautiful heritage building, nestled in trees and steeped in history.The Barracks Hotel Sentosa joins sister properties The Outpost Hotel Sentosa and Village Hotel Sentosa in completing a perfect hospitality trifecta with accommodations to suit every type of traveler.
The Barracks Hotel Sentosa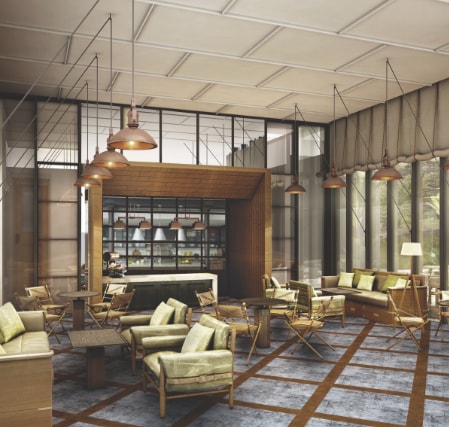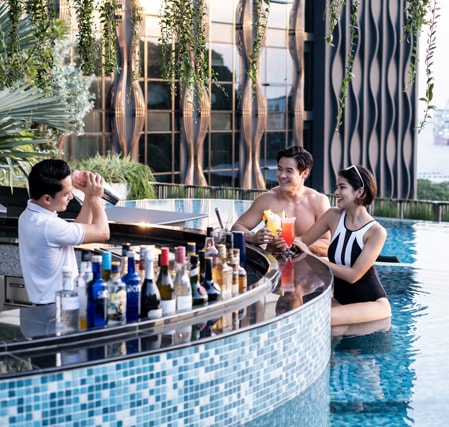 One of our favorite things about Singapore is the way the past so elegantly mingles with the present, with history always informing the future. Originally built as a military outpost in 1904, the barracks hotel is a transportive, serene property that has been painstakingly restored to ensure that the historic trappings of luxury travel of a bygone era blend seamlessly with the most modern of conveniences. There are only 40 rooms and suites— the ones at ground level with direct access to the pool—nestled within this intimate cluster of heritage buildings, meaning romance pervades every facet of life here. After you've taken your complimentary heritage tour, retire to The Living Room, where all-day refreshments and evening cocktails and canapes are at the ready, with anything you can't find an easy personalized request away, thanks to the exclusive Equerry service. It's an island idyll that fantastically defines a sense of time and a sense of place.
www.thebarrackshotel.com.sg/en
The Outpost Hotel Sentosa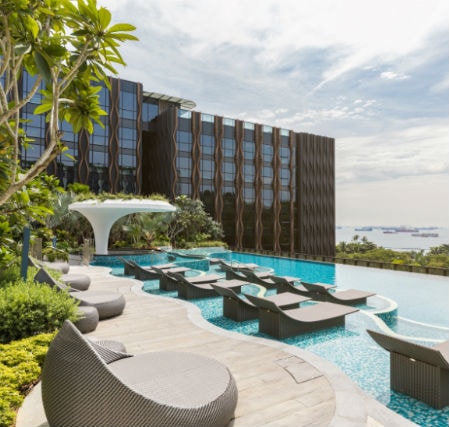 How refreshing! An adults-only hotel with killer views, a dedication to sustainability and a complimentary customized minibar. The rooftop f&b amps up the exclusivity. From glossy black marble contrasted with crisp white decor, to distinctive cocktails paired with Sentosa's stunning sunsets, to greater pursuits of derring-do, be your extraordinary self at The Outpost Hotel Sentosa.
www.stayfareast.com/en/hotels/the-outpost-sentosa
Village Hotel Sentosa
It does indeed take a village: the focus is on the little ones at this family-centered hotel with lazy river, poolside movies, child-size amenities and check-in desk for the kids. The cosy 606-room hotel is decorated in sun-washed hues of nature by the sea. From design, ambience to the choice of furnishings, Village Hotel Sentosa delivers a unique offering on the island with brand new amenities and activities.
www.villagehotels.asia/en/hotels/village-hotel-sentosa