The most enjoyable way to explore Stockholm is on foot. The oldest part of the city, Gamla Stan, is extremely compact, and lots of Stockholm's main sights are within a half-hour walk of that neighbourhood.
If you start to get tired or want to strike out beyond the city centre, you can always let the public transport system take the strain.
Stockholm's boats, trams, buses and subway trains are almost all operated by one company – Storstockholms Lokaltrafik (SL) – which means you can easily hop from one mode of transport to another. Scroll down for details on paying for journeys in Stockholm.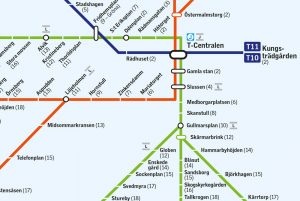 The tunnelbana (subway)
Stockholm's tunnelbana, or T-bana, consists of three colour-coded lines. Stations are marked at ground level with a large 'T' and are dotted around the city centre. Trains run from roughly 5am–1am each day, and provide one of the best options for getting around Stockholm.
One thing you'll notice when riding the tunnelbana is the art covering the stations' walls and ceilings.
Free, guided art walks that describe some of the works in more detail are run in English and Swedish. All you need to attend one is a valid SL ticket.
The walks leave at different times and from a different station each week – check the programme for the next couple of months here.
Alternatively, you can download the SL ArtGuide app, which is an audio guide that tells you all about certain pieces of art at 21 central metro stations.
Buses
For many journeys, especially if you're heading out into the suburbs, buses are the best option. There are dozens of lines crisscrossing the city and the buses are generally clean and reliable, even when it's snowing.
Press the yellow or red 'stop' button when you want to get off and the driver will pull over at the next stop. Note that the buses we mention in the arrival section (for airports and ferry terminals) are privately run – you need a separate ticket to travel on them.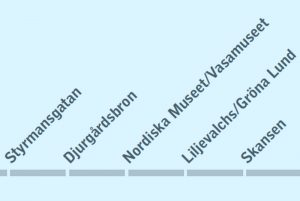 Trams
Trams only really serve Djurgården. There's no subway service on the island so the trams provide a scenic alternative, linking central Sergels Torg with Waldemarsudde at the southern tip of Djurgården, passing a few excellent museums en route.
Ferries
Ferries are one of the joys of travelling around Stockholm, and there are three routes that are included on the SL network. Boats run from the city centre to the Stockholm archipelago, but there are also a couple of really useful city-centre lines that make it easy to hop between central islands.
The year-round Djurgården ferry (route 82) shuttles between Slussen (at the southern tip of Gamla Stan) and the island of Djurgården. Often, the same service also stops at a jetty on the eastern side of Skeppsholmen.
The Sjövägen 80 boat line connects central Nybroplan with Frihamnen in an almost-circular loop, stopping at Allmänna Gränd on Djurgården along the way. This route is handy if you want a quick way to get from the downtown area to the museums on Djurgården.
In addition, line 89 (Ekerö–Stockholm) shuttles between Tappström and Klara Mälarstrand, via Kungshättan, Ekensberg and Lilla Essingen.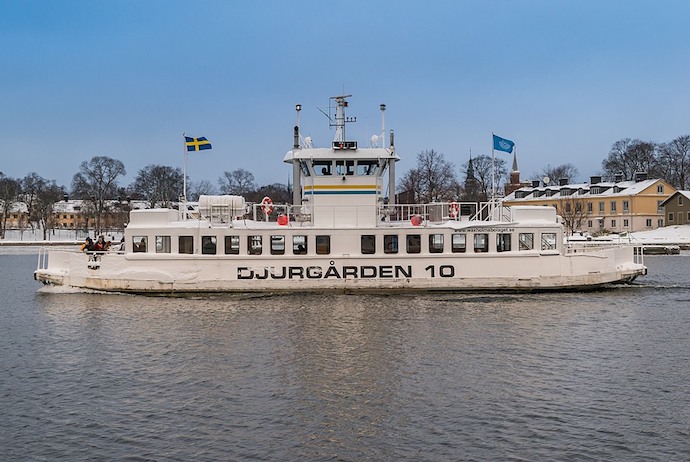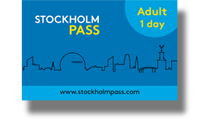 Is the Stockholm Pass worth buying?
Read this guide to see how much you could save during your trip!
Planning a route
To plan journeys by public transport in Stockholm visit SL.se – the service is available in English but the website can be clunky. There is also an app for iPhone and Android that allows you to buy tickets quickly and easily – though if you're doing a lot of travelling on public transport, it may be cheaper to buy a travelcard.
All the attractions we've listed in our Stockholm guide include details of the nearest subway station, bus stop, ferry dock or tram station.
Paying for travel in Stockholm
There are four ways of paying for travel on public transport in Stockholm; by the SL app; by a time-limited travelcard; with the SL Access card; or by individual single tickets.
The SL ticket app
For visitors who are only making a couple of journeys a day by public transport, the easiest way to pay is by downloading the SL ticket app, and entering the bank card details that you want to pay with.
Each time you want to use public transport, you buy a single-use ticket through the app (37 SEK; or 25 SEK for students, seniors and under-20s), which is valid for 75 minutes on all SL services.
Note that the time starts running out as soon as you complete the purchase, though you can change transport as many times as you like within the 75 minutes.
If you are planning to do more than four journeys within a day (that are longer than 75 minutes apart), you'll find it better value to buy the day travelcard (see below).
SL travelcards
If you plan to make more than four journeys a day on public transport, you're best off buying an SL travelcard.
These are available in 24-hour (155 SEK; 105 SEK for students, seniors and under-20s), 72-hour (310 SEK; 210 SEK for students, seniors and under-20s) and seven-day versions (405 SEK; 270 SEK for students, seniors and under-20s).
The cards are valid from the first time you touch in on a card reader on your first journey. They can be bought in advance at Arlanda airport, the SL travel centre on the ground floor of the Central Station, some hotels and small-scale ticket agents such as tobacconists.
The one-day ticket can be bought via the app, and they can all be bought with the SL Access card. Note, that the seven-day travelcard can only be bought in conjunction with an SL Access card (see below).
SL Access card
The SL Access card costs 20 SEK, and can be loaded with individual tickets or season tickets at vending machines in metro stations, commuter train stations, at the SL Centre at Stockholm Central Station, or online at SL.se.
Once you've loaded your card with the correct ticket, you simply tap it on the ticket reader as you start your journey.
Alternatively, the card can be loaded with cash (any amount between 100 and 1000 SEK) and the card reader will automatically deduct the price of a single ticket.
If you're not planning to do a lot of travel on public transport, load your card with 100 SEK and use it on a pay-as-you-go basis – one-way journeys in the city centre cost 37 SEK, or 25 SEK for students, seniors and under-20s.
The vast majority of stations on the tunnelbana have automated barriers, while buses, boats and trams will have a reader that you need to hold your card over as you climb aboard.
Don't forget to do this – if your ticket is checked and you haven't stamped in, you'll face a 1,500 SEK fine.
Single paper tickets
Single paper tickets bought from staff at the SL centre and tickets bought in cash from the conductor on tram line #7 cost 50 SEK (34 SEK for students, seniors and under-20s).
Single paper tickets bought in vending machines, ticket booths, kiosks or from ticket agents cost the same as via the app and SL Access card – 37 SEK.
The Stockholm Pass
A fifth option is available, and that is to buy a Stockholm Pass, which gives admission to many of the city's top sights, with unlimited public transport included. To work out whether this is the best option for you, read our guide The Stockholm Pass: is it worth buying?
Taxis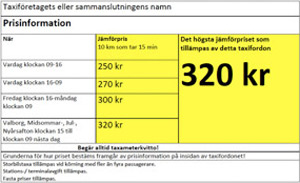 Taxis are generally safe but a few dodgy drivers have given the industry a reputation for ripping off tourists, either by charging extortionate prices or driving around in circles to bump up the fare. All taxis should display yellow stickers in their windows – the large number on the right represents the highest amount they can charge you for a 10km journey that takes 15 minutes.
It's a crude way of allowing passengers to quickly compare prices before getting in. Our advice: only use taxis that display these yellow stickers, and ask for an estimate of the total price before you set off.
The taxi market is unregulated so don't be afraid to ask around until you get a price you're happy with.
Bikes
Stockholm is a great city for cyclists and dedicated bike lanes thread their way through the city centre. The city's bike hire scheme – City Bikes – runs from April to October each year.
For a subscription fee of 250 SEK, you get unlimited access to the city's bikes (for up to three hours at a time) between 6am and 10pm. To rent a bike, you need an SL Access card, and can pay your fee and register your card number online.
Walking
If you're happy walking, you might want to check out our nifty walking map – it shows the approximate amount of time it will take you to walk between each subway stop. You'll be surprised by how quick it can be!
Renting a car
We wouldn't recommend driving when you take inner-city journeys, but if you fancy taking a few day trips or want to explore further afield, having your own wheels can be very handy. Just make sure you rent a place with parking, as those charges can quickly spiral out of control!
Find a cheap rental car in Stockholm
To book a rental car before your trip starts and to pick it up when you arrive in Sweden, use the form below. It'll search hundreds of local providers for you to find you the best deal.
Taking a tour
And if you fancy exploring Stockholm and its sights accompanied by a knowledgeable local guide, there are plenty of tours that will take you round the city using a variety of different types of transport.
By segway
Yes, this really is the most fun way of getting round Stockholm, or at least the leafy Djurgården district, with its pretty parks, palaces and museums.
After a quick briefing, you'll soon be whizzing around the island, led by a knowledgeable guide who'll show you some of the city's main sights including the Vasa Museum, the Gröna Lund Tivoli park and Skansen open-air museum.
On foot
The best way to explore the Gamla Stan, Stockholm's old town, is on foot. This guided walking tour gives you the low-down on the medieval city, taking in the Royal castle and telling you tales of historical blood baths, princes and dragons.
By bike
Do as the locals do and get round the city on two wheels with this half-day guided bike tour. An English-speaking guide will show you famous sights such as Gamla Stan and the Kungsträdgården, and also take you off-the-beaten-track to explore less-visited parts of the city.
Bikes are included – all you need to do is turn up and pedal off!
By boat
Explore Stockholm's beautiful waterways on a historic wooden boat. You'll get to see the sights of the city from the water and go further afield around the pretty wooded islands of the Baltic Sea's second largest archipelago.
FAQ:
Can I buy tickets on board the buses in Stockholm?
The short answer is no. You can't buy tickets on board buses or commuter ferries, nor on most trams and light railways. The only tram route which accepts payment on board is route #7, but the on-board fare is 50 SEK, so it's much cheaper to buy your ticket in advance or via the app.
Are ferries included on SL tickets?
Three routes are included: route 82 between Slussen and Djurgården; the Sjövägen 80 boat line; and route 89 (Ekerö–Stockholm).
In addition, if you have an SL Access card season ticket for 30 days or longer, travel on Waxholmsbolaget's boats in the Stockholm archipelago is included from mid-September to early May.
Can I take a bike on the ferries in Stockholm?
Some routes will take bikes, some won't. Line 80 will accept bikes as long as there's room, while line 82 is usually too busy, so will only take bikes at quiet times. Line 89 has room for 30 bikes when there's no ice (only 10 if Lake Malaren is icy), so is usually happy to take bikes.
Where to stay in Stockholm: