Like fika, sweating away life's problems in a baking-hot sauna is an essential part of the Swedish experience. And the health benefits of the Swedish sauna are much talked about.
But for foreign visitors, who might not be used to baring all in front of other people, the whole thing can feel a little… awkward.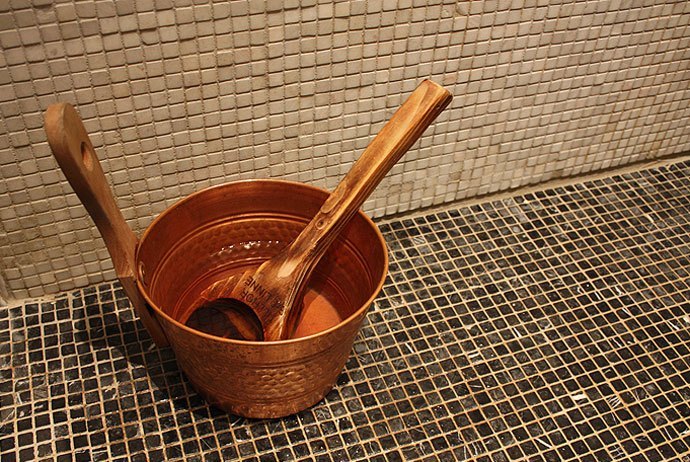 So: is it okay to wear swimming gear in a traditional Swedish sauna? Will you be whacked with birch leaves? And what the hell should you do with your eyes when you're surrounded by so much nakedness?
Here are some handy pointers to help to ease your pre-sauna worries.
Nudity is normal in Sweden
The first thing to remember is that, for many Swedes, there's nothing particularly odd (or sexy) about getting naked in the sauna.
Not having clothes sticking to your skin just makes the whole sauna experience a bit more comfortable, and some purists even consider it unhygienic to bring swimwear into the sauna.
On a social level, there's also a certain honesty to being completely naked: in the sauna, everyone is exposed, and (in theory, at least) everyone is equal. That doesn't mean you have to forget about what you wear on your way to the changing room, though – there's more on Swedish fashion here.
Context is everything
Swedes aren't always completely naked in the bastu (sauna). Often they'll wrap a towel around their dangly bits, and in certain cases, bikinis and swimming shorts are worn too.
Attitudes towards nakedness are also changing, and in many cases young people are now more likely to cover up than older generations. So how do you know what you should do? Well, a lot depends on the context of when and where the sauna session takes place.
If you're at an international-style hotel or spa doing Swedish massages, there will usually be clear rules (and even signs) saying whether or not you should be nude. Often there's just one mixed-sex sauna, so swimwear is expected.
At more typically Swedish places like leisure centres and community swimming pools, nudity is the norm. The general rule is that if the sauna is mixed (i.e. men and women in the same room), you should go in naked but with a towel wrapped around you.
More often than not, the saunas in these places are single-sex affairs, in which case it's usual to open the door and find lots of strangers sitting around completely in the buff.
No one is going to mind if you keep the towel around you, but you should at least be prepared to see lots of other people letting it all hang out.
At lakeside saunas and those up in mountain ski resorts, it's fairly common for folks to be naked in the sauna and then dash out for a swim (or a roll around in the snow) without bothering to put clothes on in between.
Likewise, people often keep their bikinis and swimming trunks on in the sauna if they've already been swimming in them. There's no hard and fast rule here, so you'll have to suss out what other people are doing and follow their lead.
The most terrifying situation that prudish tourists can face is the drunken Swedish sauna.
This is when a group of friends (both male and female) have a few beers beside the lakeside and end up stripping off for a session in a wood-fired sauna, followed by a naked dip in the water. The only sensible option is to disrobe and act like you do this every day.
Don't, whatever you do, be the guy who sits there in his underpants surrounded by naked people. It feels a lot more awkward (and will attract a lot more attention) than just doing what everyone else does.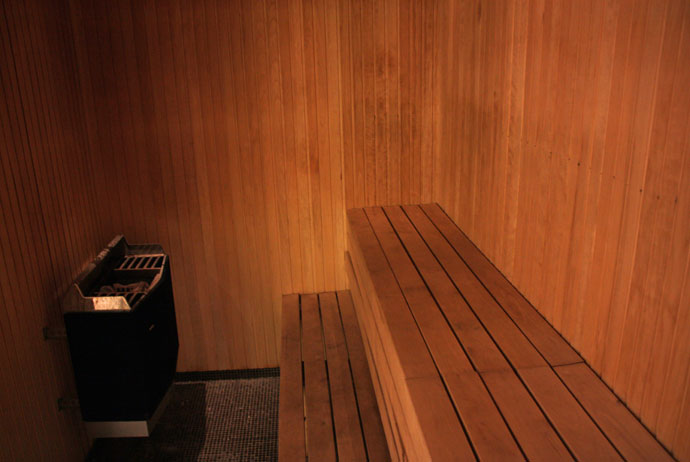 Some essential things to know before your first Swedish sauna
Always bring a towel
Even if everyone in the sauna is naked, you should always bring a towel to sit on. Nobody wants to see your sweaty bum print – or worse – when you've got up and left.
Shower or swim before entry
To help keep the sauna clean and pong-free, take a shower before getting in. If that's not possible, a quick hop in the lake or sea should do the job nicely.
Bring beer
Obviously you shouldn't do this if you're at a spa or leisure centre, but if you're having a sauna just about anywhere else in Sweden – at a friend's house, for example, or camping out in the woods – then it's a good idea to bring a cold beer or two.
Lots of Swedes consider it a vital accompaniment to the hot, dry air inside the sauna. If nothing else, it'll make the whole nakedness thing feel a little bit more comfortable (but do remember to drink plenty of water too).
Don't ask for birch leaves
Swedes don't generally whack themselves with bundles of birch leaves while in the sauna (it's common practice in Finland and parts of Russia, and supposedly helps to stimulate the pores). There's nothing to stop you giving it a go if you really fancy it, though.
Try jumping in an isvak
An isvak is basically a hole in the ice on a frozen lake or sea, which people leap into while still steaming from the sauna. The water is bone-numbingly cold, but it's worth trying if you're ever in Sweden during the wintertime.
Don't go crazy with the water
You can add a lot more humidity to a sauna fairly quickly by pouring water over the hot stones. Before you get sloshing, check with the other people in the sauna to see if they're happy with things getting sweatier.
Don't get involved in macho games
Some sauna-goers insist on proving that they're tough enough to sit high up in the sauna (where it's hottest) for long periods of time. Don't even bother trying to compete – and make sure you get out as soon as you feel you've had enough.
Keep your eyes at eye level
Keep eye contact when chatting with others in the sauna, or focus on the view outside (much easier when you're on the edge of a beautiful lake, rather than at a leisure centre). Ogling is always a big no-no.
Enjoy it
A sauna visit can be super-liberating, especially if you get the chance to do it in the countryside. Enjoy it, and go with the flow. If everyone is naked, you should follow suit. And if everyone else stays covered up, it's wise to keep your kit on.
Super saunas
So you fancy trying a true Swedish sauna? Some of Sweden's hotels have amazing saunas, from luxury roof-top spas to simple cabins in the woods.
Check out some of our favourite places to stay with super saunas.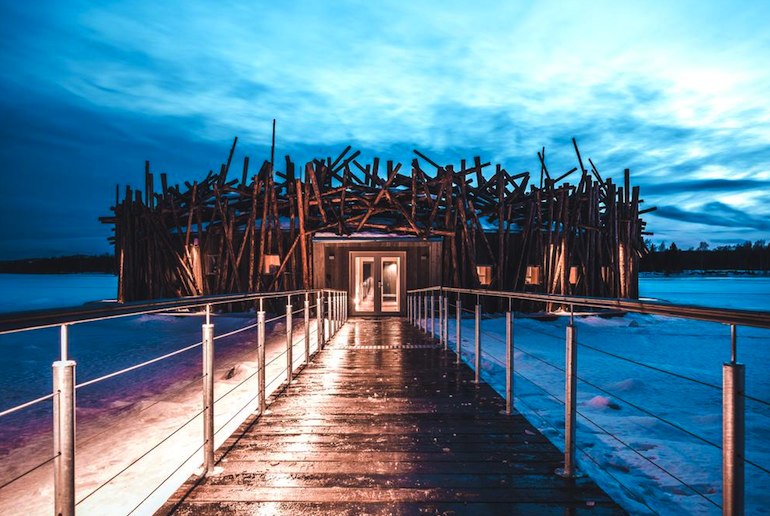 Arctic Bath Hotel
High up in Swedish Lapland, the Arctic Bath hotel  is home to the ultimate floating sauna. This circular spa has a series of wooden saunas built around a sheltered swimming spot on a river – you simply jump into the water for a bracing dip then warm up in one of the surrounding saunas.
Storhogna Högfjällshotell & Spa
The ski-in, ski-out Storhogna Högfjällshotell in Vemdalen has a fantastic spa set in a wooden mountain lodge, with an outdoor hot tub, a natural swimming hole and a warming sauna with a view.
The swimming hole is open even in winter, so you can race across the snow, leap in then get cosy again in the sauna.
Kust Hotel and Spa
It may be a high-rise building in the middle of Piteå, but the Kust Hotel and spa has great views of the river and surrounding woods from its roof-top outdoor pools and spa.
With three different types of sauna – steam, aroma and dry – plus a cold pool, ice spring, outdoor pools and rainfall showers, you can enjoy the full sauna experience even in the city.
Lapland Guesthouse
High up in the Arctic Circle, the Lapland Guesthouse is a real back-to-nature experience. It has a wood-fired hot log sauna and outdoor jacuzzi down by the River Lainio – if you're feeling brave you can dip in the river, or just sit back and relax in the sauna or hot tub, watching out for the northern lights.
Further reading