There's no denying that Iceland is a pricey place to visit, but a trip there doesn't have to break the bank.
There are plenty of things to do and see in Iceland that are totally free – the stunning scenery, gushing waterfalls and magical landscapes, for example – as well as others that aren't as pricey as you may expect.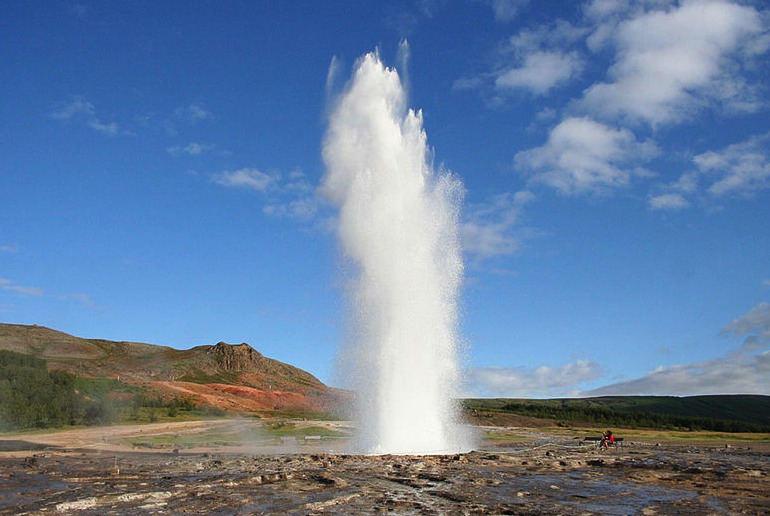 Here's our guide to visiting Iceland on-the-cheap, with some top money-saving tips thrown in for good measure!
What can you do for free in Iceland?
One of Iceland's main attractions is its nature and dramatic landscapes – and the good news is that this is (mostly) free to visit.
There aren't many pricey theme parks or museums here, so you're free to enjoy stunning coastlines, snow-capped mountains, natural hot tubs, steaming hot geysirs and plenty of beautiful hiking trails – all without spending anything.
Some of the geological sites do charge an admission fee, and you may prefer to join an organised tour to really get the most out of your stay, but splashing the cash isn't essential.
Where can you stay cheaply in Iceland?
It's true that there are glamorous upmarket hotels and resorts in Iceland where you can easily blow more than $500 a night. But Iceland has some much cheaper (and equally as appealing) options, too!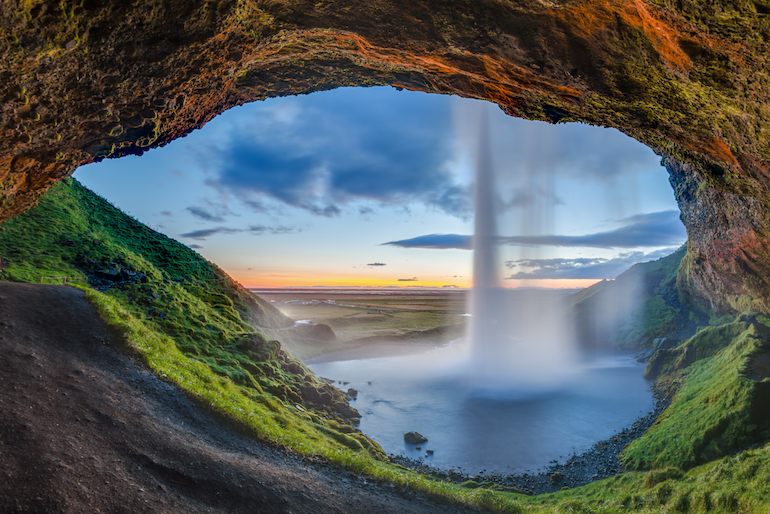 Airbnb and hostels are a good place to start with everything from city centre rooms to simple remote away-from-it-all cabins in the countryside. Check out this good-value room in a local's house in the centre of Reykjavik for £32 a night, or this cosy countryside cabin near Selfoss for £46 a night.
Hostels are also a good bet for bargain accommodation, as well as generally being friendly and sociable for single travellers, in particular. The bargain Bus Hostel in Reykjavík is in a central location and has dorm beds from £22 a night.
And of course, if you're visiting in the summer, there's always camping. Unlike in some other Nordic countries, there's no free right to camp wild in Iceland, but there are some fantastic campsites dotted around the country in stunning locations: you can expect to pay around £15–20 a night to pitch a tent.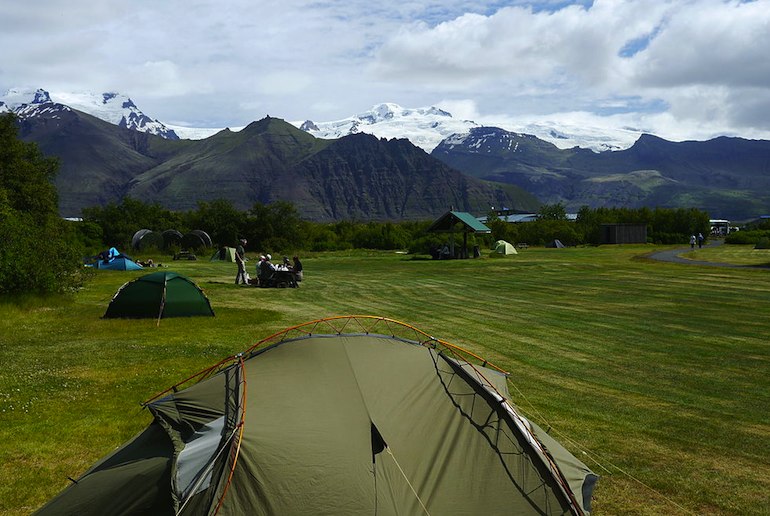 If you're planning to visit in winter, or just want a little more comfort, you could opt for these cosy camping pods at Fossatun Campsite by the banks of the Grimsa River: they sleep two and cost around £40 a night.
How can you eat cheaply in Iceland?
Eating in restaurants is undoubtedly pricey, so if you're on a budget you're most likely to buy snacks and sandwiches from fast food stands.
Hot dogs, waffles, burgers and wraps are all popular street food in Iceland, and can be bought from fast food chains, kiosks and street stalls.
Reykjavik's food halls can be good for bargain eating too. Hlemmur Matholl has stalls selling tasty food from different cuisines including Vietnamese, Italian, Mexican and, of course, traditional local Icelandic. A large sourdough pizza here will set you back about 1750 ISK (£10).
Self-catering, of course, is the cheapest way of eating and most hostels and Airbnbs come with kitchen facilities where you can cook your own meals. And pack up a picnic for lunchtime: Bónus, Nettó and Kronan are the cheapest chain supermarkets for buying food, and widely found around Iceland.
Is anything cheap in Iceland?
Since Iceland is an island, everything has be imported or produced here – and that means that most things are expensive. However, there are plenty of enjoyable things you you can do that won't set you back much, if anything.
Hiking, for example, is great in Iceland and won't cost you a penny. There are loads of walking trails across the country from challenging multi-day hikes, such as the six-day trek across Hornstrandir Nature Reserve, to the 4km half-day trek to Landmannalaugar hot springs that takes in boiling hot pots en route.
The scenery too is completely free. Most of the country's main scenic attractions are free, including Gulfoss waterfall, the Thingvellir National Park, where the Eurasian and North American plates meet, and Geysir, home of the original waterjets.
When is the cheapest time to go to Iceland?
June and July are the peak months for visiting Iceland, so prices for flights and accommodation are much lower in winter.
However, you have to balance cheaper prices with the fact that the days are much shorter so you'll get fewer daylight hours for exploring. If you book far enough in advance, you can also often get good deals in autumn and early spring, which have the advantage of longer daylight hours.
Five top money-saving tips in Iceland
Drink the tap water. Never buy bottled water in Iceland – it's expensive, bad for the environment and the local tap water is tasty, safe to drink and free.
Don't visit the Blue Lagoon. There are plenty of other natural geothermal hot pools and rivers that you can bathe in that are just as impressive and free to visit, such as the Landmannalaugar hot springs. Check out our guide to cheap and free alternatives to the Blue Lagoon in Iceland
See the northern lights. On a clear night in the middle of winter, you can see the spectacular aurora borealis from just about anywhere in Iceland for free. This amazing light show is visible even in the capital – though the remoter your location, the better the view.
Take a free walking tour of Reykjavik. You can join a 2-hour walking tour of the city's main sights for free – just pay what you want at the end of the tour.
Go seal watching. Seals like to gather around Iceland's coast and there are several places where you have a good chance of seeing them relaxing on land or swimming in the sea. The Vatnsnes Peninsula is home to colonies of grey and harbour seals – and you can walk down to the coast and watch the animals for free.