One of the best things about visiting New York City (besides the bagels) is soaking up the city's rich history. And the great news is that sometimes you don't even have to leave your hotel room to do it.
The Big Apple is full of historic hotels (including some that are quite luxurious) that date back more than 100 years and have storied pasts full of celebrities, royalty, movie stars, secret tunnels, and intrigue.
The following are hotels that have been used in famous (or not so) movies and you may have remember them in scenes like in Home Alone 2, The Godfather 2 and Maid in Manhattan, if you ever feel the need to relive your favorite movie!
Waldorf Astoria New York
This Midtown East icon, the 1,300-room Waldorf-Astoria comes with some of New York's best spa services, fitness facilities, restaurants, and bars. The dress code and antique décor aren't for everyone, but the cinematic history and unrivaled elegance make the price tag well worth it. The hotel has been used as a classic New York backdrop in dozens of movies including the hilarious Coming to America (1988) in which Eddie Murphy plays an African prince who travels to New York to find his queen.
Other movies filmed here include:
Two Lovers (2008)
Alfie (2004)
Birth (2004)
Catch Me If You Can (2002)
Maid in Manhattan (2002)
The Royal Tenenbaums (2001)
Serendipity (2001)
Analyze This (1999)
The Cowboy Way (1994)
Scent of a Woman (1992)
The Godfather: Part III (1990)
Crimes and Misdemeanors (1989)
Hannah and Her Sisters (1986)
Broadway Danny Rose (1984)
Six Weeks (1982)
My Favorite Year (1982)
Rich and Famous (1981)
The Great Gatsby (1974)
The Out of Towners (1970)
The Plaza
The century-old Plaza's $400 million overhaul in 2008 didn't change the hotel's iconic status — or its impressive cinematic history. Many may remember Kevin McCallister (Macaulay Culkin) using his dad's credit card to stay at The Plaza after he is stranded in New York without his family in Home Alone 2: Lost in New York (1992).
Other movies filmed here include:
Bride Wars (2008)
Almost Famous (2000)
The Associate (1996)
It Could Happen To You (1994)
Sleepless in Seattle (1993)
Scent of A Woman (1991)
King of New York (1990)
Big Business (1988)
Crocodile Dundee (1986)
Crocodile Dundee 2 (1989)
Brewster's Millions
Cotton Club (1984)
Arthur (1981)
Love at First Bite (1979)
The Way We Were (1973)
Plaza Suite (1971)
Funny Girl (1968)
Barefoot in the Park (1967)
North by Northwest (1959)
Four Seasons Hotel New York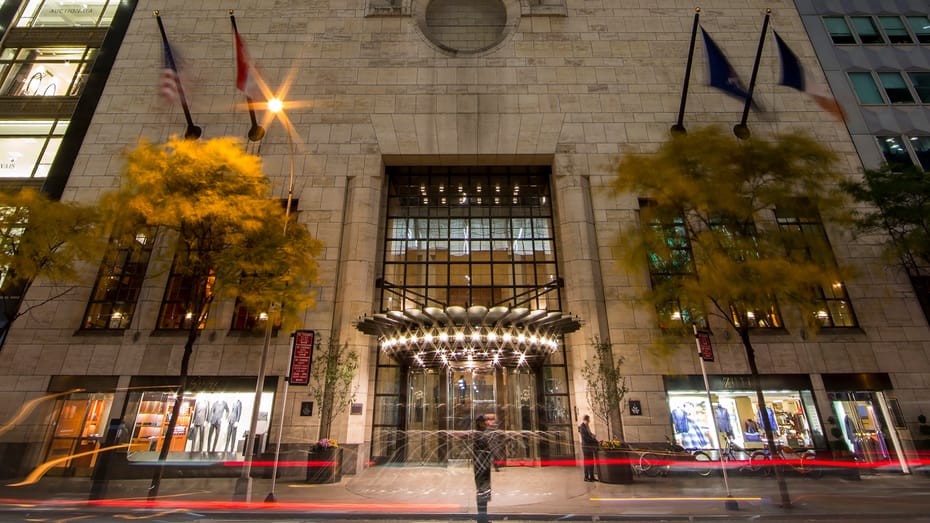 Deliberately business-like, the 368-room Four Seasons in Midtown East has all the luxury essentials: stylish lobby, beck-and-call service, a fine spa and fitness center, and some of the city's largest rooms. It had a cameo in the iconic New York show-turned-movie, Sex and the City (2008).
Other movies filmed here include:
The Roosevelt Hotel
Located one block from Grand Central Station, in the heart of New York's corporate skyscrapers, the Roosevelt is a 1,015-room classic. Michael Douglas gives his famous "greed is good" speech in The Roosevelt Hotel in Wall Street (1987).
Other movies filmed here include:
The Switch (2010)
Maid in Manhattan (2002)
The French Connection
Hanky Panky (1982)
Quiz Show (1994)
Sad news: An Iconic NYC Landmark Hotel Is the Latest to Close Amid the Pandemic
The St. Regis New York
The extraordinary service at the grand, century-old 229-room St. Regis is practically unrivaled in all of New York. A famed Bloody Mary at the King Cole Bar, dinner at Alain Ducasse's Adour, and a hand-drawn bath by one of the 24-hour butlers will make you feel like royalty in no time. Michael (Al Pacino) and Kay (Diane Keaton) Corleone stayed in The St. Regis in The Godfather (1972) while in New York.
Other movies filmed here include
Lotte New York Palace
One of New York's most visually stunning hotels, the New York Palace has a gilded, grandiose style that is a little gaudy but still fabulous enough to blow away the boutiques. 899 huge rooms (renovated in 2008), a luxe spa, and a fantastic gym make the Palace a great value among luxury hotels. The Palace has a cameo role in the romantic comedy 27 Dresses (2008). In the movie, Jane (Katherine Heigl), rushes from one wedding at The Palace to another in Brooklyn in the same night and catches a reporter's (James Marsden's) eye in the process.