When the driver turns off the road towards Porto Zante Villas & Spa, you may wonder what you've let yourself in for. There are no signposts for the boutique hotel, only a steep unpaved road that stops with not one, but two large security gates.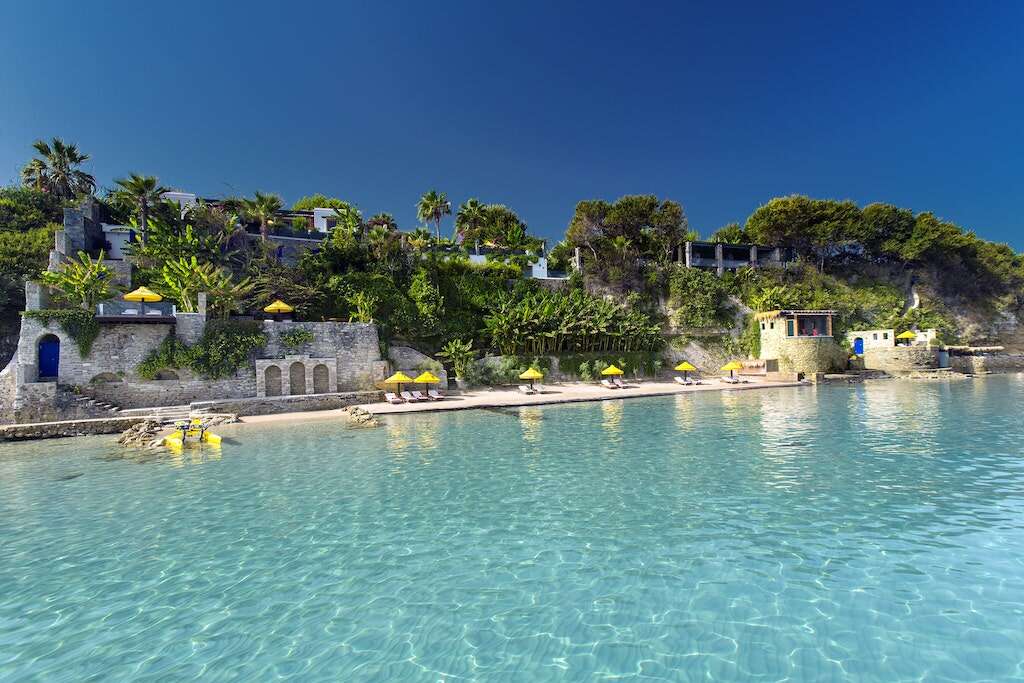 Once in, however, it all starts to make sense. Inside awaits a modern interpretation of the Hanging Gardens of Babylon; a flowered paradise offering resort-level amenities and service for just nine villas.
With a starting price of $2,900 per night, Porto Zante, on the Greek island of Zakynthos, is unquestionably one of the most exclusive hotels in Europe. Whereas people go to Mykonos and Santorini to be seen, this is a place to disappear.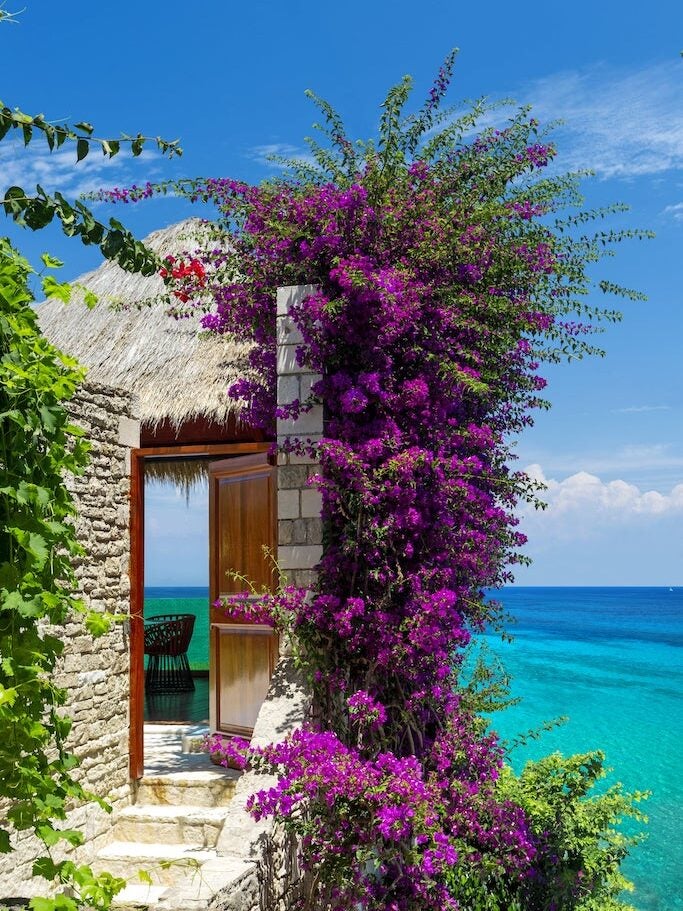 We hear stories of flashy individuals who have turned up and been aghast that no one is around to see them popping their bottle of Dom Perignon, only to be won over by the serenity on offer.
While it may take a lot of cash to get behind those double gates, this is not a place to flash it. It is a place to enjoy the very best that life has to offer while knowing that everyone around you has come for the same thing: privacy.
Stay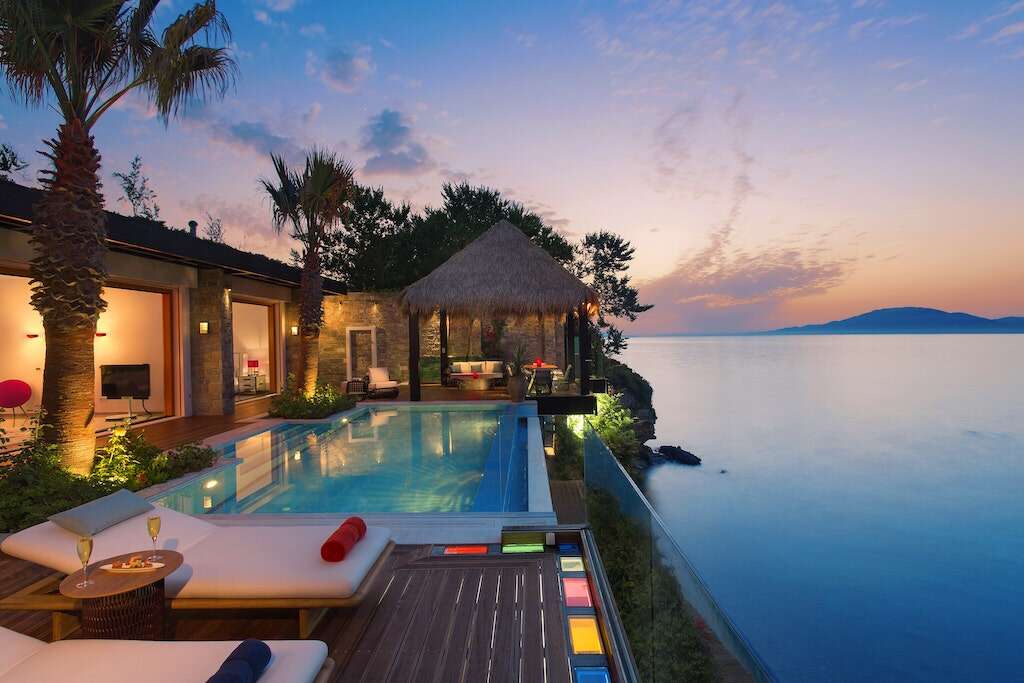 The ethos of seclusion was woven into the fabric of Porto Zante from the beginning. It started life as a single villa, perched on the outskirts of the island's main city of the same name. It was an ultra-private escape for the owning family but was eventually rented to a select number of like-minded individuals.
As their reputation for stellar service and attention to detail grew, so did the property. The original villa still stands but is joined by eight others, two restaurants, a gym, a private beach, kids club and spa room. Despite the marked change in size, the same family still owns and operates it according to its original vision. Today, they count the rich and famous (none of which can be named, naturally) among their most loyal customers.
All nine villas come with a heated pool, terrace and garden as a minimum. Starting with the 914-sq-ft Deluxe Spa Villa and going up to the 4,800-sq-ft Imperial Spa Villa, everyone at Porto Zante enjoys a suite-level lifestyle.
Many guests choose to stay in the confines of their villa, where spa treatments, world-class cocktails and 24-hour room service are a phone call away. For those brave enough to venture out, it means the private beach, with as many sea toys as a superyacht, which is often completely unoccupied.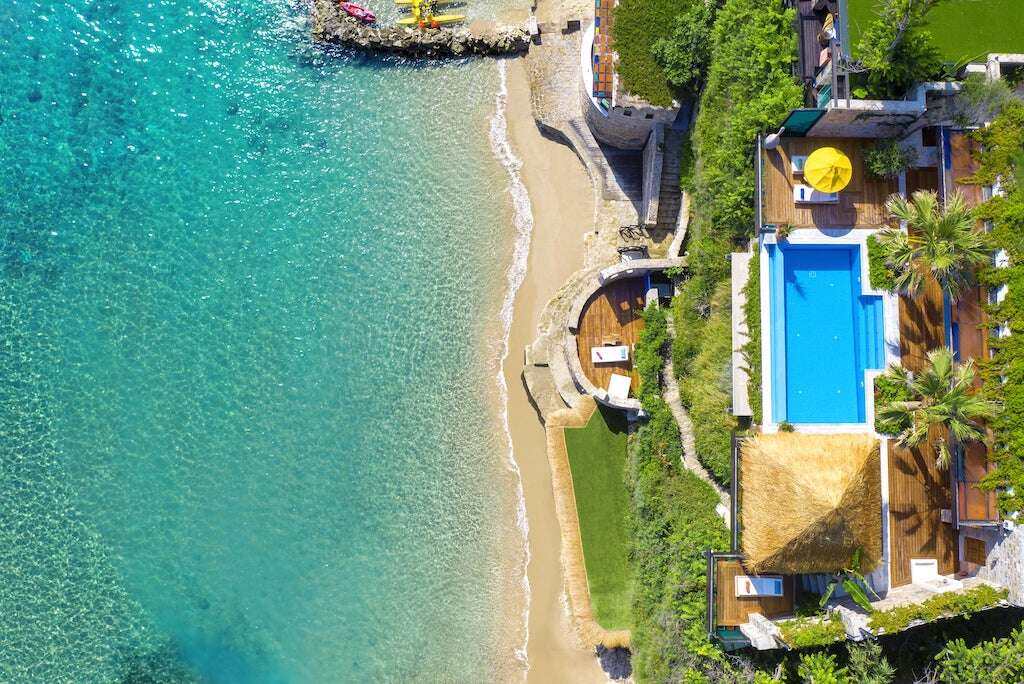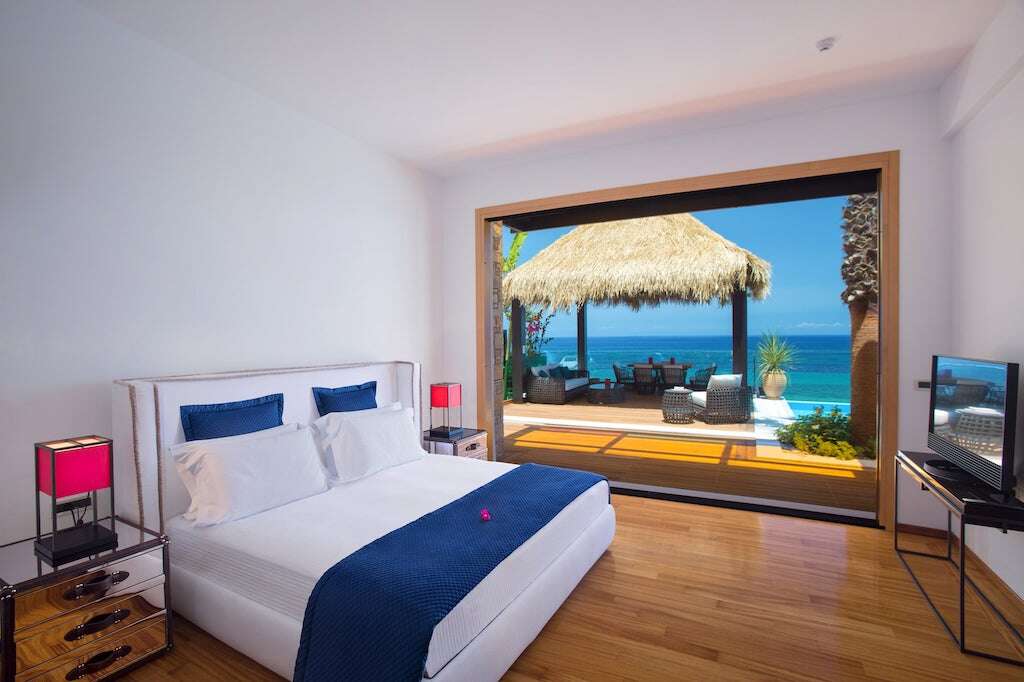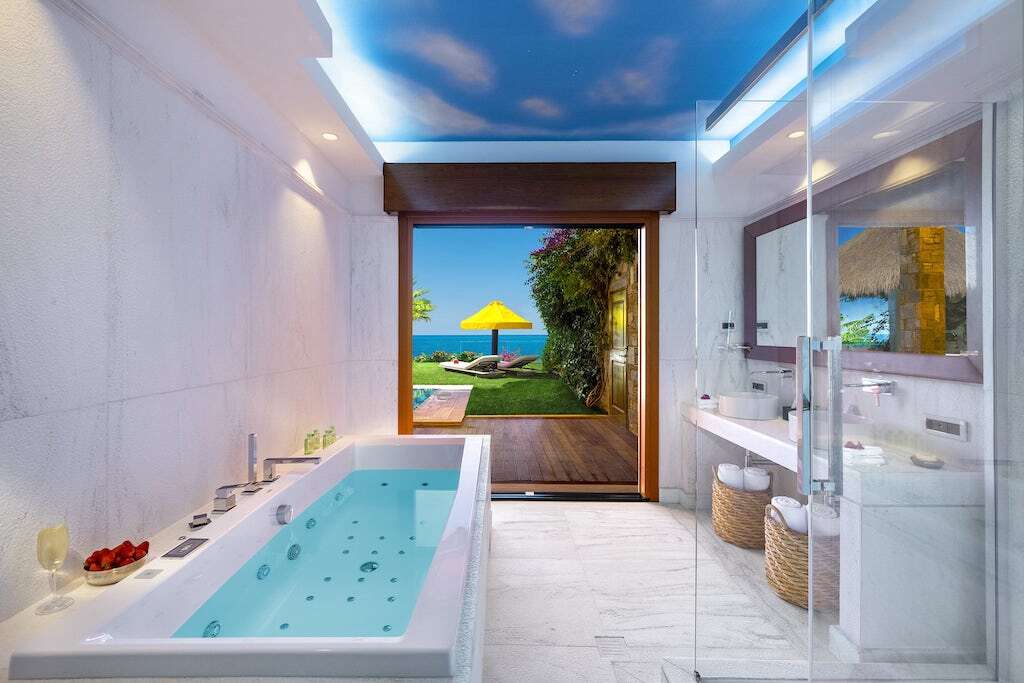 Your villa choice will depend on the size of your party, but our top recommendation is the two-bedroom Royal Infinity Villa. This not only has the biggest pool size (645 sq ft) but also has its own private beach area, accessible by a charming stone staircase.
Inside, you'll find Bulgari bathroom amenities (they even have a Bulgari washbag for kids), Bang & Olufsen electronics, Armani/Casa furniture and Ralph Lauren towels. The blackout blinds on all windows and doors are as secure as they are effective, giving you a sense of ease when you turn in for the night.
In the garden, you can enjoy dinner from one of the hotel's two restaurants underneath a thatched hut. The room service is among the most efficient we've experienced at any hotel, with a menu as large as the restaurant itself. The Imperial Spa Villa sits right on the cliff's edge, so you enjoy stunning views of the sun setting over the neighboring island of Kefalonia.
Dine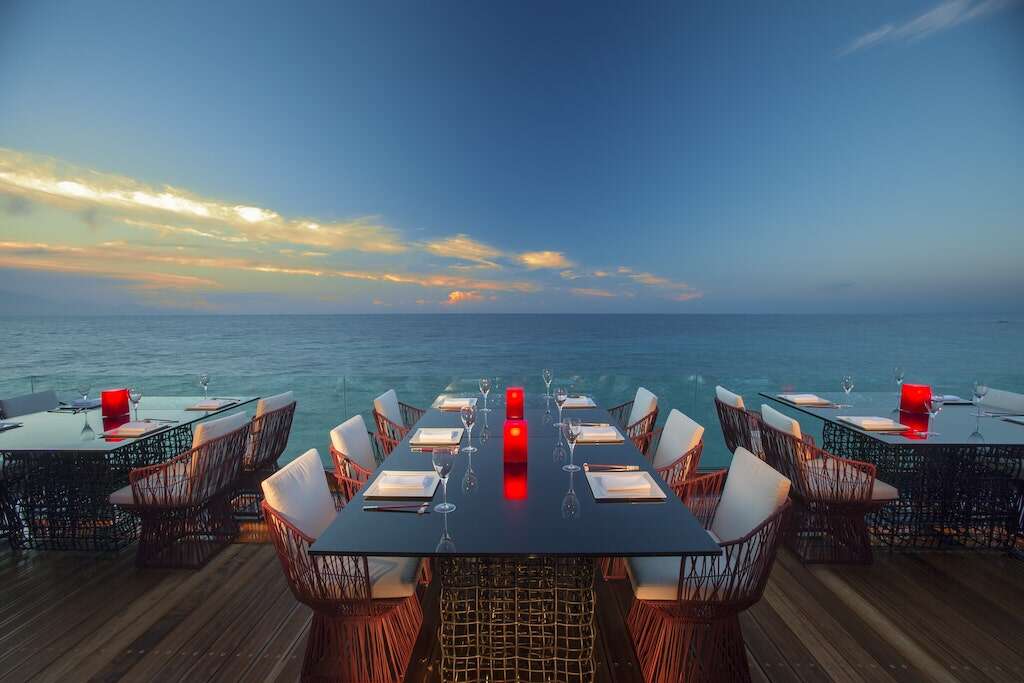 Perhaps the most impressive aspect of Porto Zante is the food. There are two restaurants, The Clubhouse and Maya, both open plan and sitting on the cliff's edge side by side. You can be confident of securing a seat in either one on short notice, but as the hotel has an ethos of cooking everything to order for quality's sake, it's best to give them a heads up.
The Clubhouse – first opened to serve Porto Zante's one and only villa at the behest of a loyal customer – offers the best in Greek and Mediterranean cuisine. Knockout dishes include the seafood risotto and orzo with lamb koftas, while a degustation menu is available upon request. If you want something unashamedly familiar, then order the perfectly executed club sandwich direct to your sun lounger (every guest has their own on the private beach).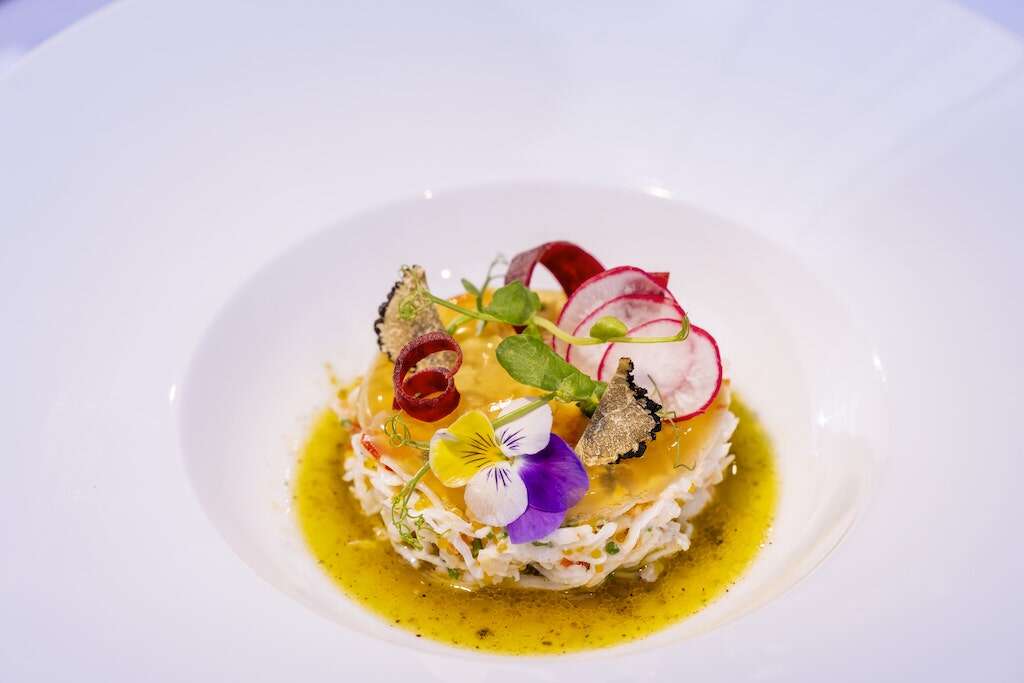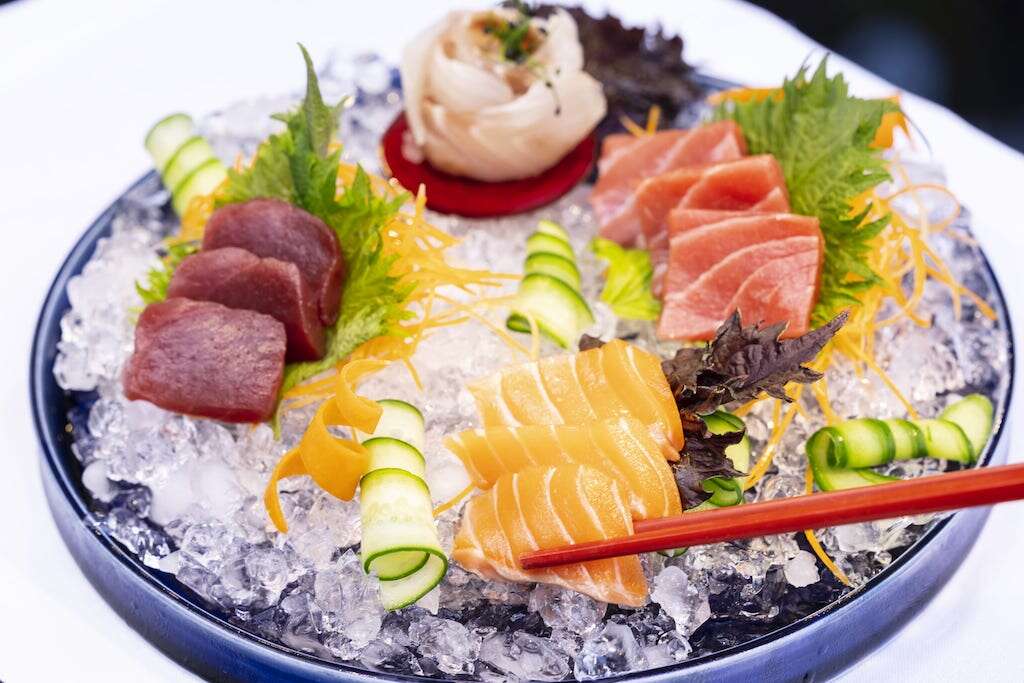 The real culinary magic takes place a few steps away at Maya, where a former Nobu chef has created perhaps one of the best Japanese restaurants in the whole of Greece – for just a handful of covers per night. If only the Michelin inspectors could make their way through those double gates, they might consider this for a star.
Porto Zante has a strong relationship with local fisherman, and pay above the normal rate to secure the catch of the day. That often includes the elusive king crab, which Maya serves as a tartare.
Make sure to order the off-menu Omakase, a multi-course experience taken at the chef's table. The menu will change frequently according to that day's produce but may include lobster dragon rolls, maya black cod and conclude with a showstopping slab of A4 Wagyu beef.
Family-friendly
There is something innate about the family-friendliness at Porto Zante, so much so that we included it in our Top 50 Family Suites 2023. Guests with little ones will arrive to find handmade welcome posters and a treasure trove of pool toys in their villa. The staff know and remember children's names and have a different gift (from coloring books to yoyos) every time they walk past the concierge desk.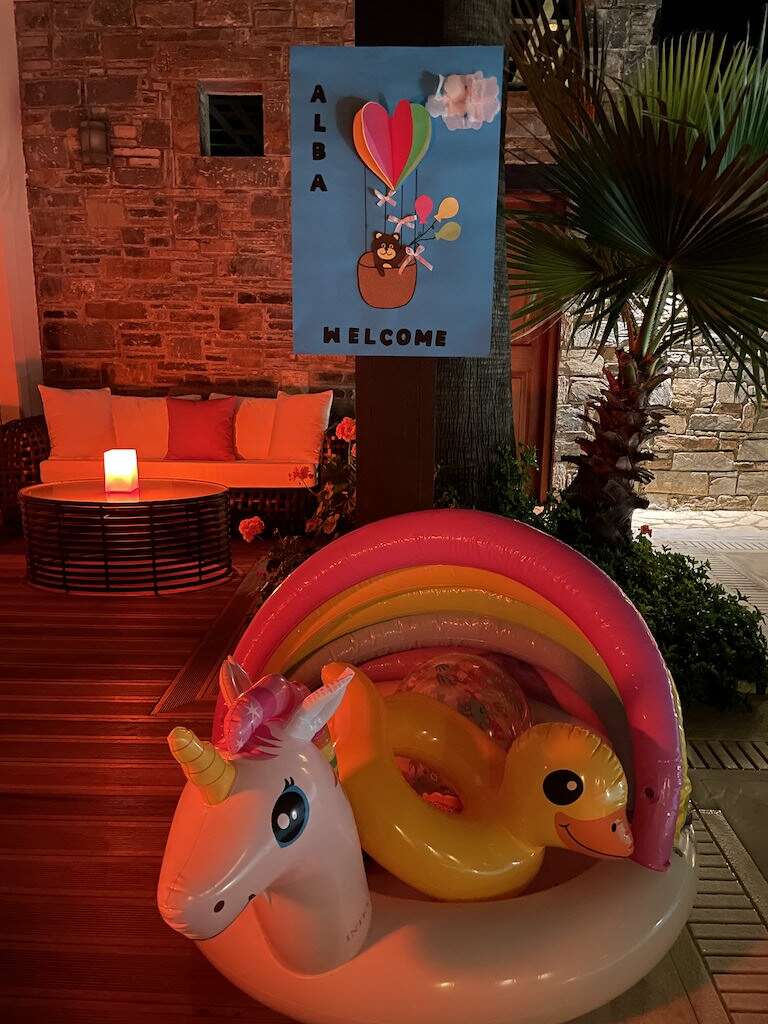 The Kids Club is run by two experienced child carers – Valentina and Penelope. They have a level of competence and confidence that only comes with years of experience. They're around from morning to night and can babysit out of hours upon request.
Porto Zante also runs day trips for older kids at an additional cost, giving parents the chance to better acquaint themselves with the spa and/or cocktail menu. The spa, an open room seemingly carved into the cliffside with ocean views, offers a variety of treatments using Greek brand Apivita. The equally relaxing cocktail menu is overseen by an experienced mixologist with excellent signature recipes.
For those with older kids, ask Porto Zante's local experts to create a day trip out at sea. The team can charter a local speedboat or yacht to take you to Zakythos's secluded coves and beaches with a pre-packed, bespoke picnic hamper.
Royal Infinity Villa from $8,300 per night. Contact info@portozante.com, +30 210 8218640, portozante.com