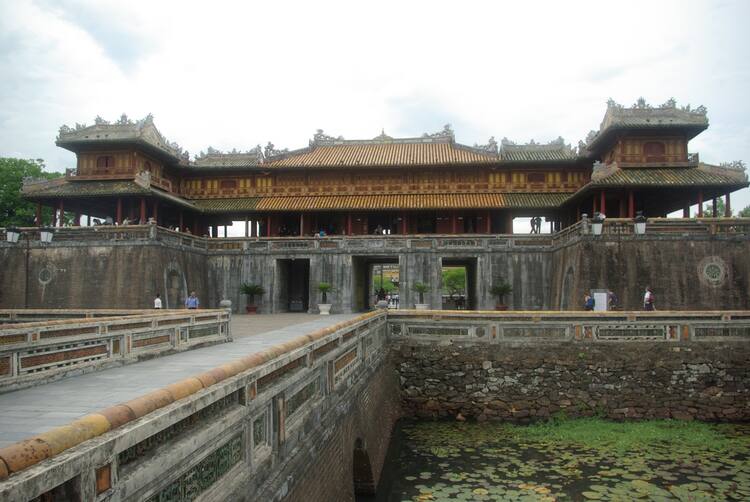 The gate to the royal citadel in Hue, Vietnam's ancient capital.
Standing in 3 February Park, a leafy sculpture garden that commemorates an important battle of the Tet Offensive, I'm looking out to a riverside boulevard lined with stately French-colonial buildings. The Perfume River sweeps quietly under a fog-obscured bridge. Couples stroll and little kids scamper around their parents' legs. It's a lovely afternoon in the city of Hue, but my thoughts are somewhere beyond this picturesque spot. Specifically, I am looking at the food hawkers at the far side of the plaza, their carts, stalls, shoulder poles overflowing with all sorts of temptations.
I walk over to them and order a bunch of banh nam—strips of steamed rice flour topped with a layer of seasoned, finely ground shrimp and pork. The vendor unwraps them from their banana- leaf packaging, and I dig into this tasty, savory-sweet delicacy. The views may be historic and the atmosphere serene, but food like this is the real reason I came to Hue.
I've always been fascinated with Vietnamese cuisine, its subtle flavors and simple, fresh ingredients. But of all its categories there is one that I love most. It's called banh—a word that means "cooked food from flour," or more simply "cake," and is used broadly to describe a variety of small, often handheld, snacks. These can be anything from simple rice dumplings (banh chung) or pork- and-mushroom-stuffed steamed rice-flour rolls (banh cuon), to battered and fried banana fillets (banh chuoi chen) or Western-style cakes (banh kem). Most banh by themselves aren't taken as meals— instead, they're more like a remedy for the munchies: bits of carbs plus usually protein or sugar that serve as instant pick-me-ups.
Banh beo
There are some incarnations of banh that can only be found here. In fact, although Hue's most famous culinary export is its fiery, beef-laden bun bo Hue noodle soup, it is the more homespun, less easily categorized banh Hue (or "banh from Hue") that most Vietnamese indulge in when visiting the imperial capital.
"Banh is everyday food for common people. When I was small I ate this for breakfast, lunch or dinner if my parents didn't have enough money to prepare more substantial dishes," says 37-year-old Nguyen Tay Hoang, who runs the popular Hanh Restaurant near the city center. "But I notice tourists have become aware of banh Hue. People ask for it in my restaurant all the time. It's amusing to know that this humble food is now being appreciated by visitors."
Crispy banh khoai
For 143 years, Hue, on Vietnam's narrow waistline, was the seat of culture, religion and politics. It was the home of Nguyen dynasty kings who were responsible for many of the country's cultural emblems: the ao dai national dress, and several important Buddhist shrines, for example. In such a revered place, you might think the enduring culinary tradition would be royal—and there are indeed lovely restaurants that recreate the fancy victuals that graced the tables of emperors, including Le Parfum at the newly rebranded Azerai La Residence, Hue, the city's 89-year-old grande dame.
But here's a little secret: not everything eaten at court took hours to make or was jammed with expensive, rare ingredients. It couldn't have been when the kings often demanded 50 dishes in a sitting. While the common folk were officially forbidden from copying and consuming regal fare… well, let's just say I'd probably risk my life for some really delicious banh khoai, a kind of savory pancake that is said to have originated in the royal kitchens.
This juxtaposition of haute and humble intrigues me. "To the Vietnamese, banh Hue is a taste of old Vietnam," Hoang tells me. For my first stop, he suggests I head to the city market, Cho Dong Ba. Clustered on a strip of pavement outside, facing the main entrance, are hawkers offering all sorts of gustatory delights.
An important rule to remember on banh is that there's actually no convention on what its supposed to look like. I see a smiling lady sitting on a stool, with a basket of tiny, translucent dumplings. "Banh bot loc!" she points to them, and without asking starts scooping them in to dish. A slice of cha lua pork sausage, a heap of coriander and some chili paste later, and I am holding a bowlful of banh in my hands. The little parcels of shrimp and tapioca flour are soft, chewy and savory—and when paired with a salty-sweet, fish sauce-based nuoc cham dressing, they become delightfully complex. I empty the bowl in a minute and, easing off happily full, I have to remind myself that it technically wasn't even a proper meal.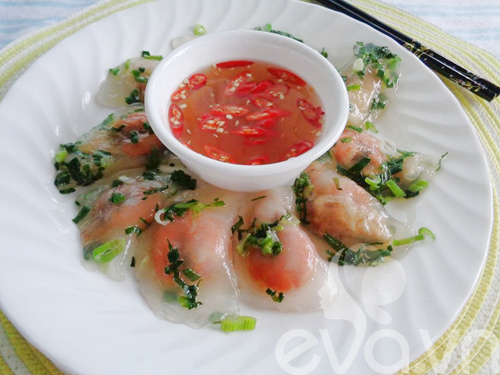 Chewy banh bot loc dumplings.
The following day I begin with a breakfast stop at a roadside hawker for banh bao, which are fist-sized dough buns stuffed with ginger and pork—the Vietnamese version of the Chinese steamed bao. Then I hop on a motorbike and make my way south to the famous tombs of the Hue emperors, a side of Vietnam often overshadowed by its more recent history.
At the mausoleum of Tu Duc, I follow manicured walkways that meander past pleasure gardens, temples and a lakeside pavilion. At Minh Mang's tomb, a single road leads me straight through a procession of buildings, lotus ponds and courtyards, to a modest- looking shrine that houses the emperor's final resting place. Most impressive of these, however, is the tomb of Khai Dinh: an eye-popping blend of Vietnamese, Romanesque and Gothic designs carved in three levels on the mountainside. Monarchic rule ended when the Democratic Republic of Vietnam was established in 1945, but the timelessness that envelops a visitor in these grand sprawling monuments actually makes the era of these emperors feel far more ancient.
The weight of that conundrum makes me hungry. On the way back to downtown, I spy an eatery with a stack of tiny plates out front. This is a telltale sign of another Hue specialty, the banh beo—a gelatinous disc of steamed rice flour topped with bits of crunchy pork, salted shrimp and spring onions—and the mid-afternoon line of locals is convincing evidence of the cook's skill. I queue up and am eventually served a dozen tiny plates, a personal buffet with nuoc cham dipping sauce on the side. Carved out with a spoon, the banh beo go down smoothly, the delicate flavor of the tiny pancake subtly highlighting its main ingredients. A pair of kids at the next table are comparing their stacks of used plates. "They're competing to see who can eat the most," their bemused father says.
Dong Ba Market.
The ancient citadel, the once-proud capital of the Nguyen dynasty, still anchors the center of Hue. Massive gray battlements rise from a surrounding moat, their facades still bearing bullet holes from 1968. At its heyday in the 1800s, this walled city boasted an imperial palace, theaters, temples and royal residences. Sadly, much of it was destroyed during the American War, and despite ongoing restoration efforts, parts of the citadel are forever ruined. The damage isn't just physical, as many of Hue's historians, artists and intellectuals were purged during the conflict, their work destroyed when the city was bombed. Not surprisingly, post-war reconstruction focused more on building the future than rediscovering the past. One can say that today's Hue is a city of commoners, of entrepreneurs and blue-collar workers who experience the legacy of the Nguyen kings through the occasional cultural show—and in their everyday cuisine.
For my final dinner, I head with Hoang to his restaurant, Hanh. It's known for banh khoai, made with practiced ease, on a cooking station dedicated to frying these crackly, 15-centimeter-circular sheets of turmeric-tinged flour. Shrimp, minced pork and bean sprouts are added to each sizzling piece before it is folded into something akin to a Vietnamese taco. In contrast to the more popular banh xeo, a similar delicacy from the south that sports a coconut or rice milk–infused batter, the banh khoai is a thicker, crispier and more umami-laden treat. To eat it, you simply break off a piece, dip it into a curiously thick sauce, and then shove it into your mouth along with a pinch of fresh greens from the table.
Hoang sits at my table and tells me more about the house specialty. "I think most banh khoai crepes would taste similar no matter which place serves it," he admits. "What sets banh khoai apart from each other is the sauce. Ours is a mix of peanuts, sesame, soybeans and liver that's cooked for ten hours straight." Depending on which grandma's recipe you follow, this dip can pack ingredients ranging from pork stock to grated lemongrass to hoisin sauce.
Enamored as I am of banh Hue, I still find it interesting that this idiosyncratic peasant food is gaining popularity among visitors. "Hue is a very traditional place, and we still like to do things the old way," Hoang says. "Banh Hue is complicated to make, but every restaurant still prepares it the way our parents did, going to the market, and using recipes they passed down to us. This is uncommercialized, traditional, everyday food." Popping the last bit of banh khoai in my mouth, I realize that this perfectly sums up the current global culinary zeitgeist. Of course the tourists are eating it right up.
---
THE DETAILS
WHERE TO STAY
Since Hue's local cuisine is often served amid humble environs, it's a rare treat to experience it with a touch of luxury. In an ornate mansion on the banks of the Perfume River, Azerai La Residence, Hue has 122 rooms in classic French-colonial style, around a saltwater pool that's welcome after a day touring the city. The recent renovation by Adrian Zecha's boutique-hotel brand expanded the spa and re-energized Le Gouverneur Bar and Le Parfum restaurant, which serves Western and Asian favorites alongside Hue specialties like royal cuisine, bun bo Hue and several kinds of banh Hue. Doubles from VND4,000,000.
South of the city, the all-pool villa Banyan Tree Lang Co lies on a stretch of white sand facing the south china sea. this top-end resort, with a beautiful championship golf course, is also a dining destination: The Water Court specializes in Vietnamese flavors, and its sister property Angsana Lang Co Resort hosts the twice-weekly Seedlings Street Food Market, where local vendors serve Hue's favorite street eats. banyantree.com: villas from VND8,455,380; Doubles from VND3,160,000.
WHAT TO EAT
Banh Nam
Truong Dinh Street near the riverside plaza is home to a row of eateries specializing in banana leaf– wrapped rice-flour rolls for VND2,500.
Banh Bot Loc
A handful of vendors sell these chewy dumplings by the Dong Ba Market front entrance, at 2 Tran Hung Dao Street. VND20,000 should be plenty for a bowl.
Banh Bao
The smiling vendor at the corner of Hai Ba Trung and Tran Cao Van Streets peddles her fat, stuffed, steamed buns for VND7,000 apiece.
Banh Beo
located near the tomb of Tu Duc at 83 Le Ngo Cat, the humble eatery Quan Banh Beo serves a mini-buffet of 12 banh beo plates for VND50,000.
Banh Khoai
Hanh restaurant, Nguyen Tay Hoang's family business, at 11 Duong Pho Duc Chinh, sells a variety of banh dishes, but is known for its crackly, savory banh khoai, which costs VND25,000 per plate.