It's all songs and schnitzels in a stunning Alpine setting
Salzburg in Austria is so pretty, it might have you singing on the mountain tops! While it might be best known to some as the mountainous setting of The Sound of Music, there's more to this castle-topped city than a famous film credit. Dance through the gardens at Hellbrunn Palace, or learn about Salzburg's most famous son, Wolfgang Amadeus Mozart, in his home-turned-museum.
Here are our top 10 must-see attractions in the Salzburg:
1. Sing along on a Sound of Music tour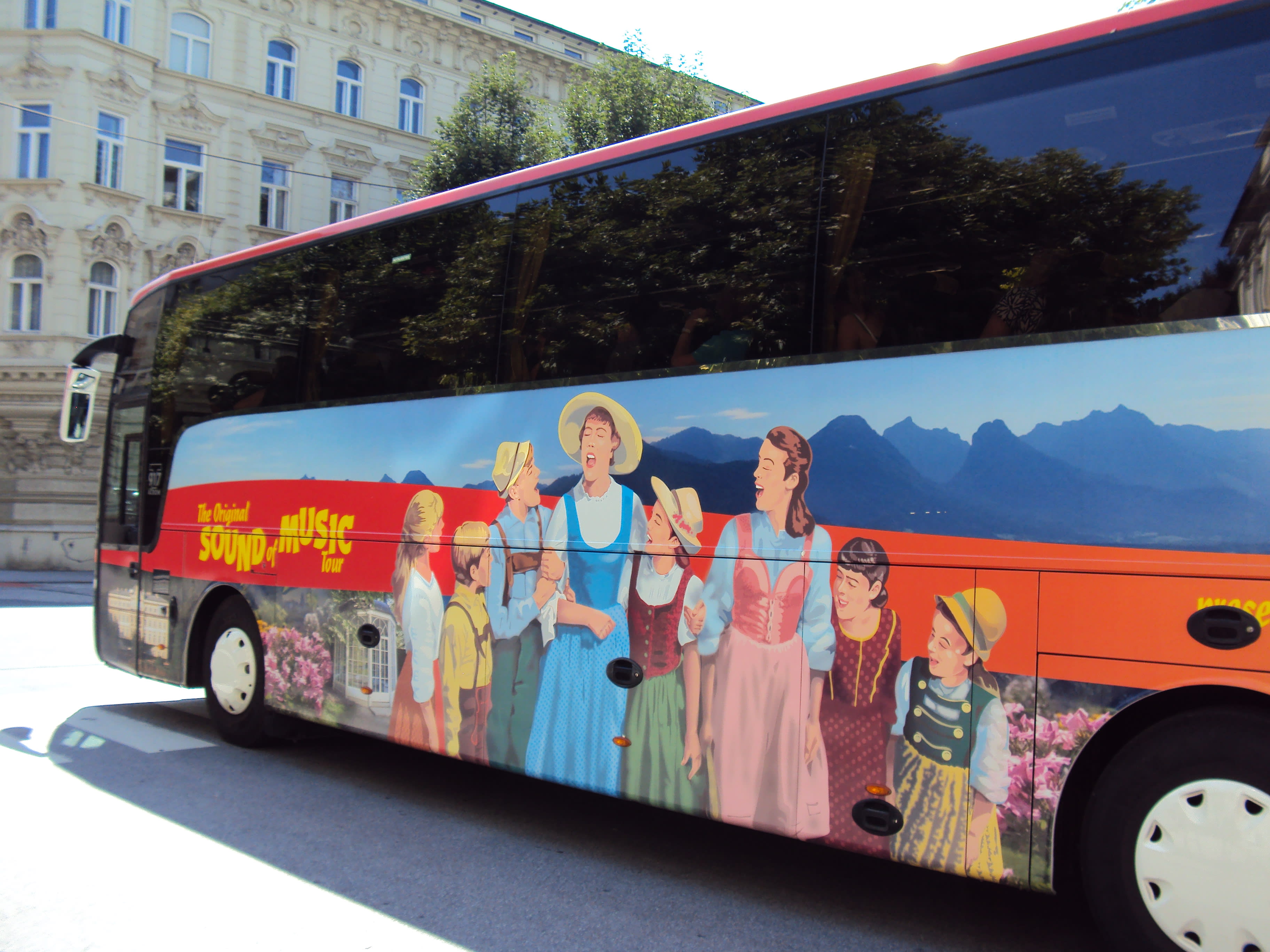 Is the 1965 cult film The Sound of Music one of your favourite things? If so, join a tour of its shooting locations. Scenes from the much-adored movie are brought to life along the way, with guides encouraging visitors to sing their hearts out to the soundtrack. You'll also see the 8th-century Nonnberg Abbey, Maria's former home, and the twin-towered Basilika St Michael where she married Captain Von Trapp.
Take the Panorama bus tour to do it! You can also choose the tour with meal provided: schnitzel and noodles!
2. Journey back in time at Getreidegasse's medieval shops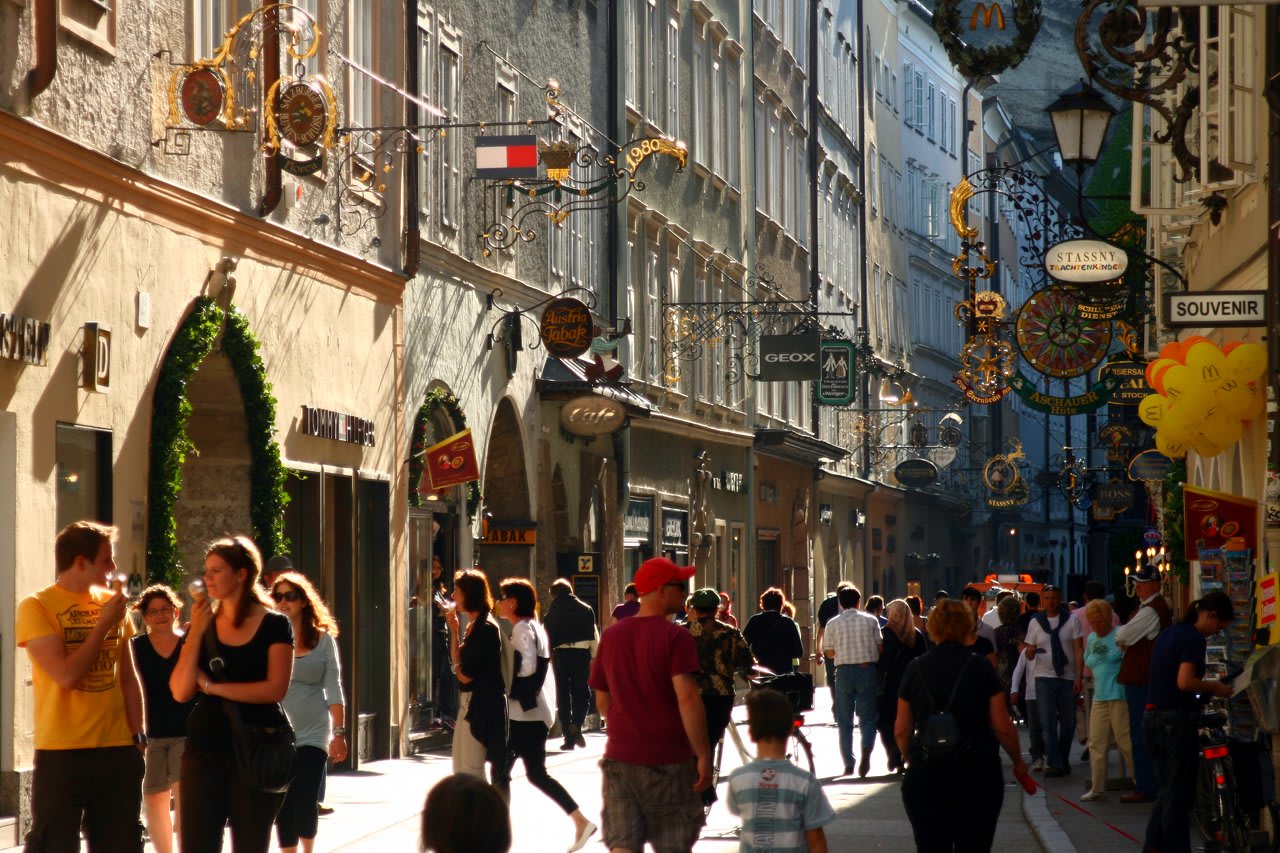 Make your way to Salzburg's main shopping street to browse boutiques while soaking up the city's past. Getreidegasse has a working blacksmith and other time-honoured stores, including a fancy milliner and locksmith. Medieval signage out front adds to the atmosphere. Pull up a seat at a patisserie and munch on local specialities like sachertorte, a melt-in-the-mouth Austrian chocolate cake.
You can see more of the local gothic, renaissance and baroque architecture on an hour-long Salzburg Panorama City Tour. This trip also drops by the lakeside Leopoldskron Palace.
3. Gambol in the grottos of Hellbrunn Palace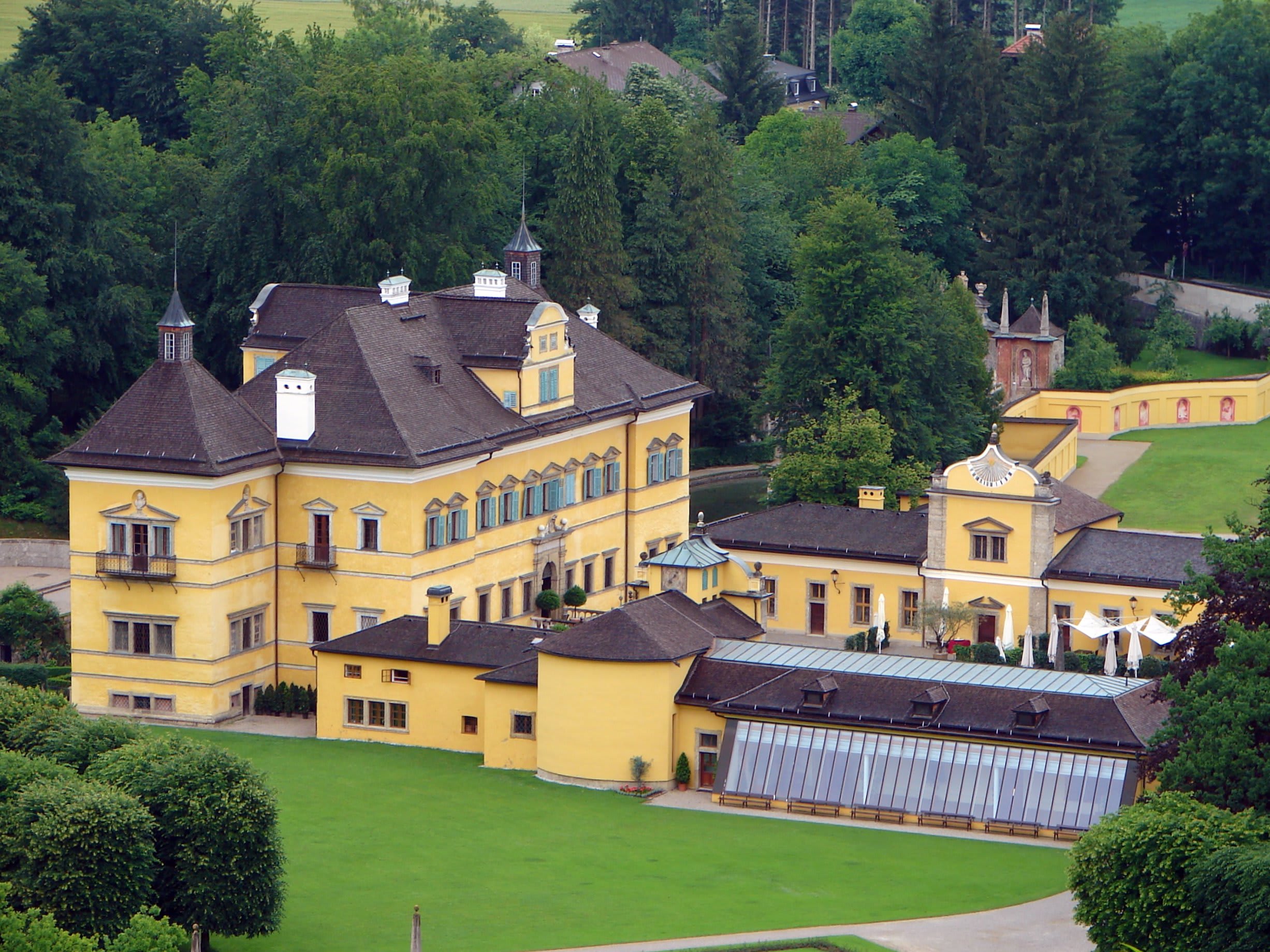 Getting to the sunshine-yellow Hellbrunn Palace is easy: it's one of the 12 stops on our handy hop on, hop off bus tour. You can listen to an audio guide as you ride to this stately 17th-century building in grotto-filled gardens. As a friendly trick, show your fellow travellers the fountains (they shoot out water when you least expect it!).
4. Hotfoot it to the town of Hallstatt for a scenic day out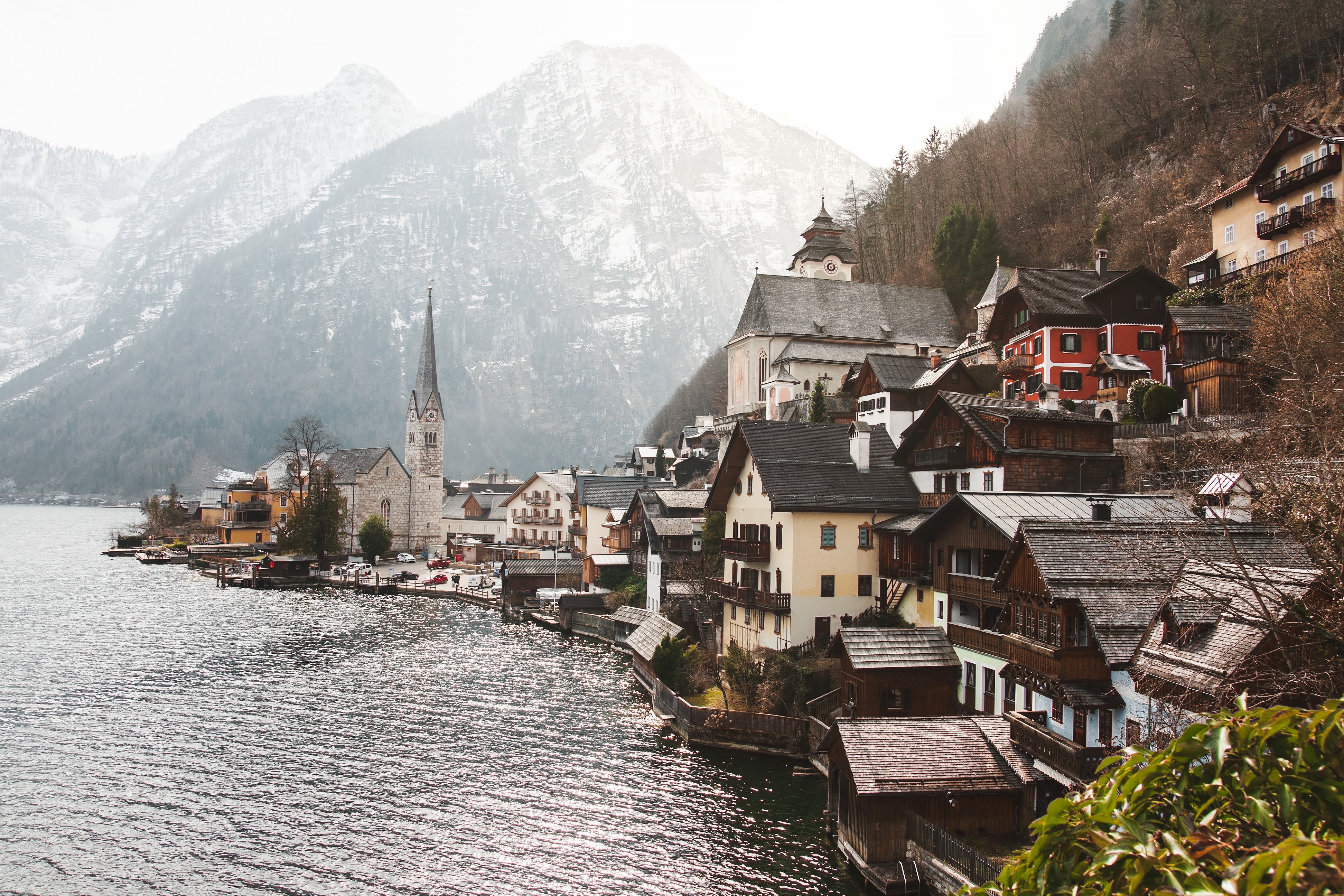 Yes, Salzburg's quaint – but wait till you see Hallstatt! Visiting this town, with its 16th-century alpine buildings set on a glittering lake, is a sure-fire way to light up your Instagram. Home to the macabre Bone House with more than 1,200 skulls on show – some of which are painted – the area's full of surprises.
Book a Hallstatt day tour from Salzburg and don't forget your camera for those artistic shots of the lake and mountains!
5. Marvel at Mozart's former residence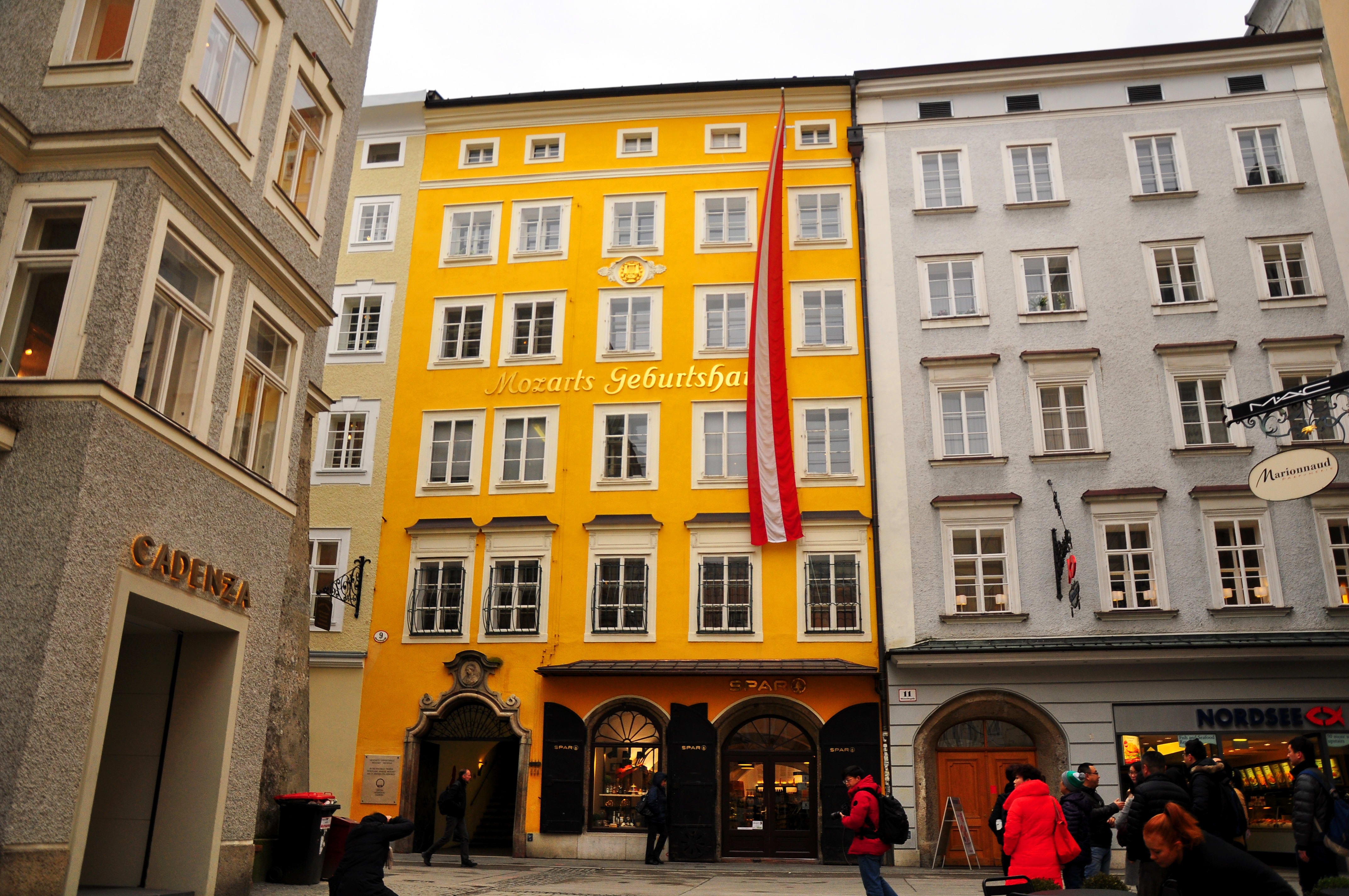 Pay a visit to Mozart's Birthplace on a city tour to learn about the life and times of Austria's most famous former resident. This walking trip is a must for music-lovers – you'll get entry to a museum displaying the composer's violin and clavichord. Your knowledgeable guide will tell you all about Mozart's life, and you'll also stop by buildings like the richly decorated Marionette Theatre. The tour starts from the Salzburg Sightseeing Tours Office at Mirabellplatz.
6. Meander around the perfectly manicured Mirabell Gardens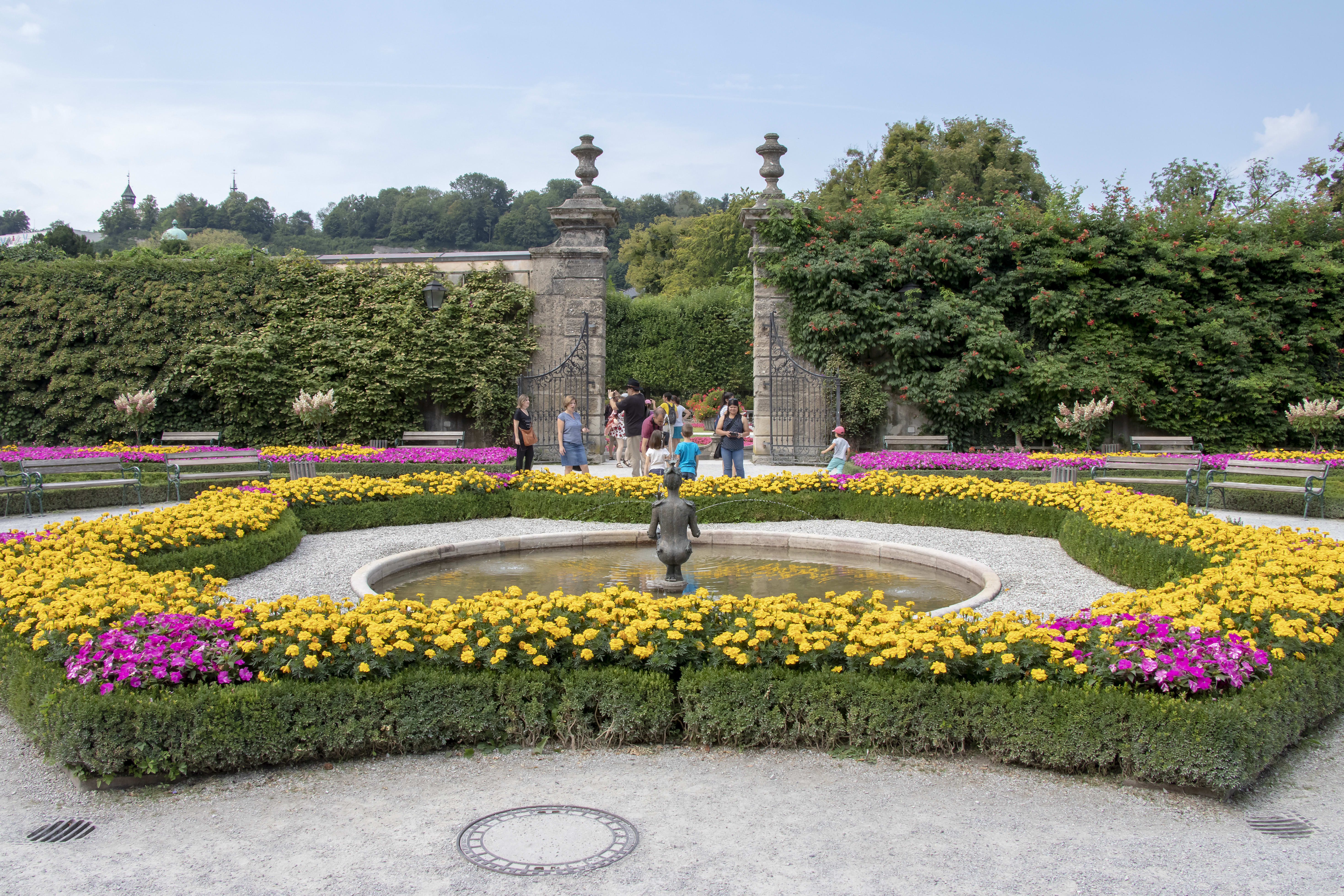 Love symmetrical, well-pruned gardens packed to the brim with geometric flower beds? Head to Mirabell Gardens. The pristine themed areas – with a winged Pegasus Fountain and funny garden gnomes – are perfect places for a selfie or two.
Klook tip: if you're on a romantic trip, make sure to stop by the blooming Rose Garden for a hand-in-hand wander.
The prince-archbishops of Salzburg owned this space and its adjoining pleasure palace. Follow in their footsteps on a half-day tour to the UNESCO World Heritage area of Salzkammergut and see where they held their royal hunts. You'll take in alpine lakes, imposing peaks and postcard-worthy villages on this trip to Austria's Lake District.
7. Scale Hohensalzburg Castle for epic views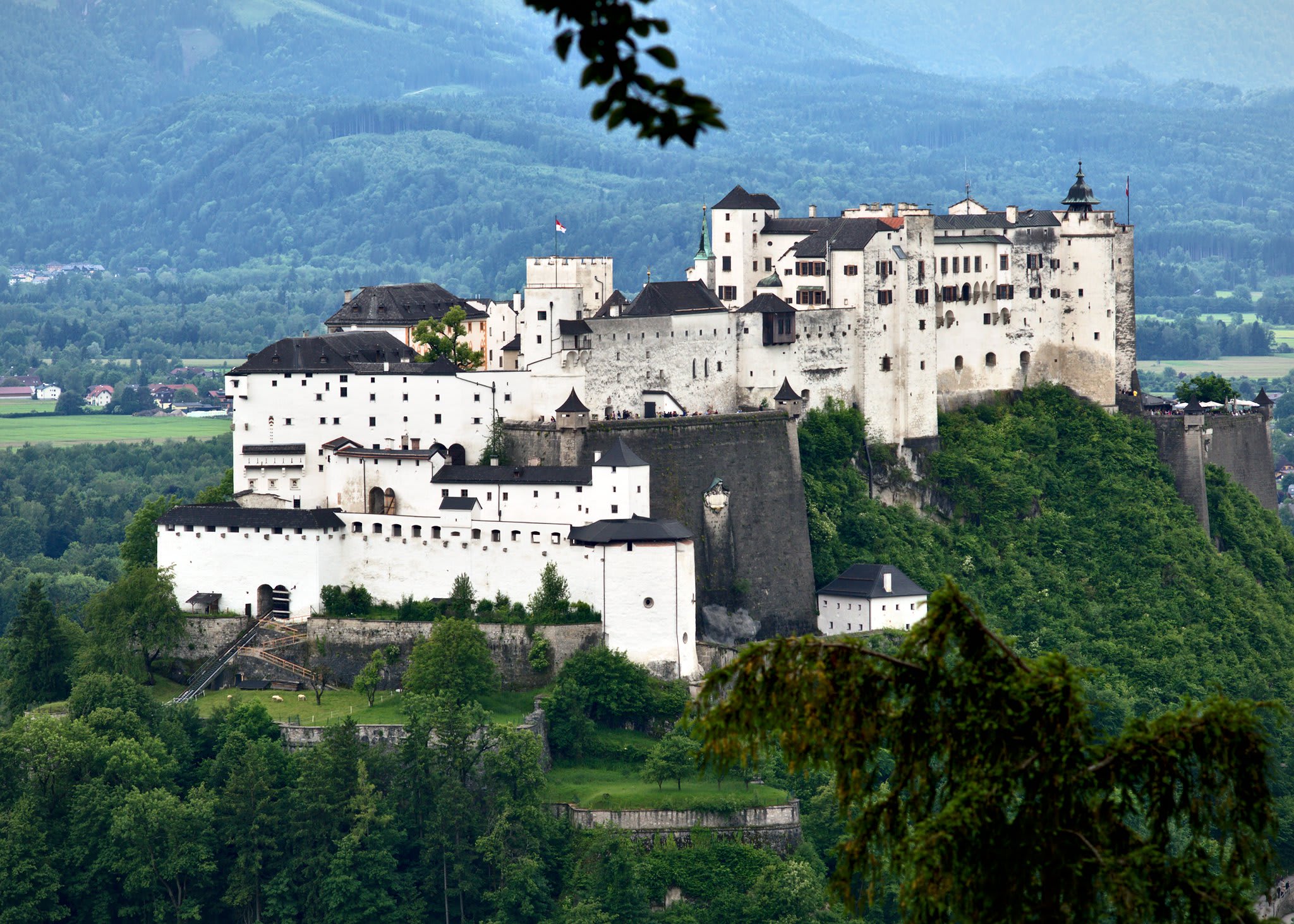 This bright white fortress on Festungsberg Hill is a key part of Salzburg's skyline and it's also ideal for getting one of the best views over the city. Explore the ornate courtyards, then enter the castle to marvel at the marble-pillared Golden Hall and stucco-covered chapel.
Get a Salzburg Card and you'll get a free ride on a funicular that will whisk you up to the fortress' front door. This 24, 48 or 72-hour pass also gives you free rides on the city's public transport and entry to tourist attractions.
8. Stretch your legs on a hike in the scenic Bavarian Alps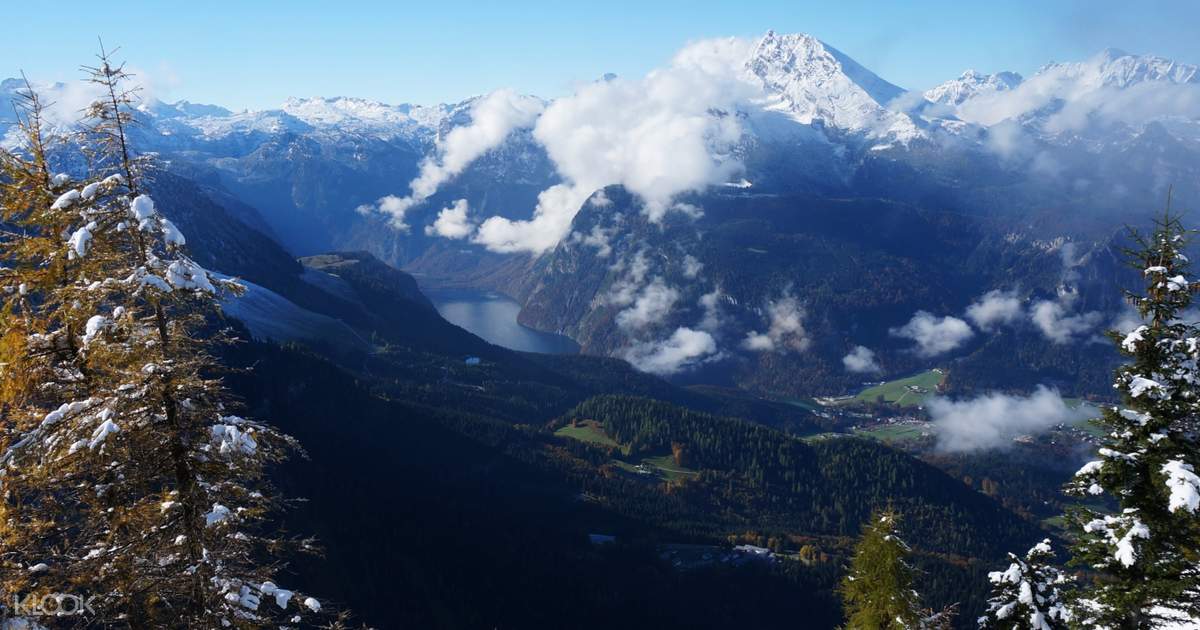 Salzburg is in a prime position, right next to the German border. Make the most of its handy location by booking a Bavarian mountains bus tour on Klook. Pass through the towering peaks of this majestic alpine region and taste some local foods in pretty Berchtesgaden. When the weather's on your side, there's nothing more enticing than a swim in Königssee's (King's Lake's) turquoise waters.
9. Hang out at the cool and contemporary Hangar-7 space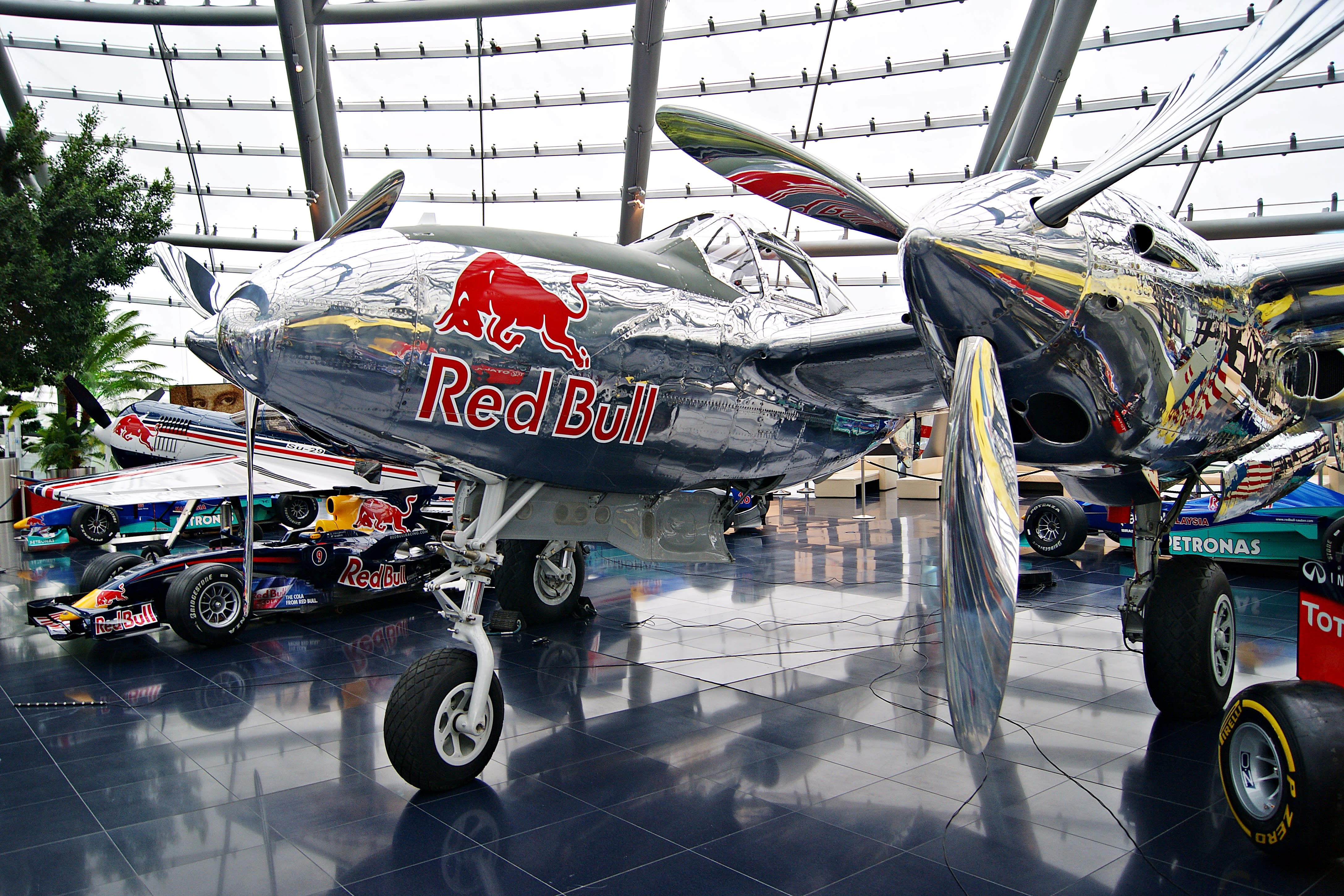 Before you jump into your private transfer from Salzburg Airport straight to the city – stop off at the futuristic Hangar-7, situated right next door. You can get a glimpse of the high-octane motorbike and F1 exhibits or admire vintage aircraft including the famous Flying Bulls planes. The size of the dome is almost as impressive as the Michelin-starred restaurant on site – book ahead for a memorable meal prepped by a different top chef every month.
10. Swoon at Salzburg Cathedral's handsome facade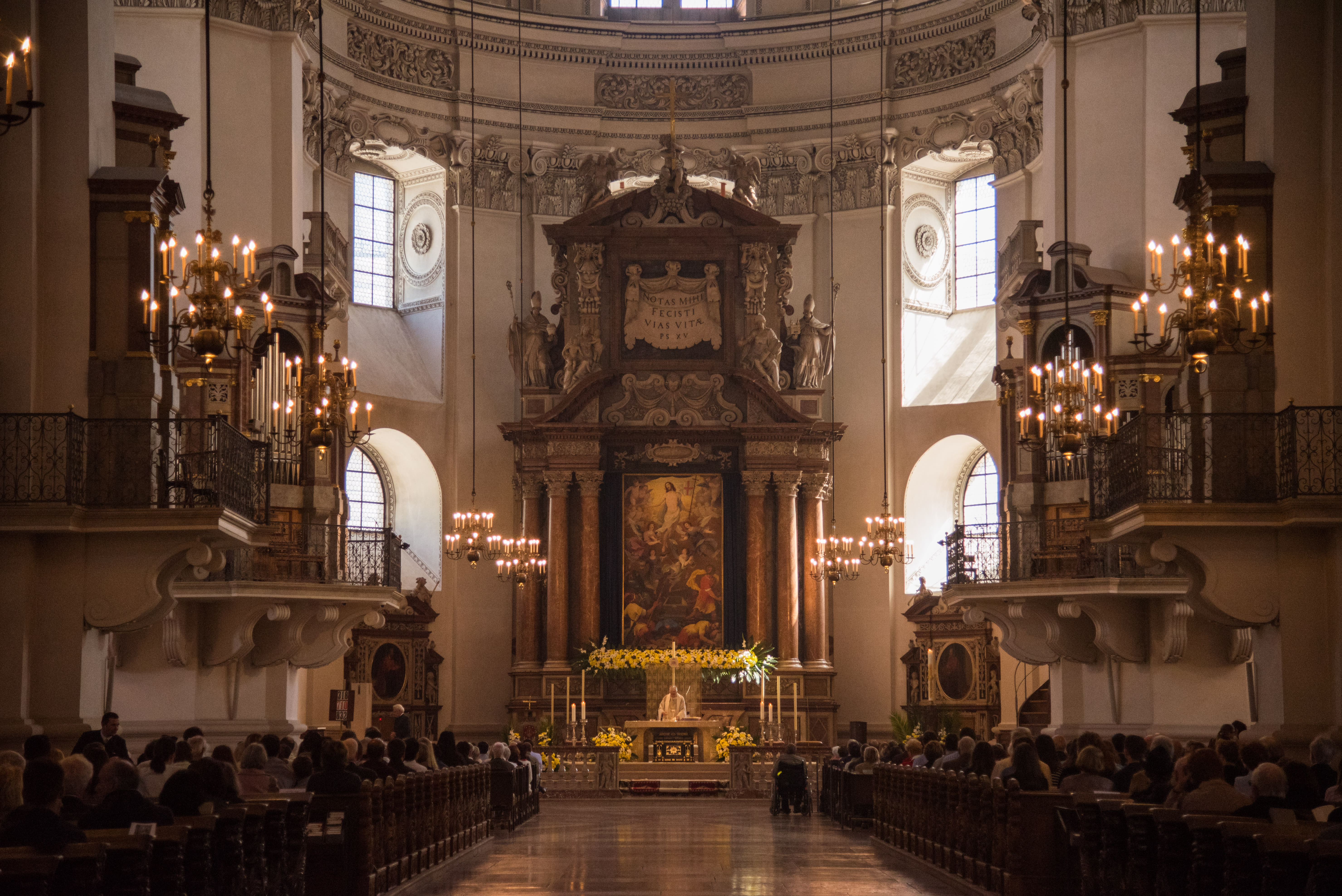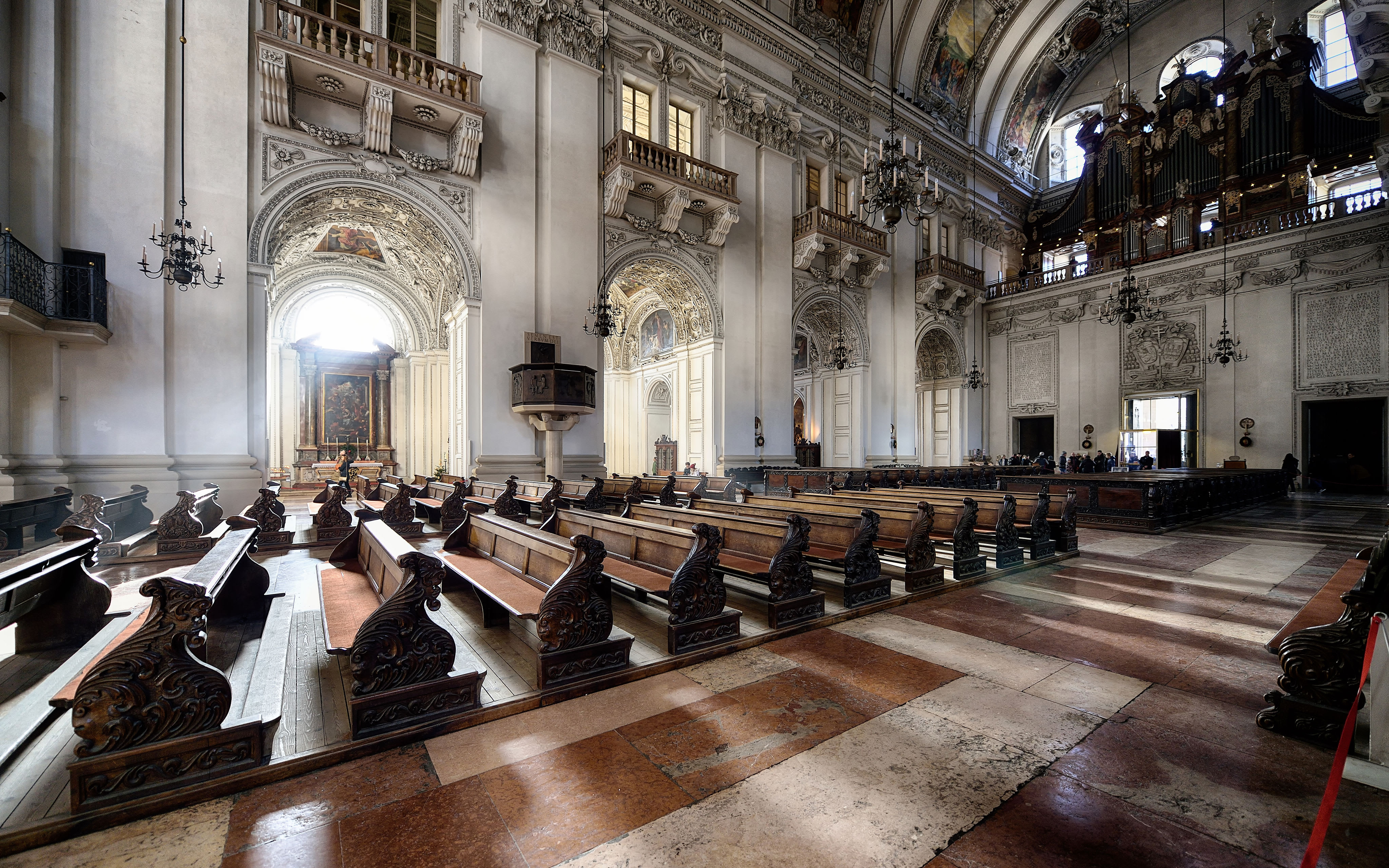 Salzburg isn't short of churches, but its main cathedral is definitely one for the itinerary. It has a magnificent dome, two huge bell towers daubed in green and opulent frescos. If you take a closer look, you'll also find 370-year-old graffiti etched into the marble entrance. Poke your head round the door of St Peter's Abbey as well to see the glinting gold interior; it's in the same district as the cathedral.
You can visit more of the region's charming churches on a Lakes and Mountains Region Hop-On Hop-Off Tour bus from Salzburg.
Seeking more sights and scenes in Salzburg that are worth their salt?
Discover other experiences and tours in and around Austria's most musical city, Salzburg on Klook. Kickstart your trip with a convenient private airport transfer and visit neighbouring countries with Europe train tickets!
Where to stay: