The Eagles kicked off their Hotel California tour on Feb 7, 2020 with the first of three shows at the State Farm Arena in Atlanta.
With the help of an orchestra and a choir, they began by playing the hit 1976 album in its entirety and in sequence, including the "Wasted Time" instrumental reprise that opens the second side of the LP. Vince Gill took lead vocals on Randy Meisner's "Try and Love Again." After an intermission, they returned with "Seven Bridges Road" and continued with a greatest hits set that made room for three songs from Joe Walsh's career outside of the band — "In the City," "Walk Away" and "Funk #49" — and Don Henley's "The Boys of Summer." An encore added another Walsh hit, "Rocky Mountain Way," and a second take of "Hotel California" to close out the night.
The set list was identical to the three shows they played at the MGM Grand Garden Arena in Las Vegas last year. You can check out photos from those dates below.
The Eagles will perform in Atlanta again before playing three nights at New York's Madison Square Garden. The U.S. tour will run through April 26 at the Talking Stick Resort Arena in Phoenix, and they also have upcoming dates booked in Mexico and London. Check their website for full details.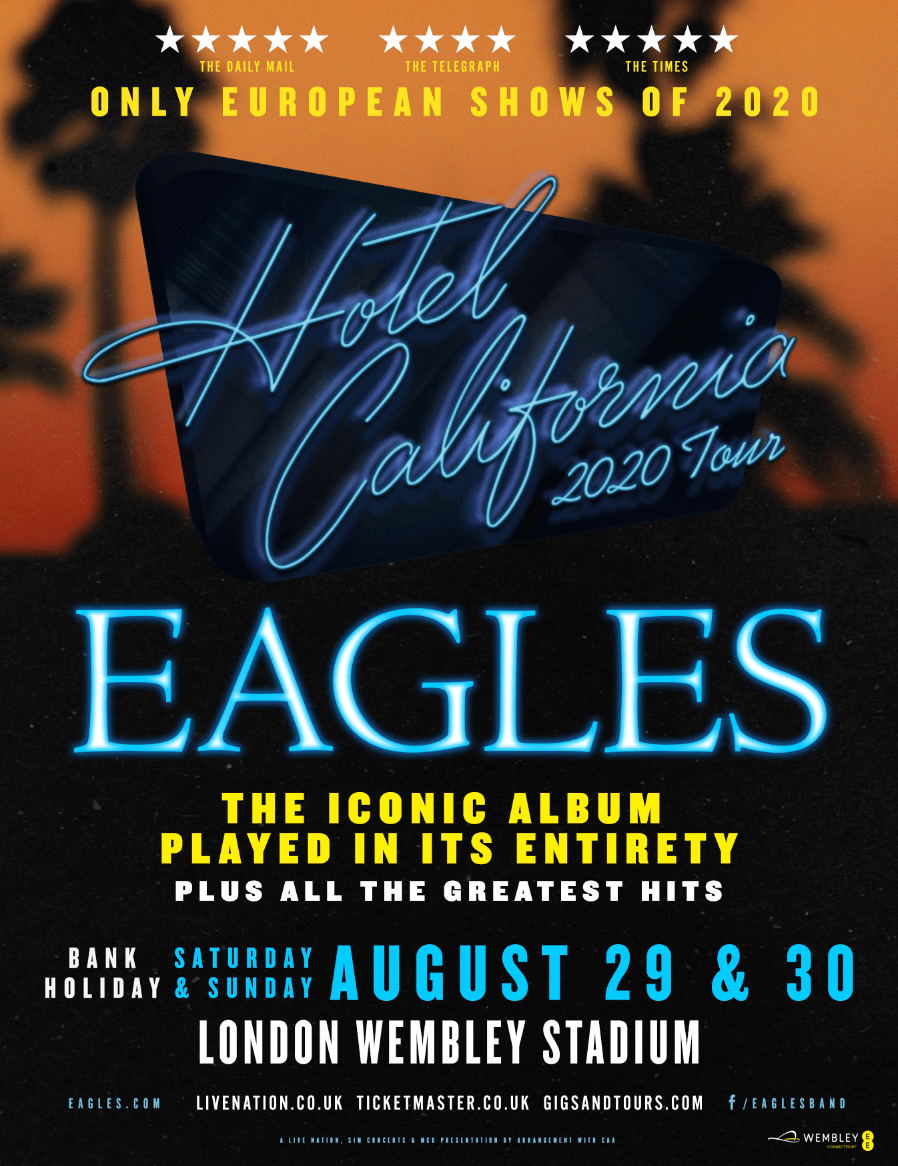 The Eagles, State Farm Arena, Feb. 7, 2020 Set List
Set 1
1. "Hotel California"
2. "New Kid in Town"
3. "Life in the Fast Lane"
4. "Wasted Time"
5. "Wasted Time (Reprise)"
6. "Victim of Love"
7. "Pretty Maids All in a Row"
8. "Try and Love Again"
9. "The Last Resort"
Set 2
10. "Seven Bridges Road"
11. "Take It Easy"
12. "One of These Nights"
13. "Take It to the Limit"
14. "Tequila Sunrise"
15. "Witchy Woman"
16. "In the City"
17. "I Can't Tell You Why"
18. "Lyin' Eyes"
19. "Best of My Love"
20. "Peaceful Easy Feeling"
21. "Love Will Keep Us Alive"
22. "Walk Away"
23. "Those Shoes"
24. "Life's Been Good"
25. "The Boys of Summer"
26. "Funk #49"
27. "Already Gone"
28. "Heartache Tonight"
Encore
29. "Rocky Mountain Way"
30. "Desperado"
31. "The Long Run"
32. "Hotel California (Reprise)"
The Eagles Profile
The Eagles are a classic rock band who have sold more than 120 million albums worldwide while producing five #1 singles and six Grammy Awards. Their 3x Platinum two-disc compilation album 'The Very Best Of" was released in 2003 and spent a total of 62 weeks on Billboard 200 chart. They are arguably known most for their single "Hotel California".
This is the first Eagles tour since the death of lead singer Glenn Frey. Filling in on vocals for the tour will be Glenn's son, Deacon Frey, and Vince Gill.
The Eagles Live Nation Presale Code
Live Nation changes their presale code monthly and all concert dates for that month have the same presale code. The LN Mobile code has been the same since the start of 2018.
Live Nation Presale Code = ROCKSTAR
LN Mobile Presale Code = COVERT
You can learn more about standard Live Nation presale codes in our guide.
The Eagles American Express Cardmember Presale Code
American Express, Chase and/or Citi cardmembers can get exclusive concert presale access to some shows (see the on sale dates below). These codes are the same for every concert and are as follows:
American Express Presale Code = 8003272177, 8002973333, or 8778770987 (the support number on the back of your card)
Other Eagles Presale Codes
General Presale Code = CALIFORNIA (Unconfirmed)
Venue Presale =
The Eagles Onsale Dates
American Express Presale = October 14th
General Presales = October 17th
General Public Onsale = October 18th
Tickets