Planning an escape to a faraway location?
Look a little closer to home for your summer getaway.
The time has come to swap far-flung destinations for the beauty of my own British back garden. I've never been more grateful to have pristine beaches, awe-inspiring mountains and spectacular cycling routes right on my doorstep. Put your passport away because if you live in the United Kingdom like I do, you won't be needing it to explore these ten beautiful places.
1. Keswick, Lake District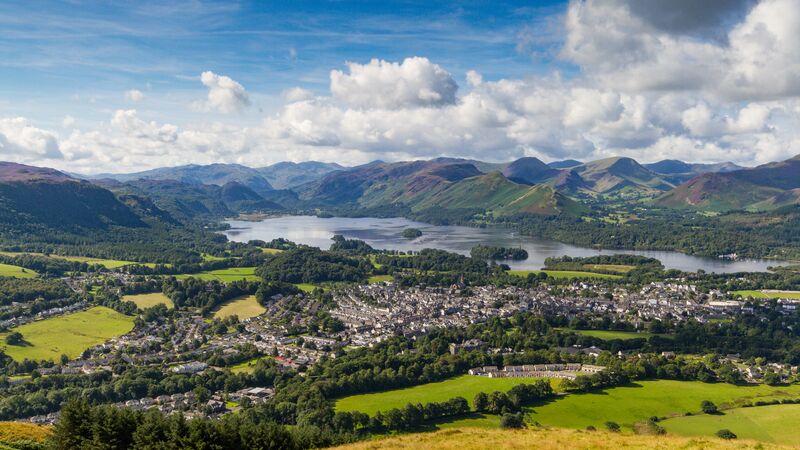 Keswick is an idyllic town in the north of the Lake District. Upon arrival, it's easy to see why the area inspired the poetry of William Wordsworth and Samuel Taylor Coleridge. Huddled on the shores of the navy blue Derwentwater Lake, this medieval market town is wreathed by incredible natural beauty. The surrounding clifftops are entwined with fabulous walking trails, or you can take advantage of one of the areas many cycling tracks and explore on two wheels.
Adventure through Keswick on our Cycle the Lake District tour
2. Castleton, Peak District
Situated in the Peak District, Castleton is a haven for hikers, cyclists and weekend wanderers. The village is surrounded by rolling green hills and serves as a starting point for some of the most spectacular walks in the country. Before hitting the hiking tracks, make sure you take the time to explore the characterful village. Charming stone houses lean over the winding streets which are dotted with old pubs and tea rooms. Castleton is also home to fascinating caves and caverns which hold the only Blue John stone found in the UK.
Discover the wonders of Castleton on our Peak District Retreat and Cycle the Peak District tour
3. Buttermere, Lake District
Carved out by a giant glacier, Buttermere sits in a basin walled by towering peaks and brilliant green hills. Buttermere Lake and Crummock Water were once connected, before being separated by rockfall and glacial split, and now sit just half a mile apart. Despite being part of the popular Lake District, Buttermere village and its adjacent lake feel remote and secluded compared to nearby tourist hotspots. There's no better setting for a tranquil walk or cycle with one's own thoughts.
Be amazed by Buttermere on our Cycle the Lake District tour
4. Trevose Head, Cornwall
On the Atlantic coast of north Cornwall you'll find the jutting outcrop of Trevose Head. This spot perfectly captures the wildness and ruggedness of the Cornish coastline, but the nineteenth century lighthouse that tops the headland also makes it postcard pretty. Keep an eye out for skylarks, linnets and corn buntings, who all nest in this area. On a clear day, you'll be able to see the whole length of the north Cornwall coast. This stunning spot is perfect for photography, exploring on foot, or simply savouring the panoramic coastal views.
Experience the beauty of Trevose Head on our Cornwall Retreat
5. Longshaw Estate, Peak District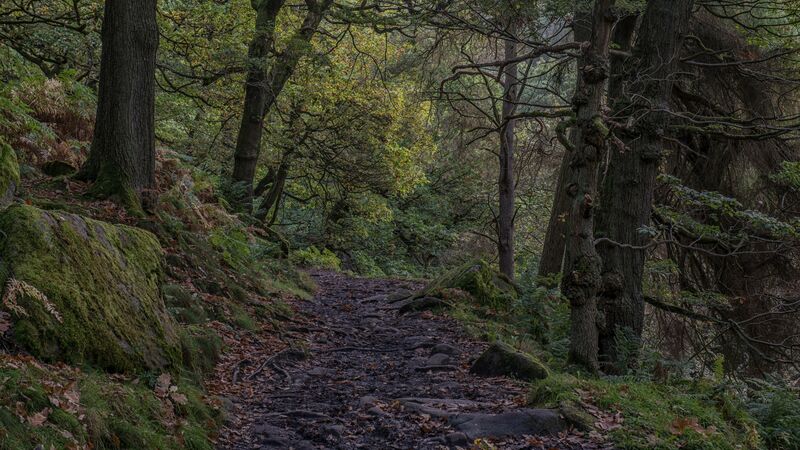 Meander through moorland, woodland and farmland while exploring the extensive Longshaw Estate. Lucid streams crisscross through ancient oak woods, while a patchwork of heather and gorse colour the pleasant walking trails. Wind and weather have transformed soft gritstone boulders and rocks into fantastic natural sculptures. Keep your camera out as the Estate holds many sights worth capturing. Patient wildlife spotters with a keen eye may be rewarded with sightings of red deer, elusive lapwings, or pied flycatchers.
Traverse the stunning Longshaw Estate on our Peak District Retreat and Cycle the Peak District tour
6. Glencoe, Scotland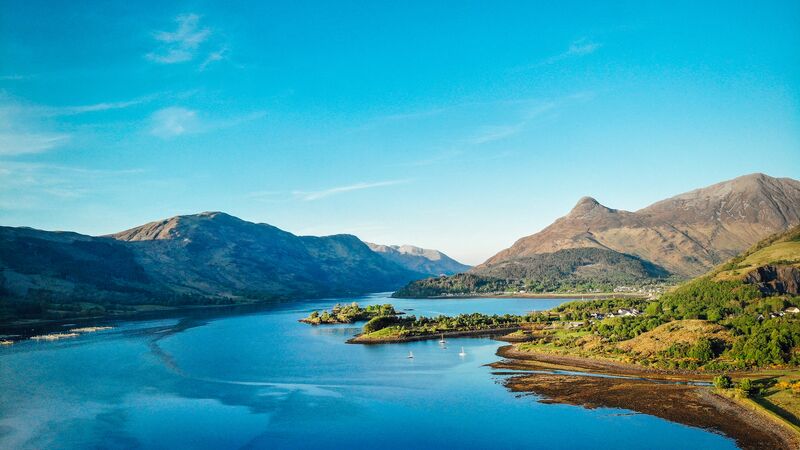 Scotland's most famous glen has a mysterious and ethereal quality. The ferocity and scale of the valley is almost otherworldly, and the dramatic mountain pass is speckled with waterfalls and walking tracks. Glencoe is understandably a popular spot for mountaineering and hillwalking. Glencoe village sits quietly at the foot of the mountains where the River Coe meets Loch Leven. Quaint houses are tucked into the hillside in this little village with one of the most scenic backdrops in the world.
Marvel at the landscapes in Glencoe on our Scotland Retreat
7. Halesworth, Suffolk
Suffolk may not be the first place that springs to mind when thinking of a UK getaway, but this underrated county's quintessentially English countryside is some of the prettiest in the world. The lovely market town of Halesworth serves as the perfect base for your Suffolk explorations. A scenic walk through the countryside will land you at Valley Farm Vineyards, a gorgeous award-winning winery offering tours and tastings. There's also plenty of endearing local pubs to visit along the walks through the lush country.
Taste local wines on our Suffolk Retreat
8. St Agnes, Cornwall
Another Cornish gem, St Agnes, or Aggie as it's affectionally known to locals, is a little village with big personality. St Agnes is buzzing with independent shops and delightful pubs, while beautiful old stone houses precariously stagger down the steep hills that overlook the Atlantic. Gulls soar over sprawling sandy beaches, which are popular with surfers and families alike. In the summer months, the surrounding clifftops come alive with a yellow and purple checkerboard of heather and gorse.
Get to know St Agnes on our Cornwall Retreat
9. Bakewell, Peak District
You'd be forgiven for only associating Bakewell with its namesake tart, but this Peak District town has so much more to offer. Nestled into the banks of the River Wye, this whimsical town is filled with fairytale stone houses and grandiose stately homes. If your visit falls on a Monday, be sure to check out the bustling Bakewell market, which has been running since 1330. Bakewell is so romantic, Jane Austen used it as the inspiration for the fictional town of Lambton in her novel, Pride and Prejudice.
Be charmed by Bakewell on our Peak District Retreat
10. Fort William, Scotland
It may be one of the rainiest spots in the country, but the breath-taking scenery at Fort William more than makes up for it. Sitting on the shores of the serene Loch Linnhe, on a clear day (yes, there are some!) the reflections of the surrounding mountains glisten in the water. You can't turn your head without spotting something to marvel at. Fort William has rightfully earned a reputation as the "Outdoor Capital of the UK" and there's an activity to suit all adventurers and nature enthusiasts. Try your hand at climbing, skiing or mountain biking, or take in the views on an easy-going walk.
Take in the scenery at Fort William on our Scotland Retreat
Check out all our new local experiences in your region and book your next adventure.


All images via Shutterstock.
10 places to visit in the UK that will amaze locals was last modified by Eleanor McDonald