What Makes A Great Group Trip?
This season, when we traditionally gather family and friends to celebrate what's really important, seems an opportune moment to pose the question. But the answers are, of course, timeless: they involve good food, low stress and lots of laughs. A common cause coupled with the freedom to float along in the collective adventure at your own pace. Reasons to reminisce. No, the best of pals don't need an excuse to get together, but it's always nice to go on tour with the band.
As it turns out, a very merry band of Bangkokians is heading on tour to Koh Samui in a few weeks, and we're all invited. December 22-24 brings the inaugural Gourmet Escape by Elite Havens, a weekend-long drinking-and-dining party with four of Thailand's household names in cheffing. Dylan Jones of bo.lan (one Michelin star), Tim Butler of Eat Me (which reached No. 31 on Asia's 50 Best list), Paolo Vitaletti and Jarrett Wrisley of Appia (with a new Appia-inspired cookbook) will be whipping up lunches and dinners for guests, while Campari Group bartenders keep everyone lubricated.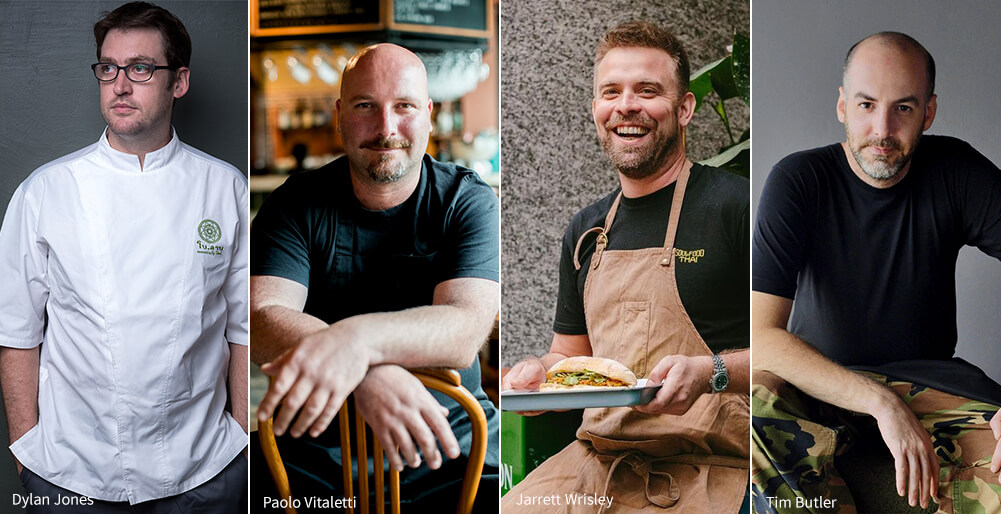 A great group trip also involves a cushy home base, and in addition to rounding up all the key players (and securing special fares for event attendees on Bangkok Air!), Elite Havens has you covered on that front in spades. In fact, it's their raison d'etre. The luxury vacation-villa company has a ridiculous portfolio of gorgeous, fully staffed cocoons in Bali, Lombok, Phuket, Sri Lanka, Japan, India and the Maldives. And among their properties in Koh Samui are the five manses that will be hosting this first Gourmet Escape at Cape Laem Sor Estate and Panacea Retreat.
Each of the villas being dished up can sleep up to 12 guests, and while you might book this upcoming holiday weekend for the fine-dining fanfare and to chill with the chefs, there are about a zillion other options on offer to bond with your besties here for a special event or anytime. Trust me, I've done it.
One long-weekend, six of us took over a kitted-out, 24-hour-staffed, seaview villa at Panacea, and languid breakfasting, sala barbecuing and private dance-partying were just the relatively standard indulgences in which we partook. We rolled in from the airport at night, and entered a softly illuminated grand salon. It seemed like a homey reception area until someone pointed out the full kitchen. Haha, right. This was actually just the top half of our home. Below awaited the garden and the 25-meter pool boasting an in-water bar and an above-water cheeky iron sculpture by Bill Bensley (who also did all the landscaping), not to mention four horizon-view bedrooms.
And thank goodness for that, for the morning brought all manner of purple haze—eggplants and violets and magentas detonating from the east. More revelations followed: in the main house was a tennis court, a muay Thai ring, a red-velvet movie theater, a billiards-and-cards room, and a karaoke lounge ostentatiously dominated by a giant fish tank. If the recreation you desire isn't already onsite, arrangements shall be made. We, for example, ordered up yoga lessons and in-room massages.
We felt like carving up the waves, so the activities director reserved some Jet Skis and delivered us to the bay. He didn't have the power to deliver us from the torrential sheets of rain into which we rather thickheadedly drove way out in the middle of the ocean—but Koh Phangan…looked… so… close… We also felt like hooting and hollering and getting muddy, so Sunny booked us a quad bike expedition. Rivers were forded, clothing was mucked, gravity was defied. We felt, as anyone would after such effervescent group activity, like retiring in solitude then reconvening for relaxing drinks and dinner. So our agreeable, mellow staff asked the chefs for delicious, deceptively simple, fortifying, multi-course, wine-paired meals that they served at our leisure, leaving us free to Insta-reminisce about how awesome everything had been and was in the process of being.
See, the major point Elite Havens understands is that a true vacation with friends means not having to look after your friends. It means running around with them, expending all the energy you can muster and then collapsing on each other in a big love heap.
Or, perhaps, a food coma. Same same.
The first-ever Gourmet Escape by Elite Havens launches December 22-24, 2020, in Koh Samui, Thailand. Villas for this event can accommodate up to 12 guests each, and prices start from BT3,450 per person including two-night stay, daily breakfast, and one lunch and one dinner cooked by the guest chefs. Roundtrip flights from BKK on Bangkok Airways are Bt4,520 per person. For bookings, contact yim@elitehavens.com or +66-84-841-4100.