Sure, the names Greenland and Iceland are quite different – err, one says green and lush and the other doesn't – but actually they've got more in common than you might first think.
So, what is the difference between Greenland and Iceland? Here's a quick myth-buster to help you sort out one country from the other.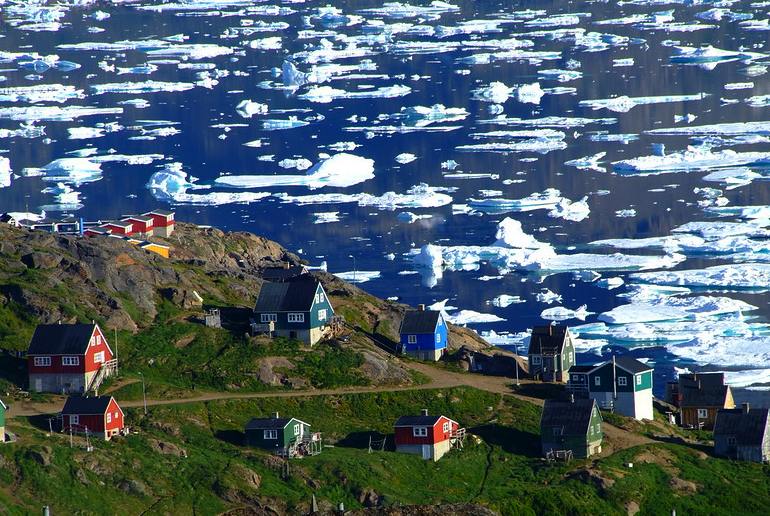 Size and population: which is bigger and which has more people?
Simply put, Greenland is massive and Iceland isn't. So let's have a look at the numbers – at more than 2 million square kilometres, Greenland is twenty times bigger than Iceland, which is roughly the same size as Ireland. Both places have tiny populations, though – Greenland's comes in at a miniscule 56,000, whilst Iceland counts around 365,000.
Who owns Greenland?
There's an important difference between Greenland and Iceland in terms of sovereignty. Iceland is an independent country; Greenland isn't. Greenland is recognised as a self-governing territory under the Danish crown and as such is part of the Kingdom of Denmark.
Iceland gained full independence from Denmark in 1944, so it's fair to say that both countries still today share strong ties on many levels with Denmark.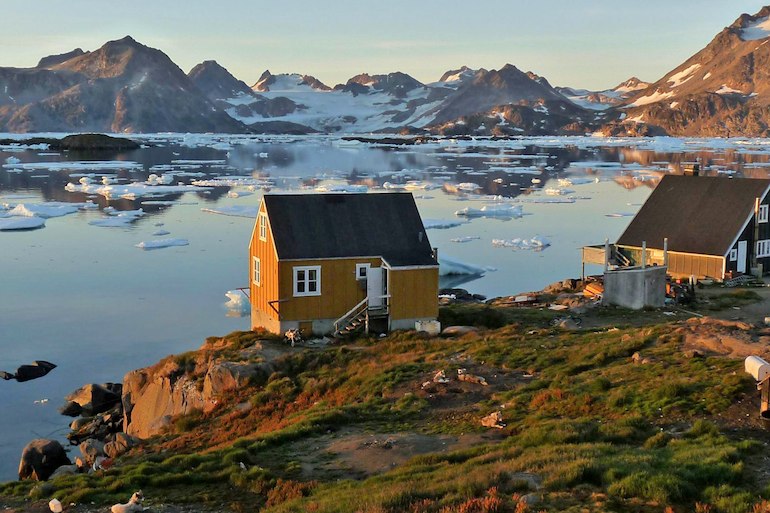 Were there Vikings in Iceland and Greenland?
Iceland feels essentially European when you're there, and much of its population is of Viking genetic heritage. Obviously, its wild and untamed landscapes and North Atlantic location don't exactly make it your typical European country, but in terms of familiarity and culture, it's most definitely part of the European family.
Greenland, on the other hand, is home predominantly to people of Inuit origin and shares strong cultural and genetic links with similar indigenous groups in neighbouring northern Canada.
True, the Vikings did once live in Greenland (they even coined the name) but their settlements mysteriously died out after a few hundred years and today Inuit, rather than Viking or Danish culture, is what defines Greenland.
Why is Greenland called Greenland?
Strangely, Iceland is greener than Greenland and Greenland is icier than Iceland. Legend has it that Greenland was named by Viking settler Erik the Red in an attempt to lure his fellow kinsmen to the island. Meanwhile, an early Viking settler on Iceland allegedly saw a fjord full of icebergs and the name stuck.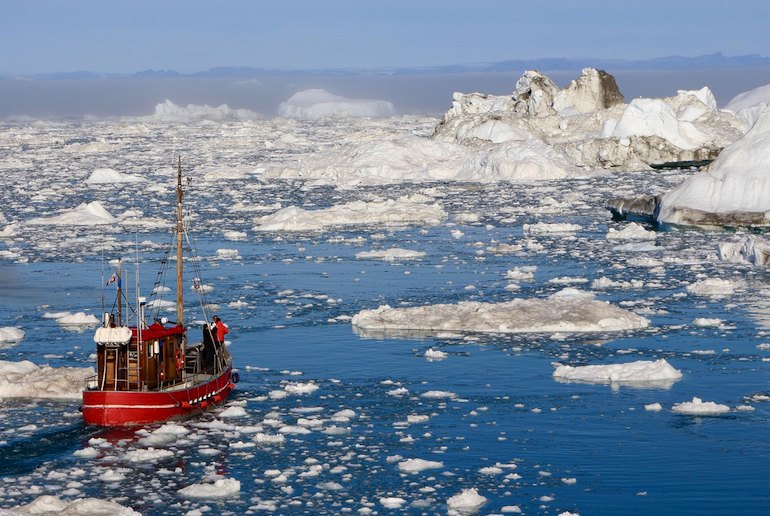 Ironically, some scientists think that global warming will cause the names to become more apt, as Greenland's ice sheets melt and Iceland becomes colder as a result of the Gulf Stream moving south.
Which is better for a holiday – Greenland or Iceland?
In terms of visiting for a holiday each country has highly individual attractions but it's widely accepted that travel in Greenland is not only more difficult than in Iceland but is also considerably more expensive.
Unless you count the handful of streets in the Greenlandic capital, Nuuk, and in the other villages dotted up and down the coast, there are no roads in Greenland – forget any notion of renting a car and driving to your next destination.
Instead, all travel is either by ship or by air – neither of which is particularly good value as the skeletal services that do exist are geared towards supplying remote communities rather than aiding tourists to get around the world's largest island.
Though certainly not cheap, travel in Iceland is less expensive than in Greenland and there are plenty of options for getting around, including car rental, public buses, ferries and domestic flights.
Unlike Greenland, accommodation options are plentiful and range from top-of-the-range international hotels to stays in cosy B&Bs (you can find some great places to stay on Booking.com) and private homes through Airbnb.
Restaurants, too, particularly in the capital, Reykjavík, and in other areas of the country frequented by visitors, are thick on the
ground offering a range of eating options – unlike in Greenland. And, of course, Iceland is home to a great range of geothermal pools – perfect for a warm swim, even when the weather is bad.
Tourism in Greenland vs Iceland
Tourism is far more developed in Iceland than in Greenland, with easy access from Europe and the US and hotels on seemingly every street corner in Reykjavík.
In addition, there are plenty of well-organized guided tours and day trips available, if you don't fancy renting a car: this full-day Golden Circle trip takes in some of the island's main natural and cultural sights, or you can opt for an organized glacier hike with an experienced guide and all the equipment included.
By contrast, Greenland is more expensive, with fewer flights and is much more challenging to travel around. The upside is that it sees significantly fewer tourists than Iceland and any visit here is likely to be an altogether more authentic experience.
Live like a local with a 3-day settlement homestay tour or for a single day trip, take an open boat tour through Greenland's coastal fjords.
Which is better for seeing the northern lights? Iceland or Greenland?
In terms of dark skies and little light pollution, Greenland is probably a better bet. On a clear night from October to the end of March, you're in with a very good chance of seeing the northern lights.
However, when you factor in ease of access and cost, Iceland makes a pretty good destination for northern lights sightings.
The south of Greenland is on a similar latitude to Iceland so the viewing season is about the same length in both countries and Iceland has no shortage of inexpensive tours such as this one, run by experienced guides who can take you to the best viewing points and explain what's going on – they'll even give you a second tour free if the lights don't appear first time.
How do you get to Iceland?
Much more accessible than Greenland, Iceland is linked to major European and North American cities by its national carrier, Icelandair, as well as a growing number of no-frills airlines such as easyJet and Wizzair.
Once you've landed, there are a good range of options for getting from Keflavik Airport to the centre of Reykjavik, including taxi or public bus, but the most popular choice is the Flybus shuttle that leaves 35-40 mins after each flight arrival.
How do you get to Greenland?
Although there are plans to extend and build new airports at strategic locations across the island, there is presently only one airport, Kangerlussuaq, with a runway long enough to receive large jet aircraft: it is served by regular Air Greenland flights from Copenhagen in Denmark.
Kangerlussuaq airport is 320km northeast of the Greenlandic capital, Nuuk, and the only way to get from there to Nuuk is by air; Air Greenland runs regular domestic flights between the two places. However, both airports are renowned for delays as they are prone to fog and bad weather – it is not unknown for poor visibility to close both airports for several days at a time.
In addition, Air Iceland Connect operates much smaller aircraft from Reykjavík to a number of Greenland's regional airstrips, including Nuuk – though timetables are inconsistent to say the least. There is presently no air link between Greenland and Canada or anywhere else in North America.
Both Air Iceland Connect and Greenland Travel run flight-inclusive packages to Greenland.