This news will delight some and appal others, but there's soon going to be a whole lot more Banksy in London. 'The Art of Banksy', the world's largest touring exhibition of the street artist's work, opens on May 20, 2021 at a central London gallery space. The exhibition was due to open in April this year following a global tour that has so far taken in Melbourne, Tel Aviv, Auckland, Toronto, Miami, Gothenburg and Sydney – but obviously its opening in London was pushed back.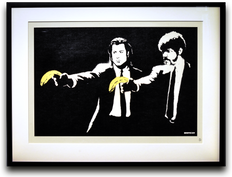 The show contains the largest collection of official works by the artist, made from 1997 to 2008, including now-iconic images like 'Girl and Balloon' and lesser-known pieces.
The artworks are all on loan from private collections and the show is entirely unauthorised by the artist – as organisers put it, this exhibition is 'completely non-consensual'.
Banksy, whose identity remains a mystery is considered one of the world's top political artists. In 2010, Time magazine selected the British artist for its list of the worlds' 100 most influential people among the company of Barack Obama, Steve Jobs and Lady Gaga. Over the years, Banksy has carried out a considerable number of 'pranks'. One of the biggest stories in the art world recently was Banksy having his "Girl with Balloon" painting go through the shredder just moments after the work was sold for nearly $1.4 million at auction.
Don't miss the strictly limited London season in Covent Garden. This exhibition is not authorized by Banksy nor is it curated in collaboration with the artist. It is completely non-consensual. All artworks are on loan from private collections.
'The Art of Banksy' opens on May 20. Find out more and book tickets here. 
Social Distancing and full Covid Safety Protocols will be in place.