The Scandinavian winter can be long and dreary and that is exactly why the Danes enjoy their summer so much.
Once the warm sun shines upon their kingdom, Danes stream out to enjoy endless miles of sandy beaches, charming coastal towns and hundreds of small islands.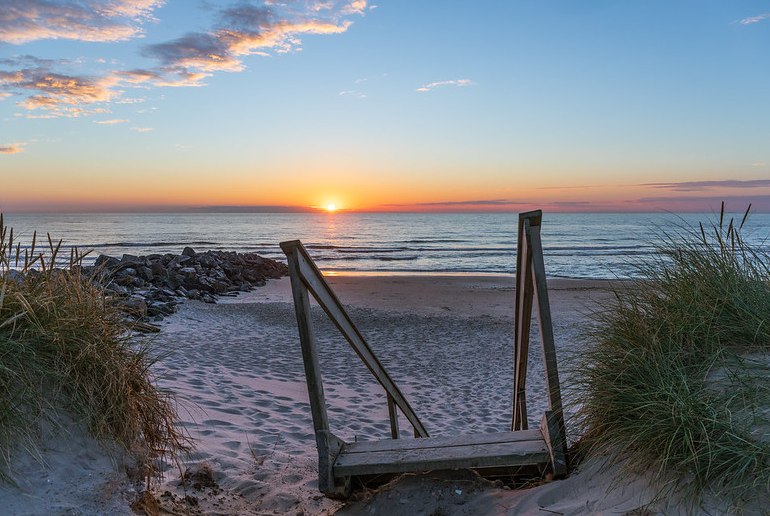 And as a visitor to Denmark, you'll probably fall in love with the long and light summer nights too.
Whether you head west to the magnificent coastline of Jutland, board tiny ferries between the islands or hang out with sun-soaking locals on the side-walk cafés of Copenhagen, there are plenty of ways to enjoy a memorable summer in Denmark. Here are some of our favourite things to do in Denmark during the summer.
Have lunch outdoors at Nyhavn in Copenhagen
The bars and restaurants of the colourful Nyhavn quarter in Copenhagen are tourist-magnets all year round. And unsurprisingly, this area really gets lively when sunny days hit the Danish capital.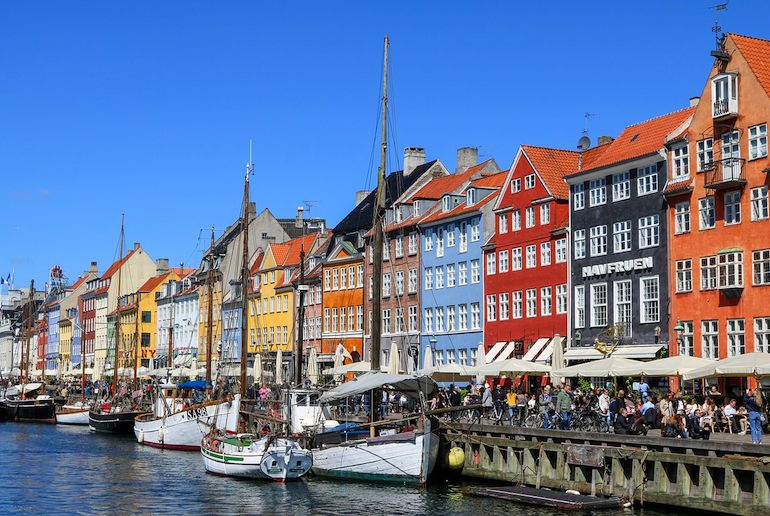 This is when Carlsberg flows from the taps, washing down plates of traditional smørrebrød, seafood and frikadeller (Danish meatballs).
For the authentic Danish summer experience, you'll want to top off your meal with a gammeldags isvaffel (old fashioned ice cream cone).
Soak up the coastal charm of North Zealand
Many Copenhageners travel north from the capital to the boomerang-shaped North Zealand coast once the summer season sets in – and it's easy to see why.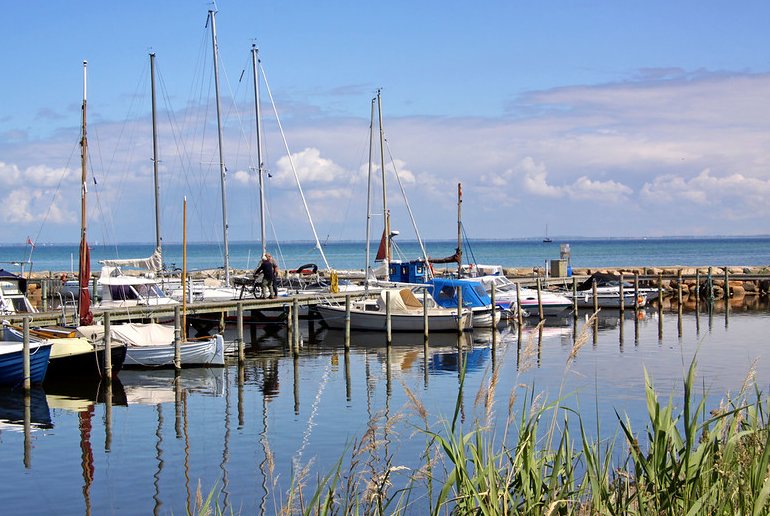 Only an hour's drive from the city, the string of historic fishing villages here have long been summer favourites for their irresistible coastal charm, sandy beaches and seafood restaurants.
With no shortage of attractive places to chose from, you can mingle with the jet setters at fashionable Hornbæk, enjoy the authentic harbour atmosphere in Gilleleje, and walk the sandy dunes of romantic Liseleje, where you'll find some great holiday homes for rent.
Explore Bornholm in the Baltic Sea
Further east, in the Baltic Sea, the small island of Bornholm feels like it has drifted away from the rest of Denmark and boasts some beautiful natural attractions including a scenic rift valley, lush forests and waterfalls and snow-white beaches, such as Dueodde.
Known as both solskinsøen (the sunshine island) and klippeøen (the rocky island), Bornholm packs in a lot to see for its size. You can explore the medieval ruins of Hammerhus, visit the unique round churches, such as Nylars, or rent a bike and explore the island's picturesque fishing villages.
Don't miss sampling Bornholm's signature smoked herring dishes, including the classic smørrebrød named sol over Gudhjem (sun above Gudhjem), which tops the classic fish with chives, radish, onion rings and a raw egg yolk!
Travel way north to Skagen
The upmarket holiday region of Skagen, at the very top of mainland Jutland, is a classic summer destination for Danes. The town of Skagen itself, with its characteristic yellow-painted red-roofed houses, attracts many celebrities and wealthy Dames who come here to mingle, wine and dine in July.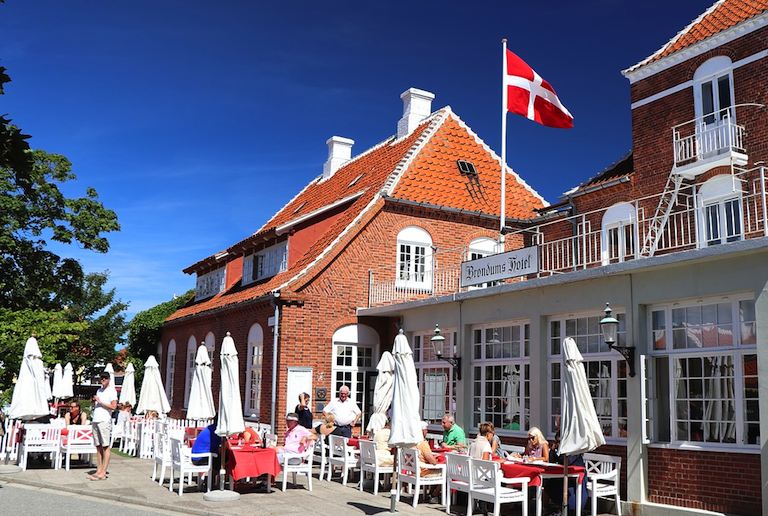 Meanwhile, the area surrounding the town is highly popular for its summerhouses and sandy beaches. Head to Grenen at Denmark's most northerly tip, where the Skagerrak and Kattegat seas meet, and watch the waves of two oceans clash.
Then explore northern Europe's largest moving sand dune, the Råbjerg Mile, which reaches up to 40 metres above sea level and moves around 15 metres a year.
Discover the wonders of Jutland's wild west coast
The views and winds of Jutland's seemingly endless west coast leave a lasting impression for visitors – whether they come to chill out on the sands or for an active holiday.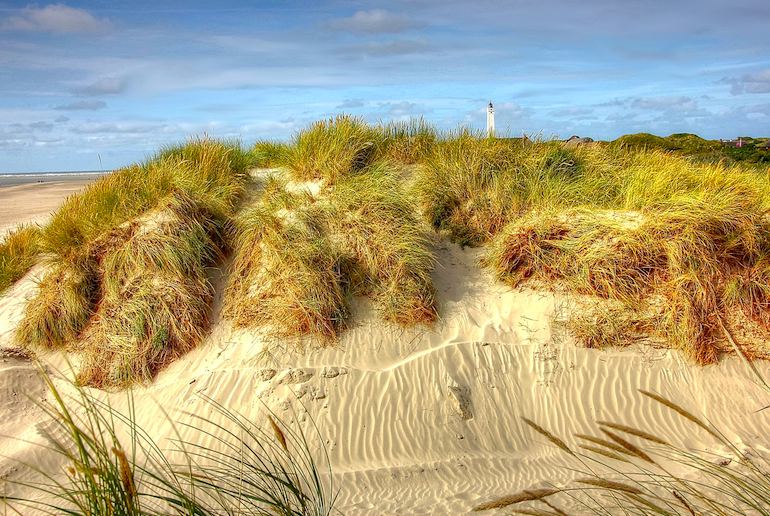 Surfers can seek out the waves of Klitmøller, known as Cold Hawaii, in the northern Thy area, while the villages of Thyborøn and Harboøre a bit further south see iconic fishing boats parked right on the beach.
Hvide Sande (white sands) and Blåvand (blue water) are popular beach destinations, while the Watten Sea islands of Fanø, Mandø and Rømø are excellent for spotting wild seals and combing the shores for amber.
Go island-hopping in the South Funen Archipelago
Denmark is a nation of hundreds of islands and makes a great place to go island-hopping in the summer. The South Funen Archipelago includes more than 50 islands, some uninhabited. A series of cheap ferries connect the most interesting islands across this lovely part of the Baltic Sea.
From the main island of Funen (known as Fyn in Danish) to the idyllic charm of Ærø and Avernakø, many of these islands can be explored by bike or along the Øhavsstien, or Archipelago Trail. One of Denmark's longest hiking trails, at 220km, it covers several of the archipelago's islands, taking in pretty villages, countryside and coastline.
Paddle along the River Guden
Denmark can't compete with its Scandinavian neighbours when it comes to thick forests and mountainous terrain, but if you're looking for an outdoor adventure why not canoe or kayak along the River Guden?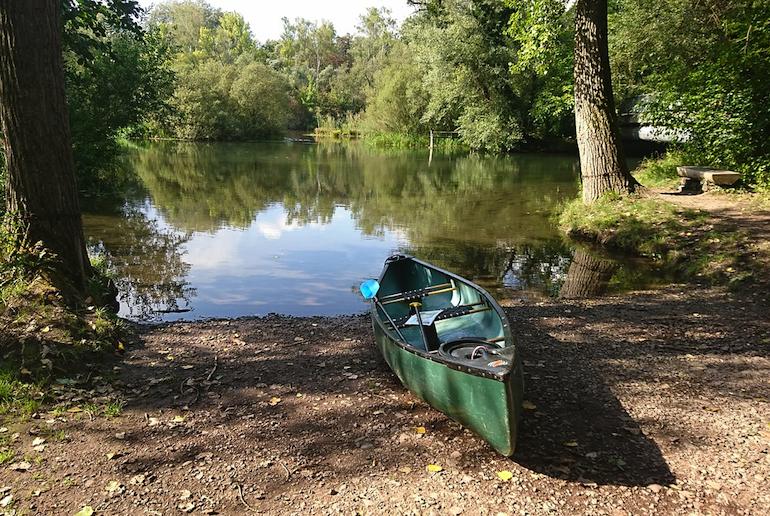 Gudenåen, as it's called in Danish, is the country's longest river and snakes its way for 149 kilometres through the central part of mainland Jutland.
The city of Silkeborg makes a good starting point for the trip, which can be broken down into easy day-trips, or you can do as the Danes do and make pitch your tent en route at campsites along the river banks. Canoes can be rented several places including the Silkeborg Kanocenter in Silkeborg.