Prepare to see lots of polka dots on your Instagram feeds
The highly anticipated One with Eternity: Yayoi Kusama in the Hirshhorn Collection opened at the Hirshhorn Museum and Sculpture Garden in April and is still packed.
From now until Nov. 27, visitors to the Smithsonian's preeminent contemporary art museum on the National Mall are once again invited to get lost in Kusama's kaleidoscopic rooms. The exhibition features two Infinity Mirror rooms: "Phalli's Field (1965)" and her more recent work, "My Heart is Dancing into the Universe (2018)," which the Hirshhorn acquired in January. The psychedelic rooms feature phallic, mushroom-like structures and glowing bulbs that look like they're from outer space.
In March 2020, the exhibit's opening date was postponed and the Hirshhorn closed for 17 months due to the pandemic.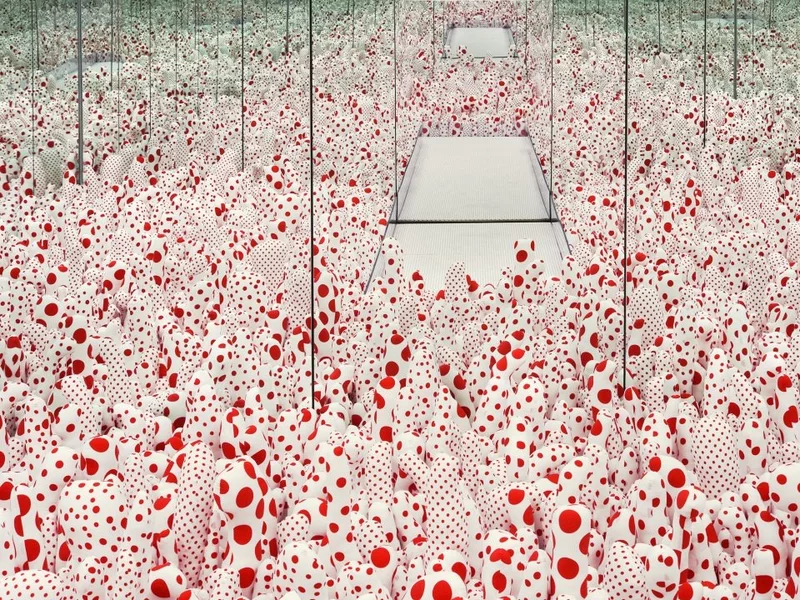 Kusama's last Hirshhorn exhibit, a five-stop tour of Yayoi Kusama: Infinity Mirrors in 2017, helped attract 475,000 visitors to the D.C. museum, marking the highest spring visitation the museum had seen since it opened in 1974. The social media-friendly Infinity Mirror rooms boosted the Hirshhorn's attendance to 1.2 million that year. The exhibit inspired magical proposals, Instagram guides, and emotional testimonials. Across the art world at large, a Kusama exhibit opening has been likened to a new iPhone or Harry Potter book release.
Museum curators learned from 2017's ticket-frenzy — when 58,000 people requested online passes within the first minute of the registration period — to do things differently this time. During One with Eternity, free timed-entry passes will be released in person on a first-come, first-served basis starting at 9:30 a.m. each day in the museum's plaza. Passes are not required to enter the rest of the museum.
When the Hirshhorn first announced that another Kusama exhibit would open in D.C., Hirshhorn Director Melissa Chiu told the Washington Post that Kusama's work had a permanent place in the city and that her work elevated the museum's national profile. Now, Chiu says in a statement, Kusama's new exhibit shows that her legacy expands beyond a single body of work.
"Kusama has built her practice around ideas of celebration and inclusion," Chiu says. "There is no better artist than Kusama and no better reason to welcome visitors back to the Hirshhorn."
Kusama, the famed 92-year-old Tokyo-based artist, has a global reputation as a daring painter, performance artist, and sculptor. As a young woman, she pushed back against society's conservative restrictions and expectations for her life. She made her way as a painter and radical performance artist in New York, suffered from a series of mental breakdowns, and returned to the world stage in the 1980s and 90s to cement her place as an iconic artist.
The large, immersive installations Kusama has become widely known for are just bigger versions of work she's done throughout her career. The Hirshhorn has been collecting Kusama's work since 1996.
Perhaps the artist's vision is made most clear in her Instagram bio: "Our earth is only one polka dot among a million stars in the cosmos/ Polka dots are a way to infinity."
One with Eternity: Yayoi Kusama in the Hirshhorn Collection opens April 1 – Nov. 27, 2022. Free, timed-entry passes will be available in person outside the museum starting at 9:30 a.m. daily. Museum hours: Thursday through Sunday 10 a.m. – 5:30 p.m. (Closed Mondays through Wednesdays) Sculpture Garden open daily 10 a.m. – 4:30 p.m. Passes are not required for general admission.
Independence Ave SW &, 7th St SW, Washington, DC 20560
April 1 – Nov. 27, 2022.
Hotels near Hirshhorn Museum