Continuing the longstanding tradition of being one of the most popular and anticipated competitions worldwide FIFA 2022 has an undeniable draw for travellers sprawling from all across the globe, to share the victories, joys as well as cries of their favourite teams.
The host country Qatar has made big splashes and invested in luxurious and world-class accommodations for the teams as well as the flock of tourists. Some are a mirror to the Arabian palaces; some are a sanctuary of wellness while some are a regal façade of luxury aligned with modern comfort.
The 32 qualified teams have picked their stays and if you are curious about the accommodation of your favourite teams, here are the hotels that they will be calling their home for the next month.
Hilton Salwa Beach Resort and Villas
Belgium heads to the Hilton Salwa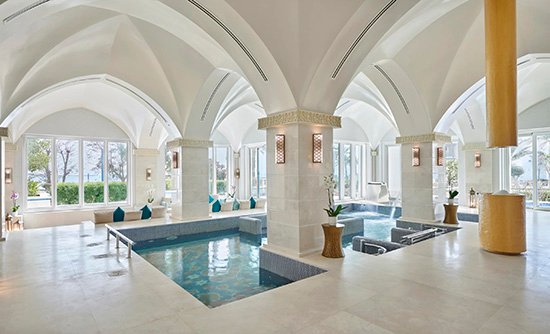 The resort is an oasis of tranquillity adorned with spacious villas, an expansive cuisine with underwater dining experience, and a luxury spa. The eforsea spa boasts the finest Mediterranean hospitality, with a wide range of Journey Enhancements treatments and the ancient Turkish Hammam, to initiate an invigorating sense of mysticism.
The Westin Doha Hotel and Spa
Brazil locates at the Westin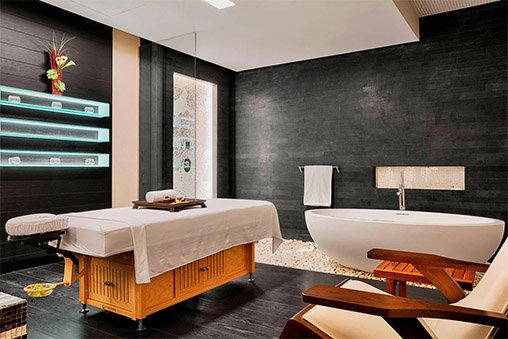 Nestled in the heart of Doha, the tranquil retreat offers lavish suites, private pool villas, gym, and tempting culinary options to embrace a refined wellness experience. Step into the calming environment of the Heavenly Spa to renew yourself with facilities like Sauna, Jacuzzi, Moroccan Hammam, and Massage & Beauty services.
Banyan Tree Doha
Cameroon finds retreat at the Banyan Tree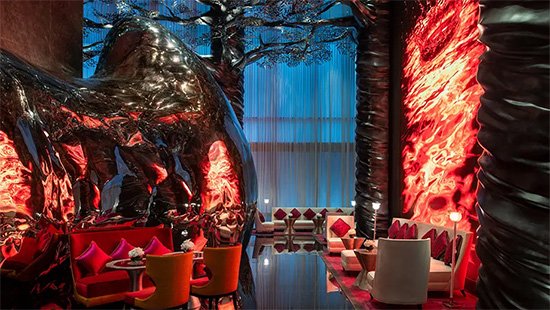 An architectural marvel that brings luxury and modern comfort together. A sumptuous dining experience, an experiential Theme Park, and an exclusive multiplex makes it the most fascinating luxury stay. Discover complete rejuvenation in the Banyan Spa, equipped with vitality pools, Jacuzzi, a brine steam room, and herbal saunas, for a relaxing experience.
Hyatt Regency Oryx Doha
Ecuador heads to the Hyatt Regency Oryx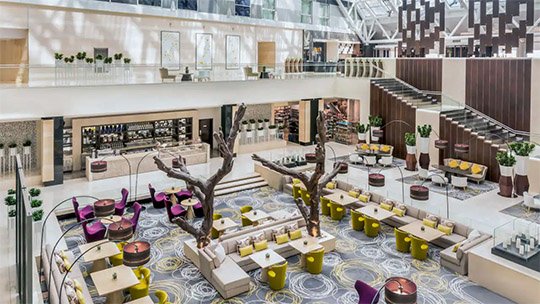 Located in the heart of the city, the luxurious hotel is minutes away from the airport and city attractions. It offers multiple culinary options and vibrant restaurants, including traditional Mediterranean cuisine. Indulge at the Club Olympus Spa, offering various massage treatments, a fully equipped gym, sauna, steam bath, and an outdoor swimming pool.
Souq Al Wakra Hotel
England Lodges at the Souq Al Wakra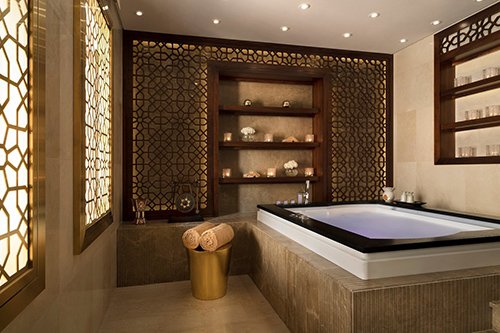 Inspired by Al Wakra's history, the hotel is shaped by an expansive layout, with rooms and restaurants featuring high-end facilities, that offer mouth-watering surprises. The Tivoli Spa unites the latest wellness technology with French-inspired thermal hot springs, Aemotio spa treatments, and natural ingredients with tailored treatments against stress and ageing.
Al Messila
France locates at the Al Messila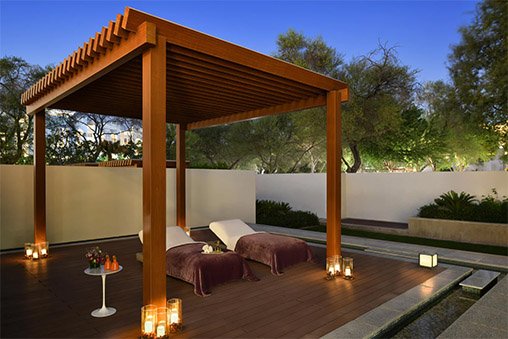 With its private palace setting, spacious rooms, and luxury villas, the 5-star resort in Doha offers epicurean experiences. Indulge in unique restaurants led by Michelin Star Chefs. The Al Messila Spa built on a real oasis embraces extensive spa facilities including therapeutic massages, steam, sauna, plunge pool, body wraps, and more.
Zulal Wellness Resort
Germany goes fancy with Zulal Wellness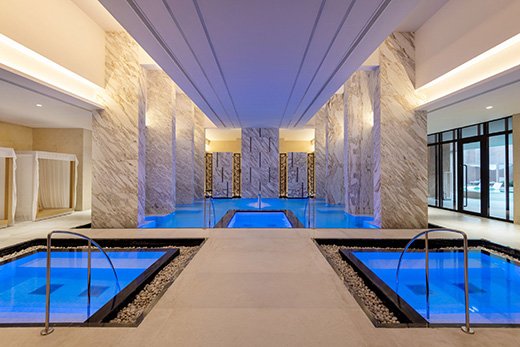 A myriad of traditional Arabic & Islamic Medicine with a holistic well-being philosophy, Zulal is a wellness haven. The six wellness pillars: Physiotherapy, Nutrition, Holistic Health, Fitness, Spa, and Aesthetics, include numerous experiences like healing massages, beauty treatments, energy-based therapies, pools, and a unique gastronomical journey to embrace a wholesome way of living.
Raddison Blu
Japan lodges at the Radisson Blu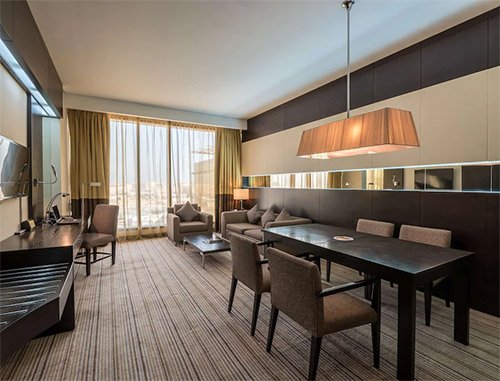 Radisson Blu renowned for its regal interiors and opulent facilities immerses its guests in an astounding array of international and local dishes with a choice of 9 on-site restaurants, dining cafés, pool bars, and bistros. The spa offers a range of relaxing options, including full-body massages, facials, a sauna, and a fully equipped modern gym.
Simaisma
Mexico heads to Simaisma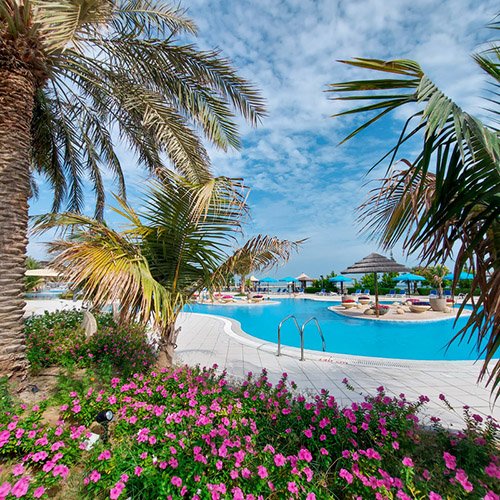 Simaisma is an oceanfront oasis with signature amenities and recreational activities. From sophisticated fine dining to casual poolside fare, Simaisma offers scrumptious options. The Spa, features 6 luxurious treatment rooms, along with saunas, a couple's room, and a private ladies' area. All treatments are designed through essential techniques that relax the mind and the body.
Wyndham Doha West Bay
Morocco locates at the Wyndham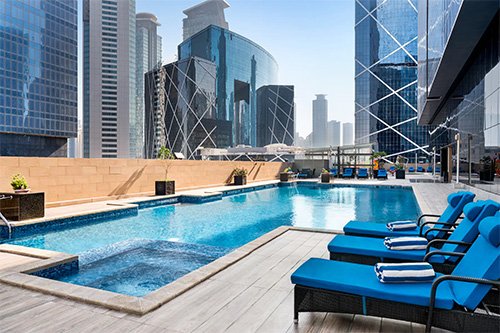 Premium hospitality and exceptional amenities are synonymous with Wyndham Doha. The pools, sauna, well-equipped fitness centre, and various recreational facilities, make it an urban sanctuary. Savour gourmet cuisine or refreshing drinks from one of the on-site restaurants. The blossom wellness and spa is a tranquil escape, offering soothing massages, invigorating facials, and other treatments.
Rixos Gulf Hotel, Doha
Serbia finds retreat at the Rixos Gulf Hotel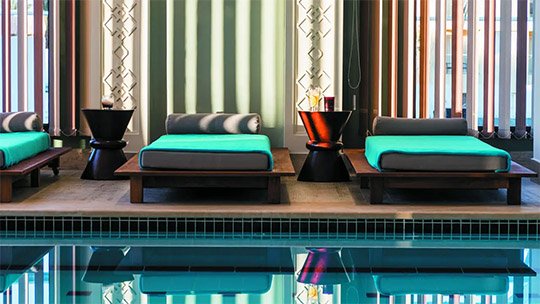 The cornerstone of Turkish hospitality, Rixos offers delectable food, engaging entertainment, and recreational activities. It takes you on a gastronomic journey from elegant lounges, buffets, and poolside bars. The Spa retains the ancient bath technique – Hammam using soothing ointments and sounds. Guests can immerse in massages, body treatments, and beauty therapies for a bespoke wellness journey.
Le Royal Meridian
Switzerland Lodges at the Le Royal Meridian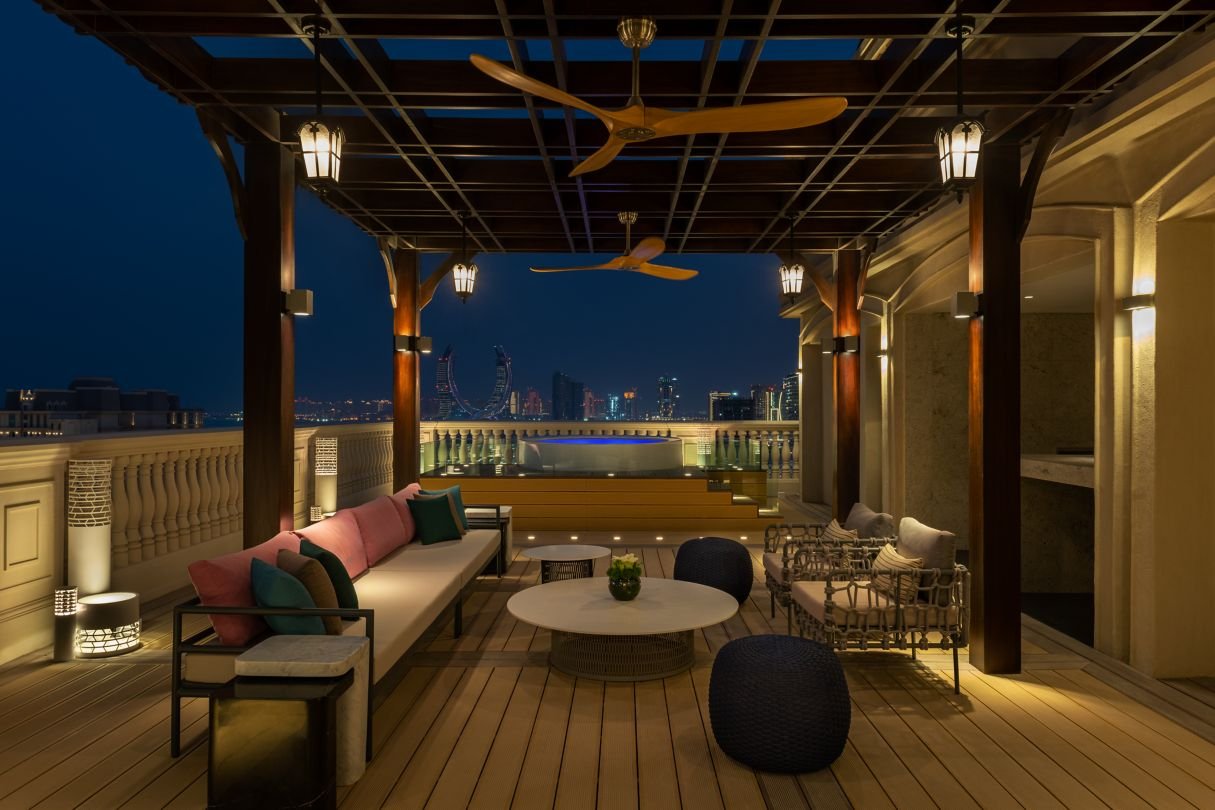 With regal artistic re-interpretations of Qatar's rich heritage, the hotel features the largest collection of luxury brands in the city. Savour a plethora of signature restaurants including Michelin-star fine dining. The hotel features an outdoor pool, a kid's pool, a fully equipped fitness centre, and an Explore Spa designed to provide a refined wellness experience.
Wyndham Grand Doha West Bay Beach
Tunisia heads to the Wyndham Grand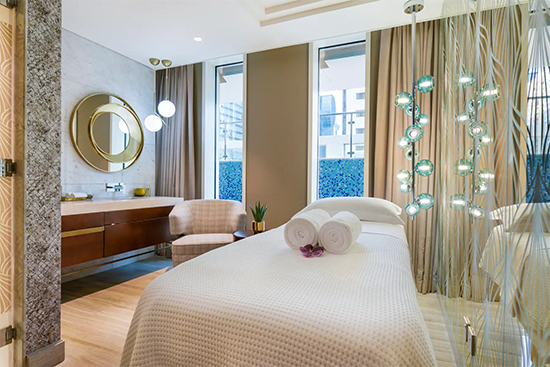 Get a taste of Qatar's finest flavours with magnificent views of the Arabian Gulf, at the Wyndham Grand. Enjoy a relaxing beach vacation with opulent facilities like the fitness studio, a temperature-controlled outdoor pool, and a revitalizing spa. The spa offers a range of massages, facials, and body treatments with a sauna and steam room to restore tranquillity.
Pullman Doha West Bay
Uruguay finds retreat at the Pullman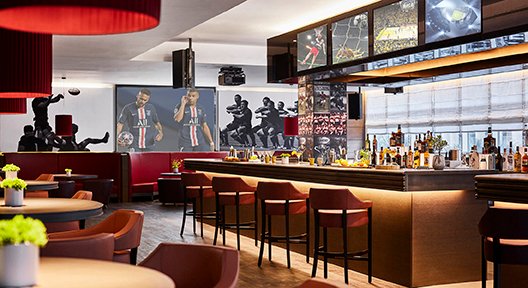 Giving spectacular views of West Bay, along with eight gastronomic concepts, a lavish terrace with an outdoor pool, and a spa, the hotel brings luxury and comfort under one roof. The Spa features 8 treatment rooms with carefully curated range of wake-up treatments, sensorial treatments, evening treatments, and the traditional Hammam, which provides a holistic experience.
Marsa Malaz Kempinski
USA lodges at the Marsa Malaz
Experience rich Arabic traditions combined with a European flair that advocates refined culinary concepts at seven restaurants and stylish bars. The hotel houses a private beach, outdoor pools, and a fitness centre. The Spa by Clarins offers a range of treatments and ancient massages using latest technology and the finest products for a blissful pampering session.