1. A Hong Kong favorite has reopened and it will stir your taste buds.
You head a successful restaurant. Reservations are a must. Most chefs in your position could veer off in any direction they wanted; the owners have your back. So, after 14 years, what do you do? If you're Richard Ekkebus, the brains behind Amber at the Landmark Mandarin Oriental Hong Kong, you shut it all down. For five months. Wait, what?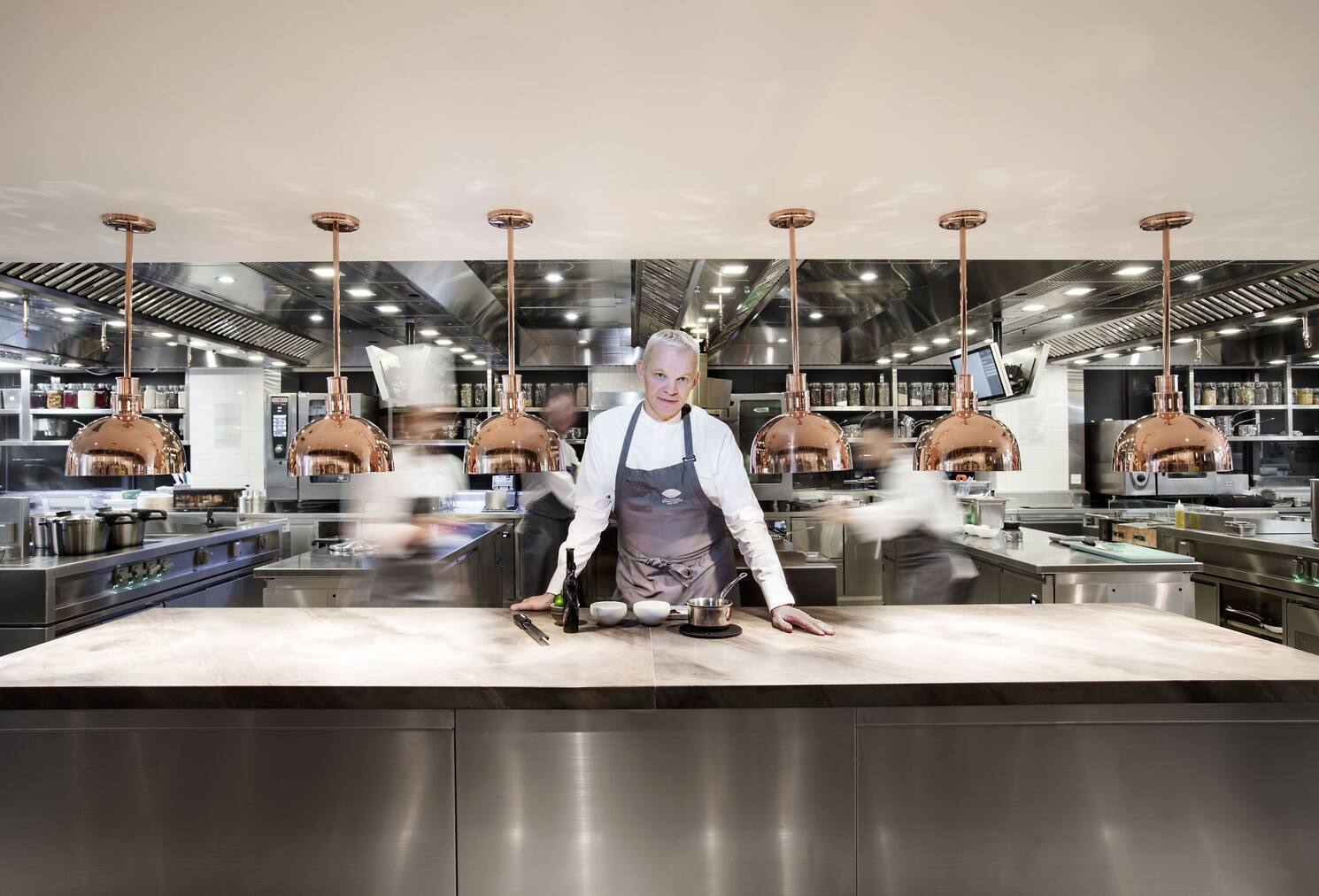 Now that Amber (mandarinoriental.com; set lunch or dinner from HK$898) has reopened, the chef provides a few answers with a revamped menu turned out in a restyled kitchen, all part of an overhauled seventh floor that also includes a new wine bistro and two Japanese restaurants. Like Amber's new dishes, its interiors are softer, subtler, lighter and less formal—a feeling best exemplified by the standing counter inside the kitchen, where diners spend one course.
Ekkebus, 52, says he wants Amber to be a forward-thinking restaurant, not one just surfing the wave of success for another 15 years. You may have heard that dairy, processed salt and refined sugar are out. It's true. "The new Amber restores flavors to their purest essence, unadulterated by the usual tricks of the trade like butter and refined sugar," Ekkebus explains as he hovers around his kitchen. In lieu, plant-based oils, umami, and agave, maple and honey are in. But the cardinal aim was that all dishes would be new. Okay, with one exception: the ever-popular aka uni, which fits into the new menu on its own merits. "Where salt is needed, it's distilled from natural umami through ingredients like seaweed or techniques like fermentation," he says. "I want to strip away artifice and present dishes that are boldly, unapologetically sublime."
For diners, that means being able to discern each flavor in any given dish. Also, to appreciate textures and taste and, if your palate is up to it, to reinterpret ingredients—think of those plant-based oils replicating the function and composition of dairy. Ekkebus instructs me to spoon out one dish top-to-bottom. The flavors of tofu, Fukuoka heirloom tomatoes, salted sakura and cold-pressed almond oil stand out individually, as do the textures of each, if not ingredient, then layer. On a menu that prioritizes all the senses, I'm also struck by what is color coordinated art on each plate. The avocado, lime, Sicilian pistachio, Granny Smith apple and Thai basil dessert course is a visual wonder.
Ekkebus set out to be timeless rather than trendy, so I can't help but ask him how well he thinks he's succeeded on that front. He admits he is still learning. During the five-month revamp, he traveled. A stop in Amsterdam meant locavore and vegetable-driven cuisine. Marrakesh was a lesson in perfumed spices. In Japan, it was how to whip soy milk into a creamy alternative to dairy. "People's changing tastes and health concerns, and sustainability are the lenses through which we explore what is possible."
The healthier menu seems to have put a new spring into the chef's step—and that's a goal he has for his guests, too. The very idea of a food coma has irked Ekkebus for years: "I wanted to make sure that people left a business lunch feeling energized and that couples, after a dinner, would be able to go out and dance." — CHRISTOPHER KUCWAY
2. How your passport really can be your ticket to the world.
Smile if you hold a Japanese or Singaporean passport: you have visa free or visa-on-arrival access to 189 destinations, the most in the world. South Korea dropped into a global tie for second with a score of 187, while Australia and New Zealand passports come in at ninth place overall at 180. The top of the list is dominated by European and North American countries, though both the U.K. and the U.S. have fallen from a No. 1 tie in 2014 to sixth place now, scoring 183. That said, feel for Afghanistan, which comes in last place, with its score of 25. Here's a breakdown of other Asian passports:
3. All that is old is new again in Kyoto.
Sowaka, a 23-room ryokan with modern comforts, has opened in a renovated machiya near Yasaka Shrine in the historic city. Combining traditional design centered on original materials that date to the early 20th century with modern additions such as heated floors and rainfall showers, Sowaka dwells on guest privacy. Rooms include made-in-Kyoto amenities such as camellia oil facial kits, local roasted teas and even natural mattresses from a supplier who has been in business here since 1830. A Japanese garden sits in the middle of the property, visible from the ryokan's restaurant and bar. La Bombance, the restaurant, draws on produce from Kyoto and is centered around an 11-meter African cherry wood counter with a lowered kitchen where chefs are eye to eye with diners in the traditional kappo style.
ryokancollection.com; rooms from ¥53,015 per person per night.