Copenhagen is well-known as the home of Carlsberg, even though this big-name brand actually moved its main brewery out of the city more than a decade ago.
Today, the city is brimming with breweries, including plenty of independent microbreweries that have entered the scene in recent years.
Take our word for it: Copenhagen should not be overlooked by any self-respecting beer enthusiast! Read on to find out our pick of Copenhagen's best breweries.
Nørrebro Bryghus
Ryesgade 3, 220
Copenhagen
Located in an old metal factory in Nørrebro, Copenhagen's first microbrewery was the Brooklyn-style Nørrebro Bryghus, which was opened in 2013 by two brewers who learned their trade at Carlsberg.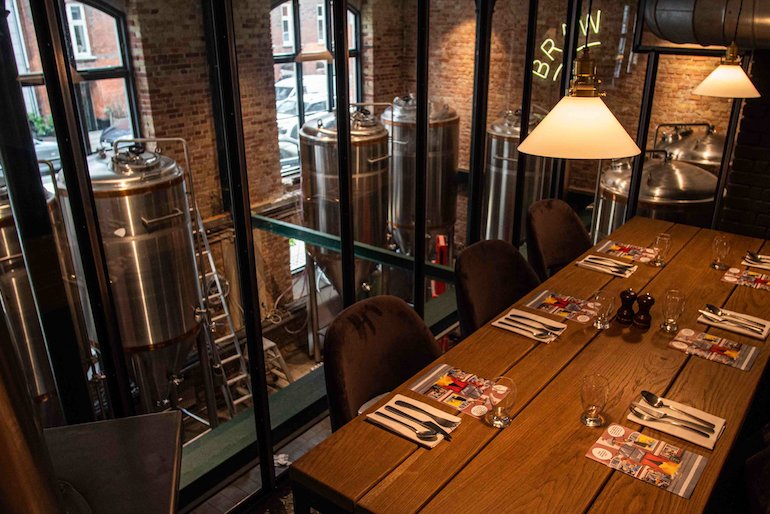 Inspired by North-American microbreweries, it brews exclusively using organic products. The beers themselves have a variety of flavours – sweet, sour and bitter – with some packing a punch, while others lend themselves more to a session.
Drop by from midday–4pm daily, and you can order the lunch beer board for around 120 DKK, which gives you the chance to sample four different 15cl beers. Regular beer prices range from around 49–69 DKK.
Every fourth Saturday, they hold an hour-long open beer-tasting in English. It costs 150 DKK (or 225 DKK for the advanced beer-tasting) and booking is available on their website.
The gastropub menu features local food, ranging from 80–395 DKK, so you can also get a classy meal here if hunger strikes.
We recommend: the Nordvest Porter, a classic porter with a powerful aroma and a deep brown colour leaving a round and sweet taste.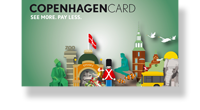 Is a guided tour worth buying?
Read this guide to see how much you could save during your trip!
BRAW
Ryesgade 3, 220
Copenhagen
Tucked away in the basement of Nørrebro Bryghus, BRAW bar is microbrewery within a microbrewery.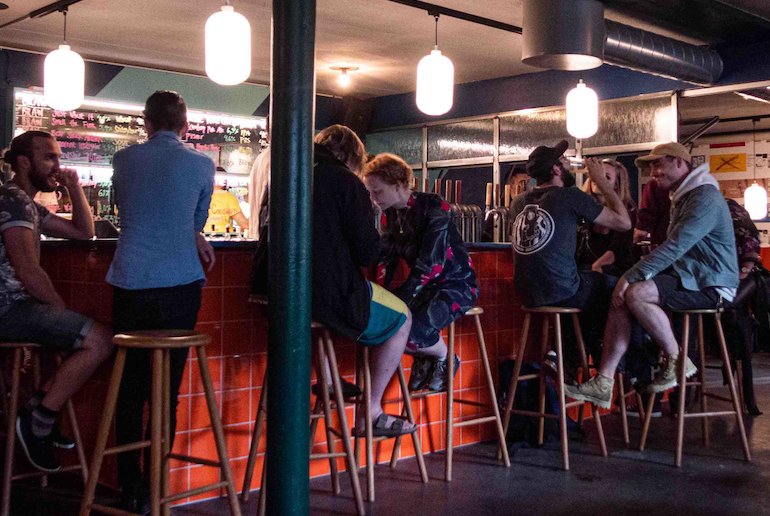 It's the wacky cousin to its upstairs neighbour – a world of colourful beer labels, quirky names, comic books, beer yoga and JOMO nights ('joy of missing out') where bartenders will confiscate your phone.
New beers are always being developed at this experimental brewery with 21 taps, meaning that some of the beers served here are only a few hours old. Their draft selection rotates every day (check it out here), with prices from 40–75 DKK.
We recommend: the light and tasty Dodge This Motherfucker Pale Ale, with its hops, haze, fresh feel and slight bitterness.
Vesterbro Bryghus
Vesterbrogade 2B, 1620 Copenhagen
Some say location is everything, and that's true for Vesterbro Bryghus, located in the heart of Copenhagen, right next to the town square and opposite the Tivoli Gardens.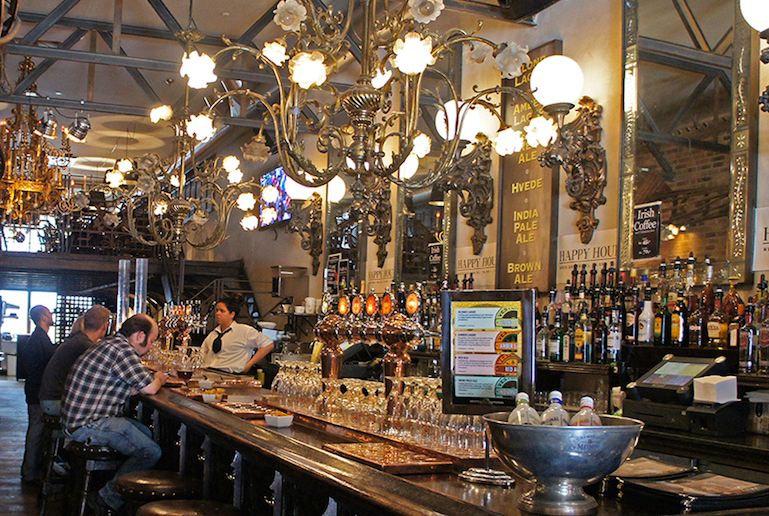 With a rustic interior, brick walls mounted with hunting trophies, and impressive copper kettles, this old brewery, founded in 1860, attracts a mixed crowd of locals and tourists.
Their slogan "Forget about the taste of regular beer. This is a taste experience" is spot-on: their classic IPA, for example, is less hoppy than those of North America, and quite different.
It's good value too, particularly during happy hour (daily from 4–6pm), when you can grab a beer for as little as 35 DKK. And, the five-piece sampler of 10cl glasses for 65 DKK is a good way to try the five house brews. What's more, they have live music on Tuesday to Saturday nights.
We recommend: Ravgylden, an amber lager brewed with caramel malt and bitter hops with a full-bodied and rich malty taste.
Mikkeller WarPigs
Flaesketorvet 25–37,
1711 Copenhagen
A ten-minute walk from Copenhagen Central Station takes you to the Meatpacking District in Vesterbro. A former industrial meat-processing centre, it's now one of the trendiest parts of Copenhagen.
Surrounded by a cluster of art cafés, galleries, studios, restaurants and buzzing nightlife, this Texas-style brewpub is popular with hopheads, metalheads and barbecue-lovers alike.
While heavy metal tunes are banging, strong hoppy beer – the trademark of Mikkeller WarPigs – runs from 22 taps alongside a delicious Texas-style smokehouse barbecue.
If you're hungry, get there early – the barbecue sells out most nights, and for good reason: the meat is smoked for 12–14 hours in one of Europe's largest smokers.
The beer is brewed by the Mikkeller brewery, which was founded in Copenhagen by maths and physics teacher Mikkel Bjorg Bergsø, and has gradually expanded throughout the city and beyond. Mikkeller's Backyard (Mikkeller Baghaven) branch is also worth dropping into for a sour beer.
We recommend: WarPigs' sweet and malty American IPA Rainbow Grind with a fruity hop flavour.
BRUS
Guldbergsgade 29, 2200
København
BRUS is a beer kingdom, buzzing with cooking, brewing, kegging, shopping, dining and, of course, drinking. Some 26,000 litres of beer are brewed here at any one time and then served from 28 taps, while a former Michelin-starred chef cooks in the kitchen.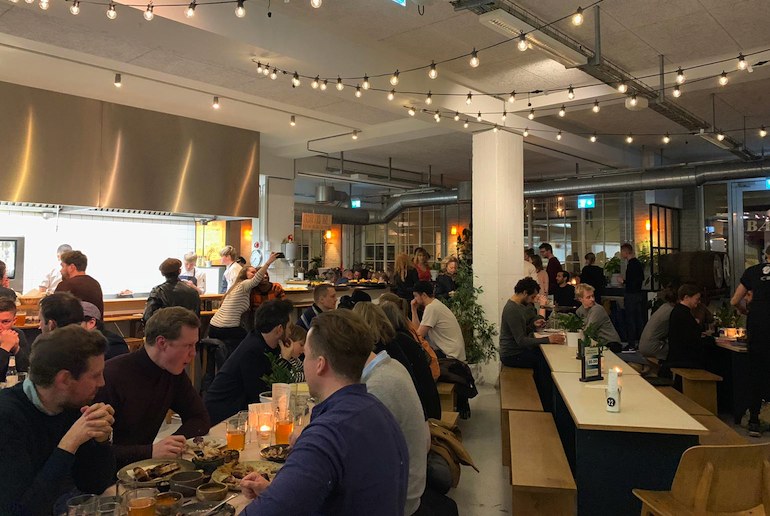 Based in a converted iron foundry and locomotive factory, this sleek and hip brew-pub has light brick walls and Scandi-style furniture.
It was started by two friends who attended class with the founder of Mikkeller, and launched their beer named To Øl, meaning two beers, in 2010. The name is apt, as it's a challenge to leave after only one beer!
Prices range around 40–75 DKK, with a few more expensive beers available. At 3pm on the final Saturday of each month, they run a tasting tour for 245 DKK, which includes four different 10cl beers – you can book here.
BRUS' menu rotates so fast that you can barely turn around before a new beer pops up.
We recommend: Erm… we've yet to have a bad beer here
Flying Couch
Bygmestervej 6, 2400
København
Set in a garage in Nørrebro, Flying Couch may be a little off the beaten path, but it's a must-visit for beer-lovers. The friendly staff greet you amid the giant kettles before explaining all about the beers and inviting you to try before you buy.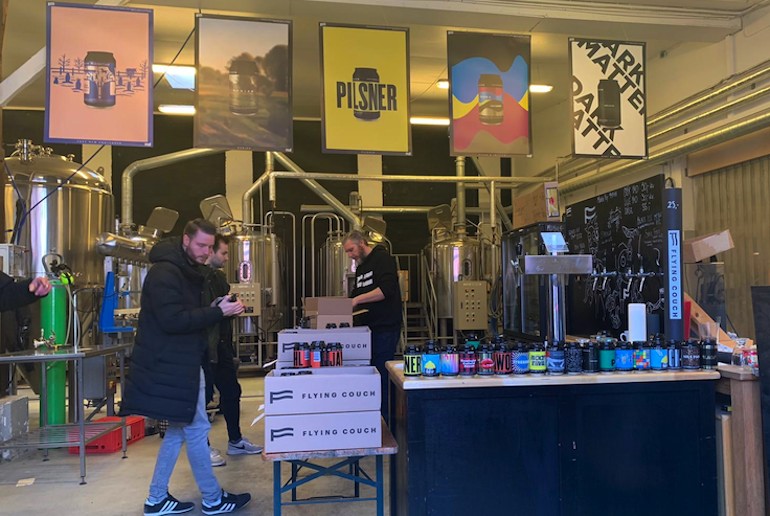 There's limited seating inside – actually just a bench – but the friendly atmosphere and delicious beer make it worth the trip. In summer, the area outside is transformed with benches and seats set up for people to while away the long days with friends.
The brewery's opening hours are limited (Monday–Friday 9am–4pm, Saturday midday–2pm), but keep an eye on their Facebook page for live music events and beer sales throughout the year. Freshly brewed cans of beer start at 25 DKK.
We recommend: trying their tropical Slush Ice beer, a tasty mixture of a fresh and sour.
Recommended Tours:
Where to stay in Copenhagen: