Perched on the Himalayan foothills with the holy waters of the Ganges flowing beside it, Rishikesh holds great cultural and spiritual significance for people across the world. For some, it is a land of spirituality and self reflection; for others, it presents natural beauty and endless adventure. Located about 260 km from Delhi in Uttarakhand, the city runs at its own leisurely pace, away from the chaos of modern living. Borrowing from its rich history of Hindu mythology, ancient wisdom, and holistic practices, Rishikesh has become a thriving hub for all things wellness. Several ashrams, Yoga centres, and luxury resorts and spas have come up around the city. This Global Wellness Day, join us as we take a trip to the spiritual haven and unveil its many treasures for wellness enthusiasts.
Stay at a Luxury Abode
Image credits: Taj Rishikesh Resort & Spa
The growing popularity of the destination has resulted in various new hotels and resorts springing up in Rishikesh. But if you desire a luxurious retreat nestled in the lap of nature, consider visiting Taj Rishikesh Resort & Spa. Situated 30 km outside the city in a quaint village called Singthali, the eco-friendly resort features meadowed terraces to let you soak in the beauty of the Himalayas and the Ganges. A tribute to the Garhwal region, the property's architecture is nuanced with provincial elements and rustic materials. Here, the values of the region play a central role in defining the many experiences and rituals offered to the guests. You can choose from the many holistic experiences on offer at the resort's very own wellness sanctuary, J Wellness Circle, including yoga and meditation sessions, sound healing, Ayurveda classes, and more.
Image credits: Taj Rishikesh Resort & Spa
For those seeking a sojourn steeped in wellness, The Westin Resort & Spa, Himalayas, makes for the perfect choice. The property covers 12 acres of lush green mountainside, with breathtaking views of the Shivalik ranges. The resort's key pillars of wellness—Sleep Well, Eat Well, Play Well, Feel Well, Work Well, and Move Well—ensure that every aspect of your stay contributes to a rejuvenating experience for your body, mind, and spirit. You can start your day with a guided jog through the picturesque trails surrounding the property as a part of the RunWESTIN™ program.
Then, head to The Heavenly Spa™ by Westin where you can choose from a range of treatments and therapies to unwind and reset. And as you call it a night, let the resort's signature HeavenlyBed™ cradle you to sleep.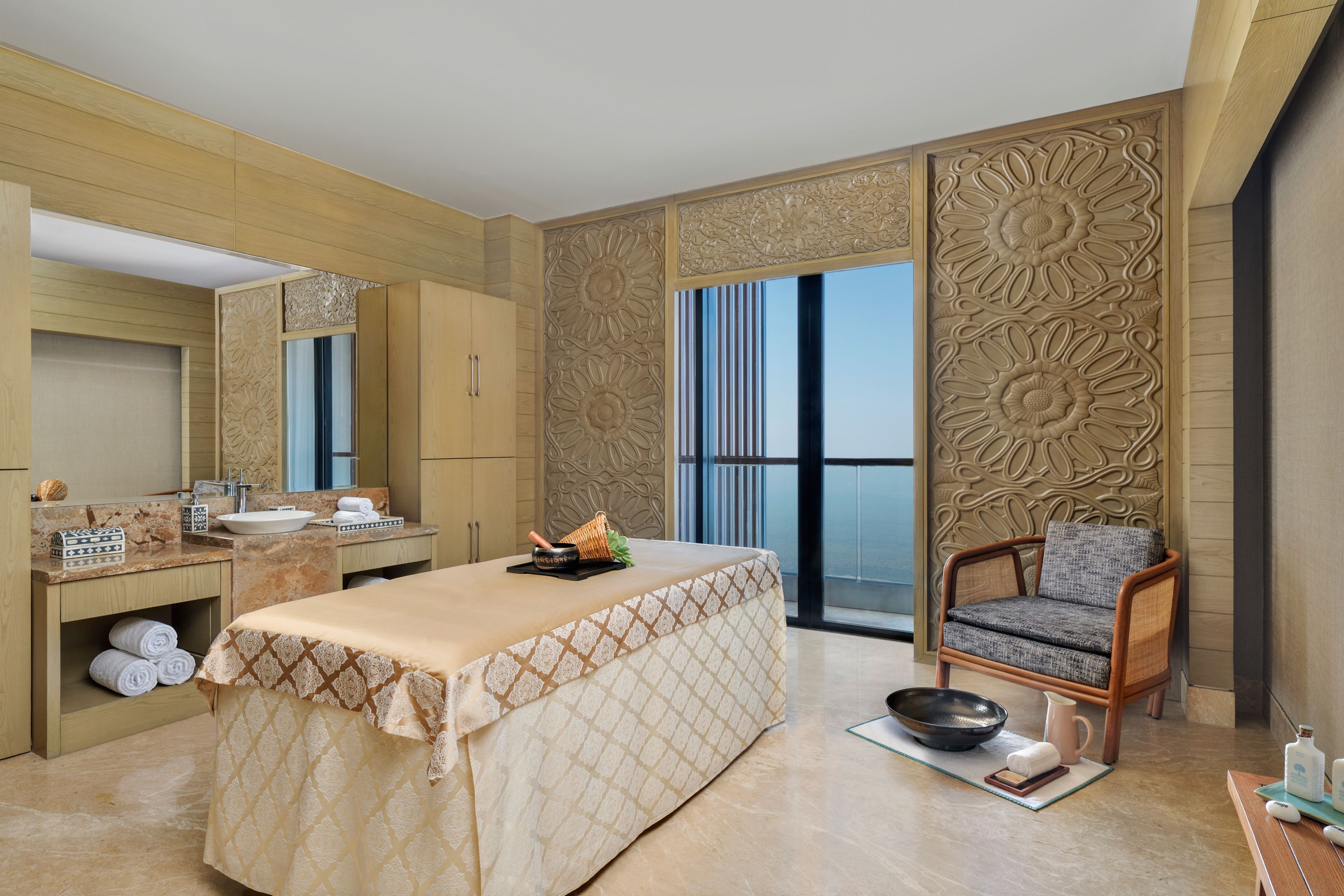 Image credits: The Westin Resort & Spa, Himalayas
Embrace the Art of Yoga
Known as the Yoga capital of the world, Rishikesh welcomes countless Yoga practitioners from around the world every year. Whether you're a beginner hoping to satiate your curiosity or an advanced yogi looking to expand your knowledge, the city's many yoga schools, meditation centres and ashrams cater to enthusiasts of all levels and backgrounds. From traditional Hatha Yoga to modern disciplines like Aerial Yoga, you'll find a rich tapestry of classes, courses, and sessions by expert teachers. Whether you wish to become a certified Yoga trainer or simply want to deepen your practice, Rishikesh beckons with its transformative power and the opportunity to connect with the discipline on a profound level.
Step into an Integrated World of Wellness
Although Rishikesh is most popular for its Yoga offerings (and of course, The Beatles Ashram), it is also a gateway to a larger world of wellness. From Ayurvedic treatments and therapies to alternative healing practices like Reiki, sound healing, crystal therapy, and naturopathy, a host of wellness experiences await you here.
In the evenings, the whole city comes alive to perform a Ganga Aarti on the banks of the holy river. During the day, the same waters accompany travellers on river rafting adventures, allowing them to find moments of joy with its exciting rapids. In fact, many opposing forces come together in Rishikesh to create something beautiful and unique.
It turns out that the destination's charm lies in its ability to seamlessly integrate natural beauty with self-discovery, spirituality, luxury, and adventure.
Cover Image credits: Taj Rishikesh Resort & Spa