One of the loveliest Chinese festivals, the Mid-Autumn Festival, is grandly celebrated every year in Hong Kong and in many other parts in Asia.
With traditional Chinese lanterns, parades, and what seems to be an endless supply of mooncakes on offer around Hong Kong, there are plenty of places to celebrate this iconic event. Mid-Autumn Festival 2023 is certainly worth exploring in Hong Kong.
When Is Mid-Autumn Festival 2023 in Hong Kong?
The Mid-Autumn festival is usually celebrated on the fifteenth day of the Chinese lunar calendar's eighth month. This year, Mid-Autumn Festival is on September 10th. The people of Hong Kong will have a public holiday day off on Monday, September 12th.
Hong Kong's Best Mid-Autumn Festival Events in 2023
1. Tai Hang's Fire Dragon Dance (Cancelled)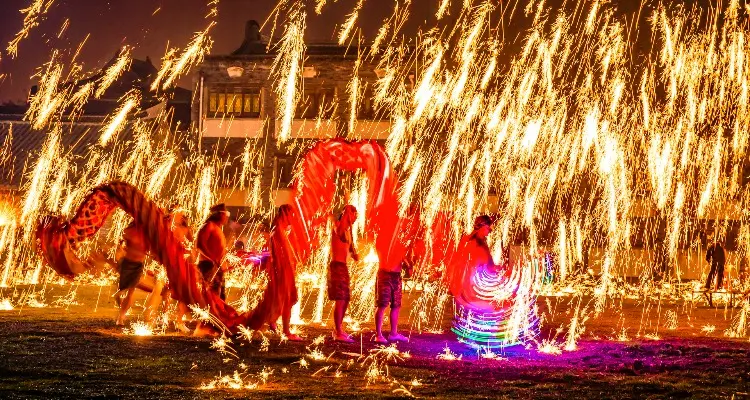 UPDATE: The 2023 Mid-Autumn Fire Dragon Dance was originally scheduled to be held this year on September 28-30, 2023. In view of the recent outbreak of the epidemic, the Association has been notified by the government that this year's Fire Dragon Dance was not approved and therefore cancelled. Sorry for the inconvenience!
The Tai Hang Fire Dragon Parade started mysteriously in 1880 when the village was ravaged by a typhoon and a plague on the eve of the Mid-Autumn festival.
It has become one of the most famous events of celebrating the Mid-Autumn festival in Hong Kong. It is in the popular tourist area of Causeway Bay.
The "fire dragon" is about 67 meters (220 feet) long and is composed of 32 connected sections. It is built from straw and covered with joss sticks, which are lit at night. Every year, it brings thousands of eager spectators to the narrow alleys of Tai Hang.
Besides the fire dragon dance, you'll also be treated to marching bands and parades with adorable children dressed in traditional costumes.
Date: September 28–30, 2023, about 7:30–10:30pm each night
Venue: Tai Hang, Causeway Bay (best vantage point: Wun Sha Street)
2. Mid-Autumn Urban Carnival and Lantern Exhibition at Victoria Park (To Be Confirmed)
Please note: Events may be cancelled/postponed/rescheduled due to the current coronavirus health precautions. Please check with event organizers for updates.
One old tradition of Mid-Autumn Festival is to light and hang lanterns. During the period of the festival, there are usually lantern carnivals throughout Hong Kong, but the largest and most popular carnival is found in Victoria Park in Causeway Bay.
The grand display is chosen during an annual lantern competition. The 2011 display made it into Guinness World Records as the largest sculpture made of lanterns.
Besides the brightly lit lanterns, there are usually a big fire dragon dance, kung fu demonstrations, folk music, craft displays, game stalls, and palm reading.
3. Yuen Long 'Lantern Street'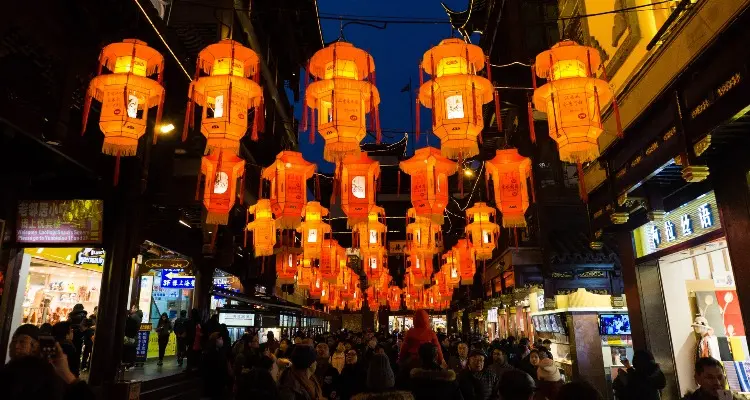 Ahead of the Mid-Autumn festival, a large number of citizens go to buy their favorite traditional lanterns at 'Lantern Street' in Yuen Long District's Tai Kiu Market. You will see thousands of traditional, handcrafted lanterns, resembling everything from rabbits and goldfish to fruits and other traditional designs.
4. Tsim Sha Tsui Lantern Exhibition
If you want to see an awesome lantern display in Hong Kong, don't miss the amazing Lantern Exhibition in Tsim Sha Tsui near the Waterfront Promenade. It's just around the corner from the Star Ferry Terminal and the TST metro station.
We recommend you stroll around the Clocktower and the Promenade to take in the Symphony of Lights show and the beautiful lantern displays.
The lantern displays run from early September throughout the month.
5. Temple Mall Presents Moonlight Neonade
Temple Mall's Moonlight Neonade is a unique Mid-Autumn Festival celebration to help support and promote the development of local artisanal traditions. At Temple Mall North, you will see a giant 3D neon light exhibition that traces the lunar phases from new moon to full moon. It is a combination of traditional workmanship and innovative technology.
Best Restaurants for Mid-Autumn Festival in Hong Kong in 2023
If you are planning a romantic dinner on the evening of the Mid-Autumn festival, Hong Kong has many great restaurants to offer: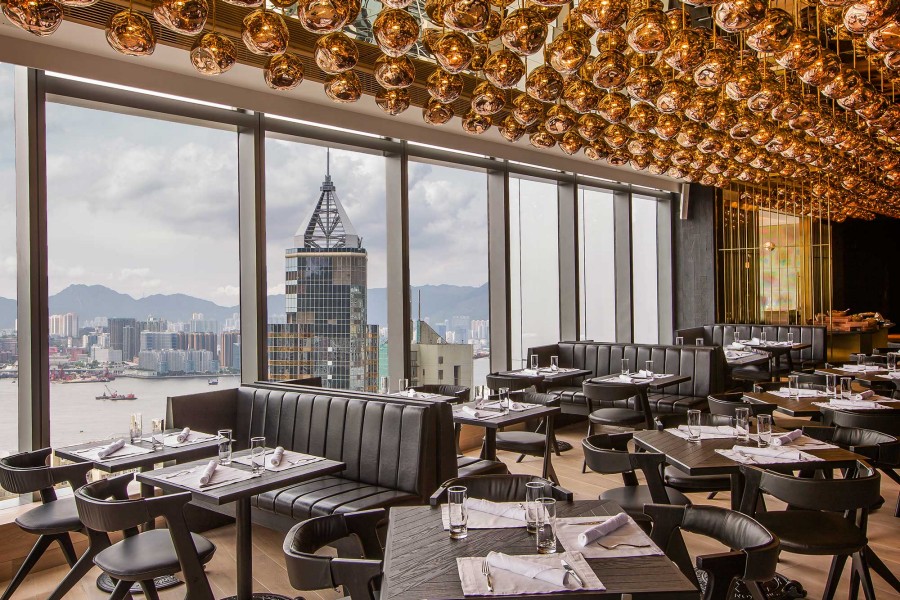 Alto: Sitting pretty on the top floor of Causeway Bay's V Point building, Alto is a contemporary steakhouse. You can enjoy a meal as you take in the vast Victoria Harbour vista and many of Hong Kong's landmark skyscrapers.
Felix: The restaurant is housed on the 28th floor of the Peninsula Hotel and has a magnificent view of Victoria Harbour. It is a dining place at dinner time and changes to a bar afterward.
Cruise Restaurant & Bar: Cruise is a rooftop restaurant and bar with an outdoor oasis — a terrace overlooking Hong Kong's Victoria Harbour, serving modern Asian food. "Expect the unexpected!"